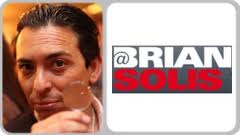 Radius assembled a list of its favorite marketing blogs to help marketers find the resources they need to build savvy marketing strategies. The blogs they picked cover everything from website optimization and lead generation to video marketing and analytics. BrianSolis.com was among the standout blogroll.
Briansolis.com
Who owns it? Brian Solis
What do they talk about? Solis studies and writes about the effects of emerging technology on business, marketing and culture.
Where can I find it? http://www.briansolis.com/