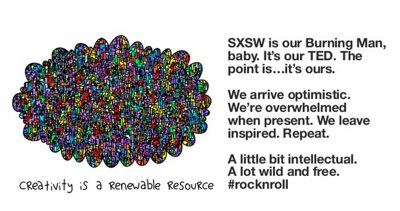 Via SXSW's Hugh Forrest
Over the last few years, few people have exerted as much positive energy at SXSW Interactive as Brian Solis and Hugh MacLeod.
Solis has interviewed numerous high-profile speakers at the event, ranging from Smashing Pumpkins frontman Billy Corgan to longtime NBA star Shaquille O'Neal. Meanwhile Hugh MacLeod designed the "Austin is the Killer App" art for the 2011 SXSW big bag; he also penned the simple sketch that helped kickstart the SXSW 4 Japan relief effort in 2011.