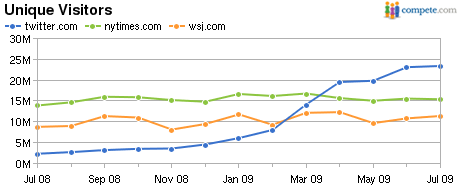 The race to 1,000,000 followers between Ashton Kutcher and CNN followed shortly thereafter by the Oprah Effect and the ensuing celebrity stampede has propelled Twitter beyond two of the world's most prominent media brands.
According to Compete and Quantcast, as documented by PaidContent, Twitter.com soared past the online properties of The New York Times and The Wall Street Journal.
The truth is stranger than fiction…but it is reality.