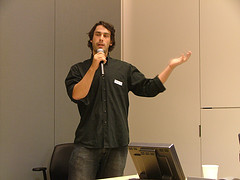 Your host, Vincent Lauria
Last night's Silicon Valley NewTech Meetup was definitely the biggest yet.
Vincent "Vinnie" Lauria again took center stage to welcome guests, which included VCs, engineers, programmers, entrepreneurs, bloggers, and plenty of CEOs.
The evening's lineup included four up-and-coming Web startups, some more well known than others (and maybe one that really isn't a startup per se). And interestingly enough, all seem to have found their niche for creating a loyal customer-base.