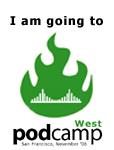 The first Podcamp on the West coast will be held in San Francisco on November 18-19, 2006 at the historic Swedish American Hall. Inspired by PodCamp Boston, PodCampWest San Francisco will connect individuals, businesses and institutions interested in new media.
Podcamp San Francisco is an UnConference in the tradition of BarCamp. PodCampWest is free to attend for the community.

The event will attract influential Bloggers, Audio and Video Podcasting pioneers, content creators and distributors, mainstream media, enthusiasts, businesses, hobbyists, musicians, marketers, PR pros, and people who generally want to understand more about the new media space.