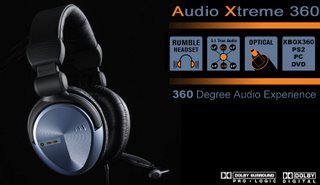 Late at night, when the house is still, the family is sleeping, and nothing is stirring – except for me CRANKING up the volume with a pair of these bad boys!
Digital optical out. Dolby Certified 5.1. Eight speakers. Subwoofer. Rumble Effect. Wow.
The Audio Xtreme 360 (AX360) connects to the console optical port to deliver optimum,Dolby certified 2.1 and 5.1 digital sound separation. It features eight strategically placed speakers, four in each ear cup. The external 5.1 audio controller amplifies each individual speaker. The AX360gives total control with inline adjustments for front, side, rear, andsubwoofer to customize the user's own audio extravaganza. The integratedrumble effect will blow their minds, giving them more realistic and immersed experience.
While this was marketed towards gamers, I am a big audio/video-phile and I will be directly connecting this to the optical-out on my upcoverting DVD player.
And this is my favorite part, according to the site, "users who pre-register before May 31st at http://www.trittonusa.com will receive a $20rebate when they purchase the AX360."
Tags: tritton, ax360, playstation, play station, xbox, xbox360, xbox 360, console, gaming, microsoft