Adesso Inc. has a new product that takes business productivity to a new level. Meetings are held every day, and the information passed along at these meetings is often vital. What happens to this information? It gets written down in a fast-paced scrawl, often the leaving the author themselves confused as to what they wrote not more than an hour ago. "When did I learn hieroglyphics?" I ask myself that question after every meeting. And to be honest, my thumb typing is pretty good, but my Treo650 isn't the most ergonomically designed tool for rapid note-taking.
Paper-based notepads and notebooks are still the most popular choice for writing notes, capturing ideas, and drawing sketches – even with the incredible variety of laptops, PDAs, and tablet PCs available today.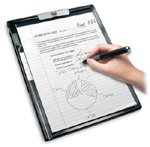 The new CyberPad offers a sleek, leather-bound (yeah baby) paper-based electronic writing tablet that combines the familiarity and comfort of a regular notepad combined with the added benefits of PC connectivity. And, since it doubles as a PC tablet, users can also naturally draw and write freehand graphics and text as comfortably as they would on real paper.
This baby not only stores our handwritten notes and graphics, but through special handwriting recognition software (which is bundled), it translates it into clear, definitive notes that can be seamlessly uploaded to any PC, making these important documents readily available (and legible) to any and all who need them. With the need to translate meeting notes eliminated, businesses can share information with greater ease and efficiency.
The CyberPad includes 32MB of internal memory which provides 26 directories (A-Z) with 99 pages available in each – and is further expandable with the integrated SD slot – which can also function as an SD card reader. It then connects to a PC via USB to instantly transfer and manage notes and images.
Adesso's very cool and uber stylish CyberPad is available today for $199.99 MSRP through Ingram Micro, Tech-Data and Synnex, direct vendors including AMAZON, Buy.com, mWave, TigerDirect, and Insight; retail stores such as Fry's and Micro Center; and through leading catalogs including CDW, PC Mall and PC Connection. I just ordered mine, and I paid a bit less than MSRP.
Tags: adesso, cyberpad, notebook, notepad, notes, treo, handwriting, recognition, ocr, amazon, buy.com, cdw