I have the need, THE NEED FOR SPEED. Well, that, and cup of coffee in the morning, a good glass of wine in the evening, the winning Lotto numbers… oh, nevermind.
According to a recent press release, Tesla Motors closed $40 million in Series C financing from a host of high-profile venture capital firms and entrepreneurs – including Google Co.'s co-founders – to launch a battery-powered sports car.
The "Christmas Tree" lights are green and the drag race is on in Silicon Valley to develop the next generation electric sports car. It seems as through, venture capitalists are already going along for the ride.
Tesla will unveil further details of its business and its cars in early July – according to the company site.
VantagePoint Venture Partners co-led the round with Chairman Elon Musk, founder of Paypal and chief executive of Space Exploration Technologies. Other institutional investors in the round included Draper Fisher Jurveston and J.P. Morgan Bay Area Equity Fund. Also participating were Google co-founders Sergey Brin and Larry Page, Nick Pritzker (through his investment partnership, Tao LLC), and Jeff Skoll (through his investment company, Capricorn Management LLC).
This is particularly of interest because Silicon Valley has suddenly emerged as a hotspot for electric cars – rivaling new efforts developed in Japan and Detroit. With articles in Business Week, Business 2.0, The Mercury News, among others, I think we're in for a wild ride. If I were in Detroit, I would eye potential investments in one or more of these exciting Bay Area ventures.
PayPal founder Elon Musk, was recently quoted as saying, "The time is right for a new American car company, and the time is right for electric vehicles, because of advances in batteries and electronics. Where's the skill set for that? In the Valley, not Detroit."
But wait, there's more…
Tesla is only one of a growing number of ventures that are developing powerful electric cars for those willing to pay about $100,000 or more. Wrightspeed Technologies – a venture-funded start-up founded by Ian Wright, a former employee of Tesla – is developing a rival electric car called the X1 which can hit 60 miles per hour in three seconds. Wrightspeed is also currently seeking additional funding.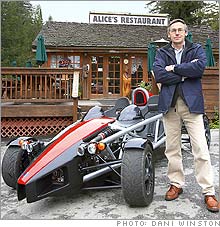 According to the may issue of Business 2.0, last November, Wright towed the X1 to a racetrack near Sacramento to see how his prototype would do against a Ferrari and a Porsche.
In the first matchup, the X1 crushed the Ferrari 360 in an eighth-mile sprint and then in the quarter-mile, winning by two car lengths. In the second race, against the $440,000 Porsche, the two cars were even after an eighth of a mile. But as the Porsche driver let out the clutch in a final upshift, his tires briefly lost traction. The X1, blazing along in its software-controlled performance mode, beat the Porsche by half a car length.
Now we all know that the market for electric super cars isn't the end-game here, but it is damn sexy! The reality is that these proof-of-concepts will change the auto industry for the better and it will put Silicon Valley in the spotlight, once again. Pedal to the metal and stay tuned!
Digg this article baby!
del.icio.us
Tags: Tesla x1 Ian Wright