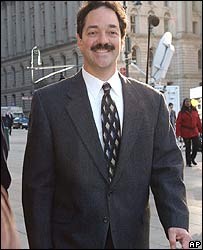 Photo credit: AP via SFGate
Finally, some closure is this case which has spanned years, two separate trials and millions of tax-payer dollars…
According to the Associated Press, former investment banker Frank Quattrone reached a deal today that eliminates the need for third trial and more importantly, allows his criminal case to be dismissed. Also, NASD – back in June – dismissed all charges against Quattrone.
You may remember the details of the case, but if not, Quattrone joined Credit Suisse First Boston in 1998 to runs the technology investment banking group from a Palo Alto office. By May 2, 2000 NASD, an industry regulator, launched an investigation concerning IPO stock deals. In Dec 2000, the famous email was sent in which Quattrone endorsed and forwarded a colleague's note that urged employees to "clean up those files."
The pact would end a three-year effort by the government to prosecute a man who earned $100 million in a single year as he commanded his firm's technology portfolio at the height of dot-com mania.
Judge George B. Daniels approved a one-year deferred prosecution agreement, calling for the charges to be dismissed if Quattrone stays out of trouble for one year. The judge signed off on the deal during a brief hearing in which Quattrone smiled as the agreement was approved.
It seems as though Mr. Quattrone is finally back in business…just in time for the next bubble aka bubble 2.0. One analyst estimates his current personal value at $1 billion.
Tags: frank quattrone, web 2.0, bubble, bubble 2.0, b w