Cue the Willie Nelson track…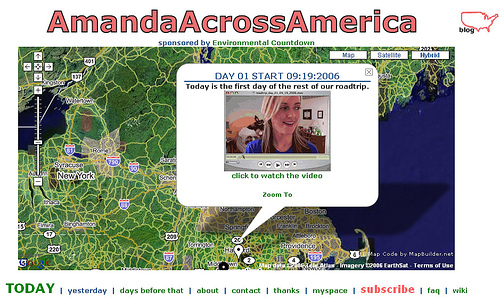 If you've visited Amanda's blog recently, you might have seen the following message:
"No Boom Involved. This blog has retired. Please consider this site the Amanda archive from the Rocketboom era. Bye blogspot. You've served me well, but I won't miss you. PLEASE UPDATE YOUR LINKS AND SUBSCRIBE to AmandaAcrossAmerica.com through my ovlov feed."
As it turns out, Amanda is indeed unboomed. She's heading out to Los Angeles, which many of you know has been her goal for quite some time, and which many speculate was one of the driving factors contributing to the RocketBoom split.
Congdon launched a new site today, AmandaAcrossAmerica, to document the roadtrip, which will be action-packed with vlog and blog posts capturing the events as they unfold.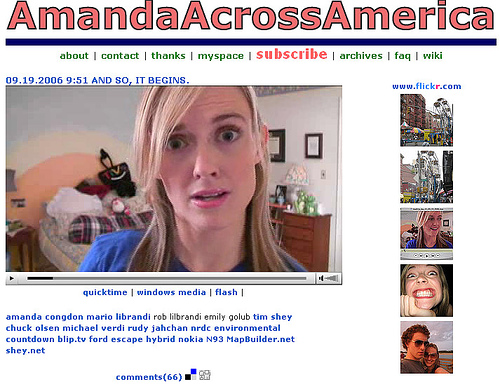 She's asking for you to join " The Force " to help the team find interesting stops along the way.
"On our way we will visit all kinds of people and places– we may even run into you. So we've created this wiki to interact with you. We are asking you, THE FORCE , to suggest points of interest across the USA. You live in lots of different places and are all experts in those various places….you are also experts in the places where you used to live."
The thing I didn't get though, was, what huge opp is ready to greet her in L.A.? Anyone?
And now a word from our sponsors: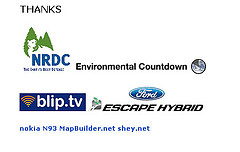 It seems as though she's lined up an impressive set of contributors. Godspeed Amanda, sounds like a once-in-a-lifetime event. Lucky for you, it will be well-documented so you can relive this over and over and over again. 😉
AmandaAcrossAmerica Credits…
mobile producers:
amanda congdon
mario librandi
rob lilbrandi
emily golub
stationary producer:
tim shey
editors:
chuck olsen
michael verdi
web:
rudy jahchan