When I heard that Chris Heuer, Tom Foremski, and Giovanni Rodriguez wanted to put together a local event to help communications professionals "get" social media, I had to jump in.
Like a group of banditos, we're all out there running around trying to share the knowledge and benefits of social media and help escalate the overall value and perception of corporate communications in a web-driven world.
Aside from individual blogs, clubs, working groups, and soapboxing, the team has organized an incredible event in Silicon Valley. Who's involved? How about, Robert Scoble from PodTech.net, Lisa Stone from BlogHer, Giovanni Rodriguez of HubBub, Chris Heuer of BrainJams and Social Media Club, and yours truly.
On 10/23, From Social Media to Corporate Media, will offer an interactive workshop for high tech communications professionals. It will be held in SAPs lavish conference center in Palo Alto from 1 to 6 p.m. This is one of the rare opportunities to jump into social media or build-upon what you already know. Either way, social media is already a critical component the best marcom strategies…those who get it will far outpace those who don't.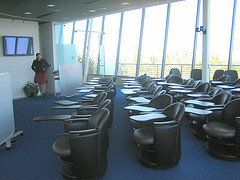 SAP Conference Center in Palo Alto
The event has an all-star line-up consisting of those helping to define the social media landscape.
Discussion Leaders

The Workshop
It's a unique hybrid of a traditional conference and an unconference, blending the best of both worlds. During the course of the afternoon, attendees will hear short talks from leading Social Media practitioners and engage in conversations with other Silicon Valley professionals, leaving the workshop with an understanding of how companies can benefit from producing Corporate Media using Social Media tools.
After the workshop, participants are encouraged to stay for an evening cocktail reception hosted by SAP and Social Media Club. Reception tickets are available for those who can not attend the afternoon session.
We're hoping to produce social media-related events around the country.
Click here for event details
About SocialMediaClub
To register for the conference, tickets are $150, which includes a pass to the reception. To attend the reception only, passes are available for $25.
Contact us with any questions or ideas you may have.
Please share this event with others…if you get it, share it!
Tags: socialmedia, social+media, pr, onlinepr, newpr, pr2.0, robertscoble, robert+scoble, socialmediaclub, chris+heuer, chrisheuer, marketing, blogher, lisastone, lisa+stone, briansolis, brian+solis, futureworks, podtech