Written by Alison McNeill

Photo Credit: Scott Beale / Laughing Squid .
Last night I attended the del.icio.us birthday bash at the monstrous Yahoo headquarters, and yes, it was quite delicious! This was very different from previous events I have gone to in that it was bigger, more relaxed and there was tons of delicious food! Sorry, I'll try to use a different adjective for the rest of the article.

Joshua Schachter, Photo Credit: Jeremiah Owyang
My colleague and I, Megan Saulsbury , had a fantastic time mingling and eating with a crowd of about 100 when we were there. I learned early on how to spot a Yahoo employee by their telltale hanging i.d. card. When I asked one Yahoo product manager, Vince Maniago, why he was at the bash, he admitted he was an avid del.icio.us user, but also, "I think people are here just to have fun." And fun it was with beer, champagne, ribs and other scrumptious (see I can do it) barbeque goodies.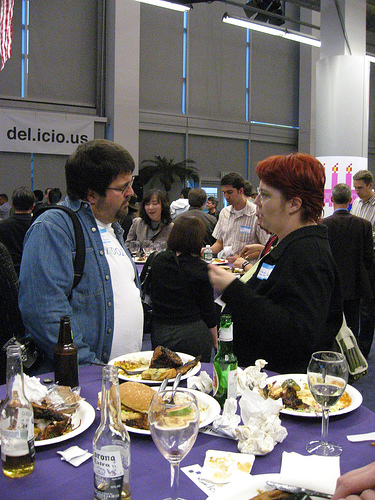 Chris Heuer, Photo Credit: Jeremiah Owyang
I heard the words web2.0 come up a few times in conversations (of course), but for the most part people just seemed to be there to make friends and chat; it was all very informal. I met one entrepreneur, Tawheed Kader, product manager at plaxo , who had just moved to Silicon Valley from New York and told me he was there simply to make friends (sound familiar).

Scott Beale and Kristie Wells, Photo Credit: Jeremiah Owyang

Photo Credit: Scott Beale / Laughing Squid .

Niall Kennedy, Ted Rheingold, Steven Reading Photo Credit: Scott Beale / Laughing Squid .
In previous blog posts , Brian Solis described the rapidly emerging series of tech events and parties as positive signs of the "rebirth and renewal of Silicon Valley spirit and entrepreneurship," and I felt that this event was definitely a contributor to that assessment. He also wrote a piece recently regarding Social Bookmarking and its effects on PR.

Nick Douglas, Chris Heuer, Stewart Butterfield Photo Credit: Scott Beale / Laughing Squid .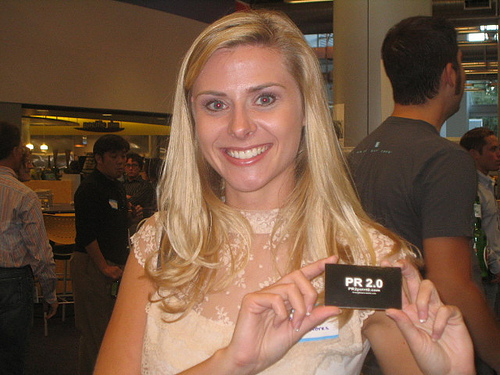 Megan Saulsbury of FutureWorks
While it is certainly not a monthly occurrence, it did have that "come together" feel to it, and people could discuss new tech, web2.0, their startup or company, find new opportunities, etc. People were given the freedom to roam, network, and eat, brag, gossip, and that they did.
Happy Birthday del.icio.us !!!
For more pictures, jump over to the Flickr photo stream.Feel free to keep us up to date with upcoming events you're attending or planning. Contact me at mailto:alison@future-works.com

add to del.icio.us
Tags: web2.0, delicious, web+2.0, yahoo, futureworks, flickr, stewart+butterfield, nick+douglas, valleywag, chris+heuer, Jeremiah+Owyang, joshua+schachter, scott+beale, laughingsquid, Ted+Rheingold, dogster