I ran this post over at Social Media Club and felt it relevant to share with you here as well. I've also added a few additional pieces to keep it fresh and interesting for those who may follow both blogs.
It's easy to get caught up in the rapidly evolving world of social media and sometimes I have to stop and remember that there's a whole other world out there that thinks social media is a group of friendly journalists.
Over the last several months I have had the opportunity to help start and participate in the Social Media Club along with Chris Heuer. In the last six months, I have learned more than I have in practicing traditional PR for years. It's one thing to practice it in your own bubble, but it's another to learn and share with each other; and that's the point of Social Media Club, "If you get it, share it."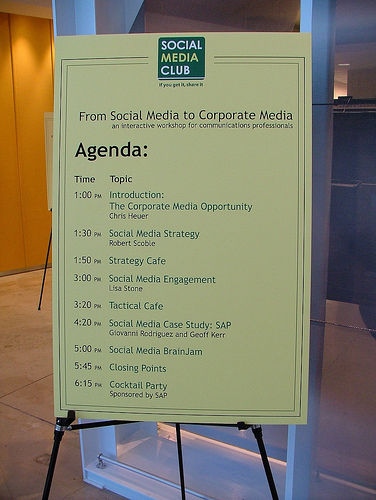 On 10/23, we held our first event, From Social Media to Corporate Media at the SAP offices in Palo Alto.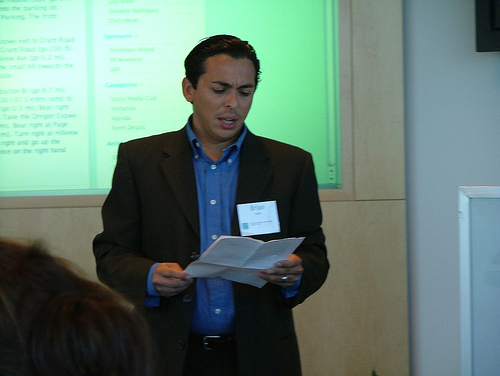 Me
Social Media Club was formed to help share all things social media and how it applies and benefits the world of marketing communications.
The goals are simple:
Promote media literacy – production and consumption
Promote ethics and standards
Share best practices around the emerging area of Social Media
Chris Heuer kicked things off with a profound assessment, "There is more wisdom in the room than what stands in front of you. And it's this collection of shared wisdom that will help us collectively learn."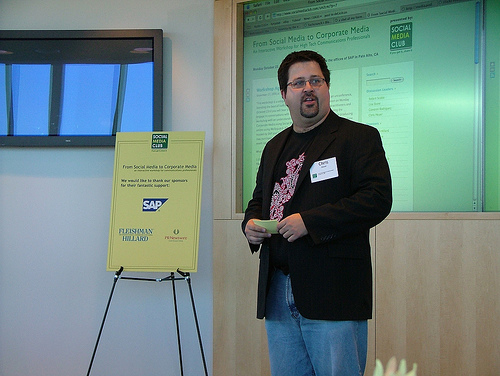 Chris Heuer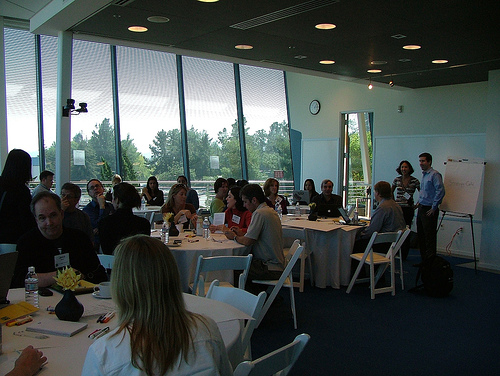 He quickly reviewed the differences between strategy and tactics, as keynote Robert Scoble was focusing on SM Strategy and co-keynote, Lisa Stone of BlogHer discussed SM tactics.So to recap, strategy is about goals and the plans to reach those goals and tactics are the activities and attitudes to execute.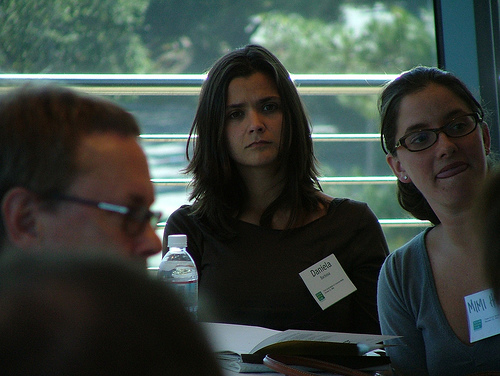 Daniella Barbosa
So what does from SM2CM mean?
The cost of production has dramatically reduced the price of admission, which is opening the door for the masses to produce and share content on their own.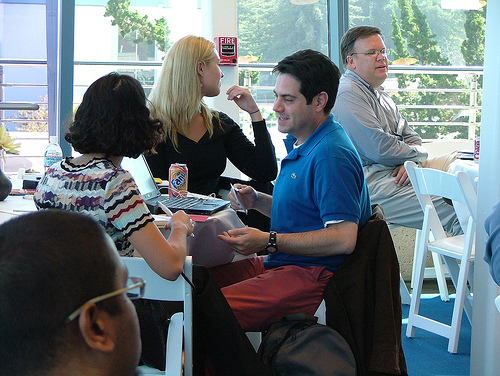 Jeremy Pepper
If you look at the Cluetrain mantra that says "markets are conversations," then it has definitely been manifested in the form of social media. Social media represents the opportunity to engage with customers, potential, stakeholders, employees and anyone else that shares relevant content. In the corporate world, businesses can apply social media in the form of blogs, podcasts and video blogs.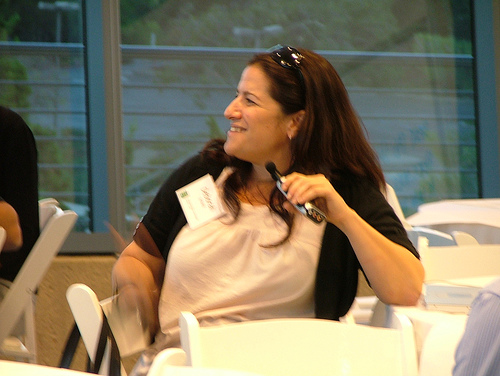 Deb Schultz
Why? Because it opens up the corporate kimono and allows customers and company executives to enter a forum of productive dialogue. Transparency is the new honesty – instead of its old meaning, hollow or fake – and at the root of social media, we're quickly learning that we don't market "to" anymore, we "talk" with those who make up the market.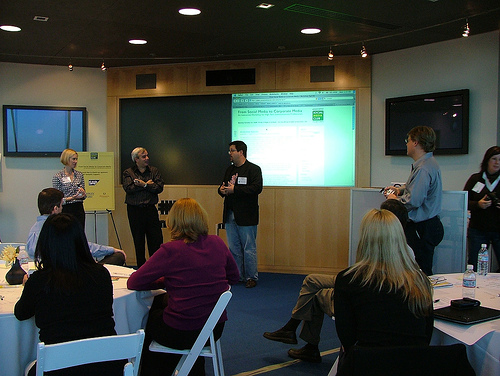 It's about being human and being connected.
According to Heuer, "you can't manage micro segments in the long tail." He's right. The segment manages itself, although you can do your part to reach them using SM tools that interact with them directly or with those around them.
In today's social media world, it's all about people and listening. Participation is marketing nowadays, and the goal is not to focus all efforts on controlling the message, but simply trying to be part of the conversations that are taking place with or without you.Again, listening is more important than talking.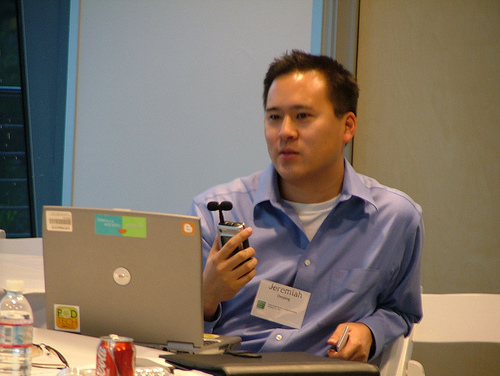 Jeremiah Owyang
True engagement is genuine and value driven, and not focused on sales! To reference Heuer, it is the "because of" effect. I'm here "because of" my desire to learn about social media. I purchased your service, "because of" my trust in the company's honest and open door communications policy. Remember, as social media marketers, we're not here to sell, we're here to share and we're also here to listen to our customers.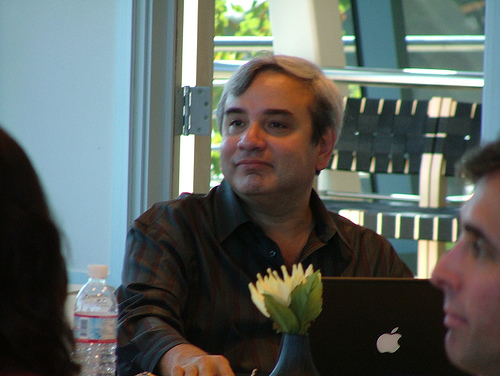 Giovanni Rodriguez
So, coming back to social media and what it means to corporate media…
By integrating social media tools, we can reach our customers in a whole new way that also encourages them to in turn, socialize your company and its products/services. It's all about opening up channels to listen, participate, and befriend and help markets.
More to come…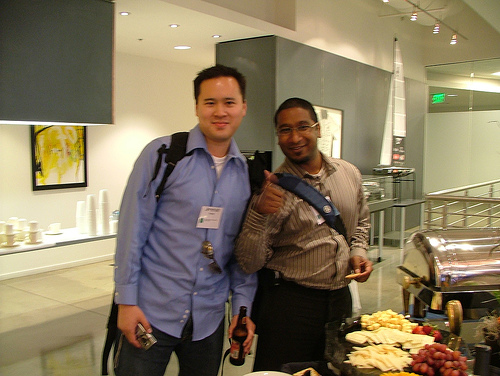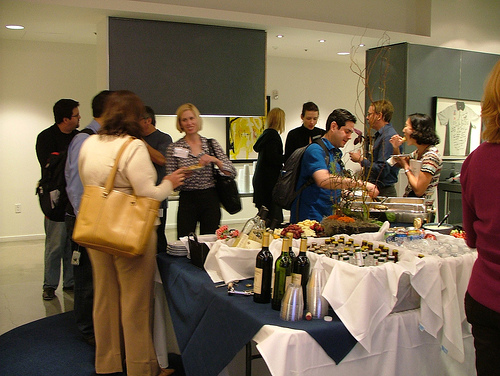 Deb Schultz, Chris Carfi, Greg Narain
For additional coverage on the SM2CM event, please visit Jeremiah Owyang and Giovanni Rodriguez. Also read posts at Hyde Park and Community Technology.
Other interesting people I talked to onsite include:
Daniela Barbosa
Deborah Schultz
Mark Ivey
Jeremy Pepper
Greg Narain
Chris Carfi
Robert Scoble
Lisa Stone
For more pictures, jump to one of the several SM2CM flickr streams. Additional Social Media Club event pictures, including a collective repository of pix from SM2CM, are also available here.
Please vote for this story at NewPR!
Add to del.ico.us!
Tags: socialmediaclub chrisheuer briansolis futureworks robertscoble lisastone blogher pr pr2.0 publicrelations sm2cm giovannirodriguez debshultz chriscarfi christophercarfi gregnarain socialroots