Written by Alison McNeill
Friday afternoon I attended the Lunch 2.0 luncheon, but it was actually more of a "linner" since it began at 4 p.m., at oDesk's headquarters in Menlo Park.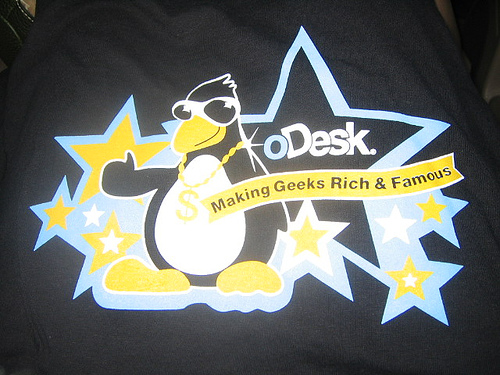 The atmosphere was much friendlier than that of some of the other events I've attended, as the oDesk staff was very eager to answer questions and give demos. There was pizza and beer, as any good linner should have, as well as a few familiar faces. I also made some new acquaintances including:
Jeremiah Owyang, Hitachi
Odysseas Tsatalos, Founder of oDesk
Gary Swart, CEO of oDesk
Ron Aqunio, Account Manager oDesk
Sawan Desphpande, Director at oDesk
Dave McClure, Internet Marketing at oDesk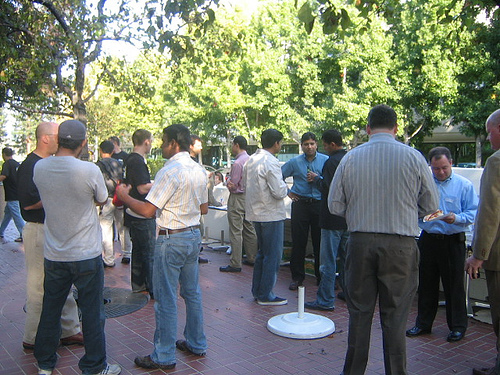 Jeremiah Owyang, from Hitachi stopped and chatted with me about Lunch 2.0. He actually hosted one at Hitachi Data Systems and this is what he had to say:
"Lunch 2.0 is the culmination of social media and community in the valley. Different companies and groups can host this low-cost event; build community, share with others, and to show off their products. Evolving from the grass roots social movement, any company that wants to host has the opportunity to entertain, foregoing the costs of buying a booth or stage time at a premiere conference or event," said Jeremiah Owyang. "Special thanks should go to the founders who had the foresight to create and lead an opportunity; they're demonstrating how a whole industry can unite over good food, drinks, and great conversations!"
Well said Jeremiah.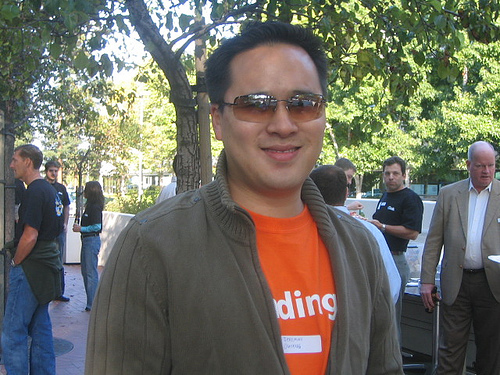 Jeremiah Owyang, Hitachi Data Systems
I was also given a wonderful demonstration of oDesk's capabilities by Jason Chicola, and the excitement in his voice, as well as all of the other employees of oDesk, told me this startup was something to be excited about. In my mind, oDesk is like Monster times ten, and I'm sure they don't like being compared, but it's the best way I can describe it.
On the most basic level, it is a marketplace for talent. Employers can come to the site to hire people from anywhere in the world. When you look at someone's profile it shows you comments and ratings from others who have hired that person, so you get a sense of their work ethic. (It kind of reminds me of seller's feedback scores on ebay)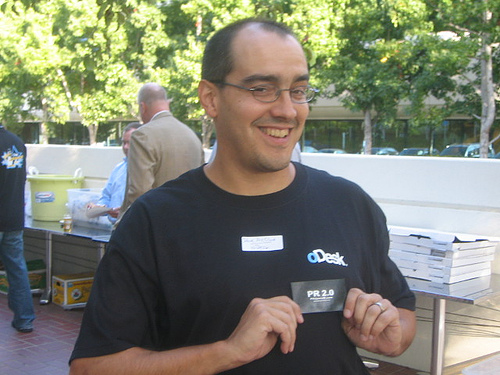 Dave McClure, oDesk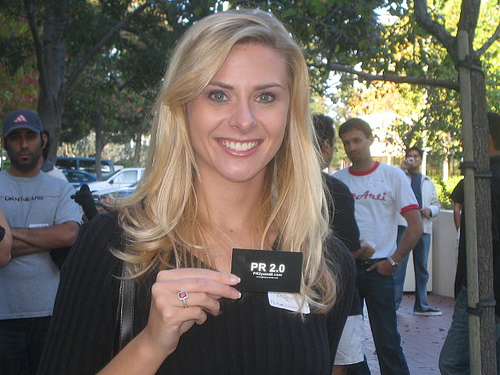 Megan Saulsbury, FutureWorks
Another perk of oDesk, for the employer, is they can watch how much work is actually being done, so the employee cannot charge for more hours than actually worked. oDesk takes pictures of the employee's computer screen at random intervals throughout the day to show the employer. This could also be good for the worker also as it guarantees payment. And employers aren't the only ones who post jobs; people can post a job they're looking for too.
One thing Jason said during the demo that really stood out to me was, "The whole point is that we want to eliminate distance." This website could be of service to stay at home parents, freelancers, people from other countries, the list goes on and on. Right now the site has about 4,000 workers enlisted and a few hundred customers every month, but I think its well on its way.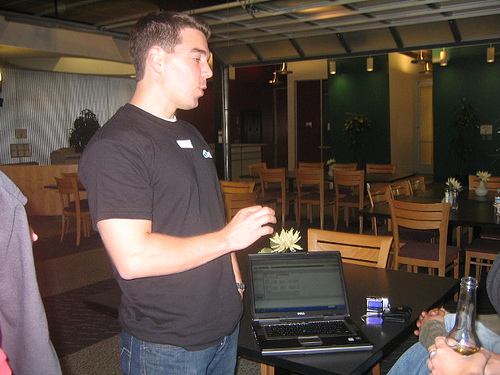 Jason Chicola, oDesk
I think the event was successful in showcasing oDesk, as well as showing me the enthusiasm and passion behind so many of these startups- I can't wait for the next one!
And be sure to check out our upcoming interview with Lunch 2.0 founders Mark Jen, Joseph Smarr, Terry Chay, and David Kellogg!
Tags: lunch2.0, web2.0, web+2.0, odesk, Jeremiah+Owyang, Dave+McClure