Photo Credit: Beau Liening
Grab a bottle of bubbles at your local Longs or RiteAid, get outside and commence blowing.
Try to make one very big bubble, gander, marvel at its size, call all of your friends to see it, and then, pop. Pop? That's so 1.0.
Now, do it again…but, be careful…don't let this one pop. Instead of filling it with air, try injecting a bit of hope and enthusiasm into each blow.
Nice work….I can see the beginnings of a new bubble too.
The difference is that this is Alpha Bubble 2.0. We're not really in a full bubble yet, because the only tangible commerce, is knowledge capital and enthusiasm. Oh, and a bunch of dedicated people boot-strapping their way into geekdom. The numbers aren't really there yet.
Interesting intro for a monthly Web 2.0 meetup? If you list a handful of events held the night before and this evening, you might see what I'm talking about.
Wednesday = Dogster party and jangl party.
Thursday = Webguild Web 2.0 event, StyleHive party, SF Beta, Macys' Fashion Show (yes, I know…not tech, but several attendees of SF Beta arrived late because they stopped by Macys.) I'm sure there were more, but let's get into why I was in the city.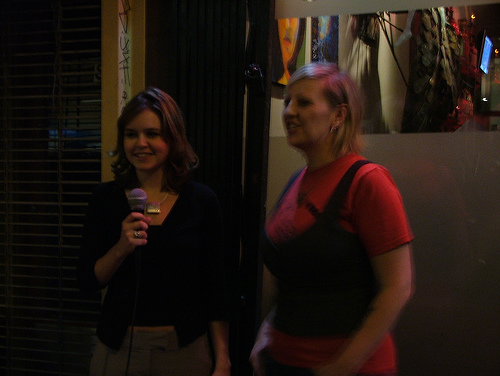 Alison McNeill of Silicon Valley 2.0 and Irina Slutsky (as the interviewee!)
Aside from videocasting a new installment of Rebooting Silicon Valley for PodTech.net, I have a genuine interesting helping any event that focuses on helping emerging companies leverage public forums to share, grow, network, mashup and learn.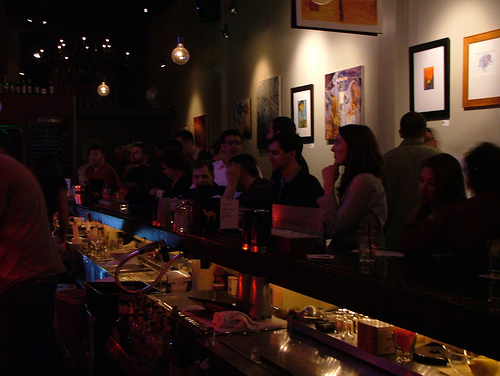 The scene
On to October's installment of SF Beta...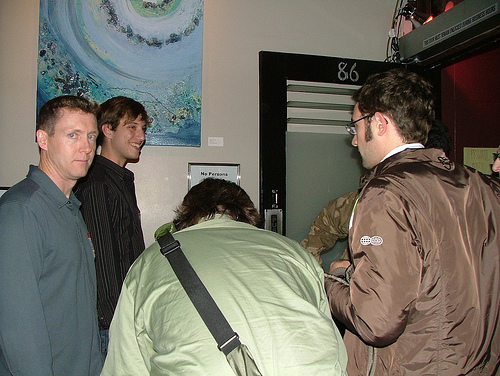 Brian Sullivan of Civic Evolution and Christian Perry, SF Beta Host
When I arrived, Christian Perry greeted everyone with their choice of badges, foundr, bloggr, and providr (I'm guessing on the last one, couldn't quite see the other options).
Irina Slutsky, host of Geek Entertainment TV was the guest MC for the evening and let's just say, she kept the crowd pumped-up and chatting.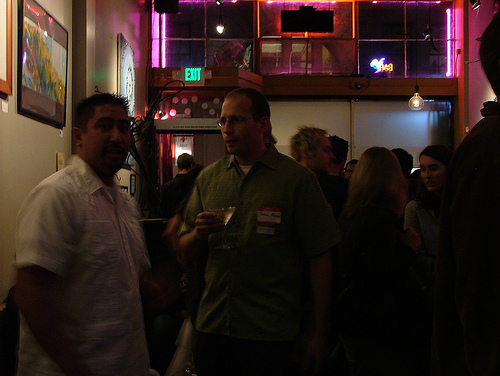 SF Beta Guests
What sets SF Beta apart from the other events is that it is more of a social mixer rather than a business networking mixer. The other thing that's unique here is its presentation format. Rather than traditional elevator pitches, companies must highlight their value proposition in Haiku Pitches – in 17 syllables, no more, no less. Although Haiku in English just isn't in the same…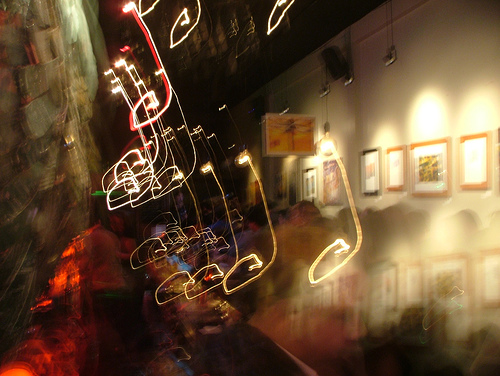 Artistic View of SF Beta
The lucky seven for the night included:
Meetro (Vinnie Lauria / VP)
CivicEvolution (Brian Sullivan / Founder)
Rooftop Comedy (Will Rogers / Co-Founder)
ShopCastTV (Eric Swan / Founder)
The Forbin Group (Cindy Phung / Worker Bee)
BuzzShout (James Yu / Co-Founder)
Diigo (Maggie Tsai / Co-Founder)
Stand by for the video cast…we have each of the presenters sharing their Haiku on camera.
It was a bit difficult to hear, but judging by the applause and the quantity of guests, I guess it didn't matter much. I'm estimating that the event drew well over 100 people and many raved about its success. Although, there were some requests to have a system in which SF Beta can qualify its attendees, opting more for quality and caliber rather than quantity.
The lucky few were able to score a spot on one of the vinyl benches, while others bogarted the bar stools for the duration of the event.
Other than the people who were simply excited to be part of a Web 2.0 party, the common things I heard all night was that it was too hot, too crowded, impossible to move, and most importantly, too difficult to get a drink! Most of the people I was able to speak with stood outside the front entrance. At one point, there must have been 30+ participants all vying for fresh air and audible conversation.
There, I was able to engage in compelling conversations and learn more about what they were up to.
Khalid Shaikh, Yousendit
Sol Lipman, Sticky, Inc.
Lawrence Coburn, Rateitall and SexyWidget
Eric Ferraro, Jacobs & Ferraro (event co sponsor)
Dennis Yang, TechDirt
Ben Wan
Irina Slutsky, Geek Entertainment TV
Scott Beale of LaughingSquid
Paul Pattison, PictureCloud
Vinnie Lauria, Meetro and SF NewTech Meetup
Joanne Wan
Greg Narain, BlueWhale Labs and SocialRoots
Sarah Meyers, host of Party Crashers on D7tv.com aka StoryToday.tv
Rafe Needleman of CNET
Joel Sacks of CNET and BuzzShout
James Yu of BuzzShout
Brian Sullivan, CivicEvolution
Angie Chang, TheMintPages
Jessie Friedman, Zaptix
Dakota Sullivan, BlueLithium
Maggie Tsai, Diigo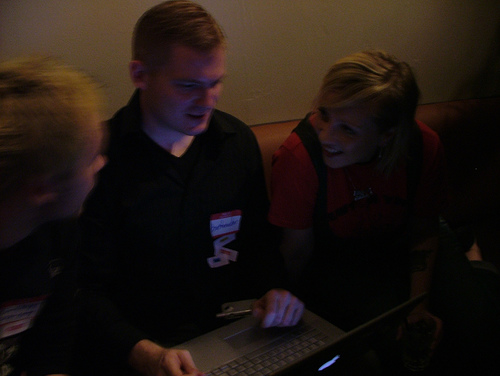 Kevin Burton of TailRank and Irina Slutsky of Geek Entertainment TV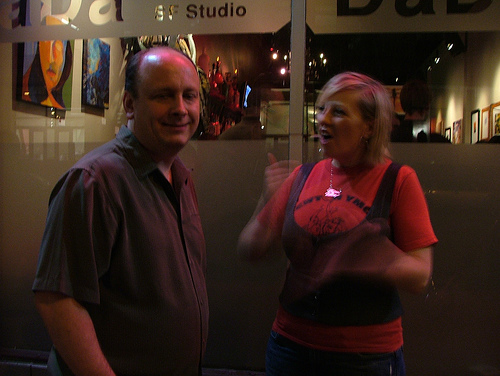 Scott Beale of Laughing Squid and Irina Slutsky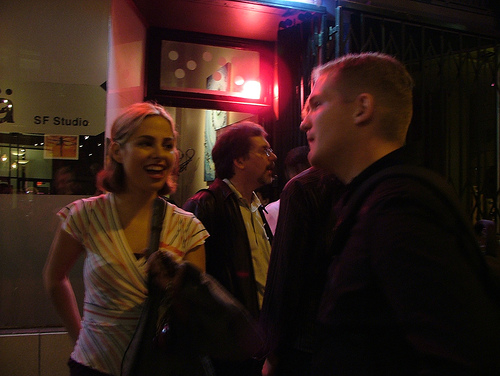 Kevin Burton holding his own with the mischievous and funny Sarah of D7TV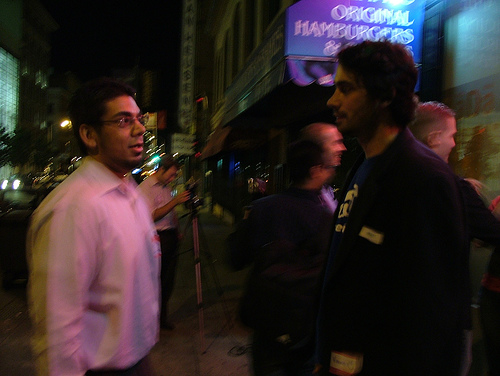 Khalid Shaikh and Vinnie Lauria of Meetro and SV NewTech Meetup
That's it for now. The event grew by leaps and bounds over the September Beta Meetup and I'm anxious to see what November holds. Kudos to Christian Perry for pulling it together!
I'll take us out with a little Haiku of my own:
SF Beta's night
Seven presenters spoke out
PR two point oh
For more pictures, please jump to the flickr stream.
Add to del.icio.us
Digg This!
Tags: web+2.0, web2.0, sfbeta, getv, irina+slutsky, irinaslutsky, cnet, rafeneedleman, rafe+needleman, meetro, zaptix, techdirt, socialroots, bluewhalelabs, laughingsquid, tailrank, rateitall, picturecloud, diigo, benwan, ben+wan, buzzshout, cnet, sticky, yousendit, shopcasttv, greg+narain, gregnarain,