I recently had the opportunity to sit down for lunch with Sanford Barr and Dan Arkind. I've also held a few conversations with Joanne Wan and Sean Ness to discuss STIRR. Their vision for STIRR is united as they bring together the people driving the new tech economy forward. STIRR is by far the industry's biggest, concentrated, most powerful, must-attend tech mixer out there, and it is only continuing to grow. Why? Because they control the attendee registration – invitees, qualified referrals, all business leaders in their own right.
STIRR, "Our Mixers are designed to bring founding teams together along with a blend of members from the tech community (stealth-mode folk, startup-savvy engineers, journalists, service providers and investors). Stirr Mixers encourage people to stand up, interact, socialize and swap thoughts/ideas. Each mixer provides an opportunity for early stage entrepreneurs to present ideas to their peer group, press and investors."
While at Office 2.0 conference, I coordinated a series of caravans from San Francisco to Palo Alto, bringing Office 2.0 attendees, speakers and press along for the ride.
Upon arrival Fanny and Alexander in Palo Alto, it was evident STIRR 1.7 was already well underway.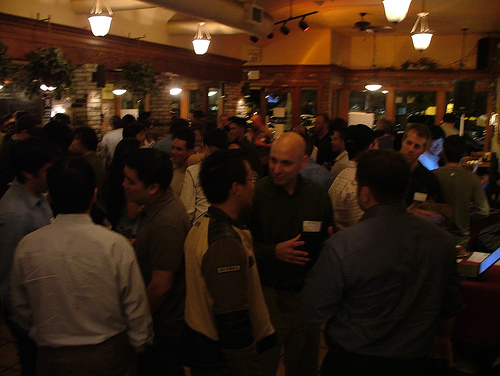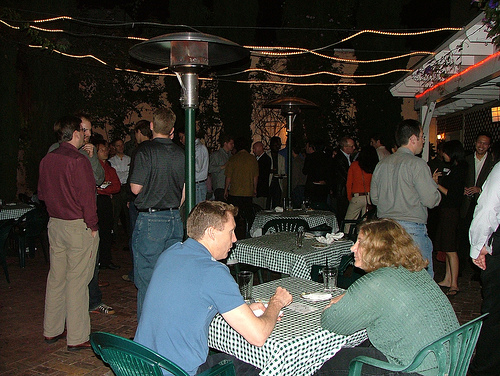 It was a bit overwhelming, because I didn't arrive until 7 or so, and it seemed as if there were three STIRR parties running simultaneously – the back patio, the main room, and outside by the front entry way.
Sanford took the stage to announce STIRR's Original '60 Second Spot'

The STIRR team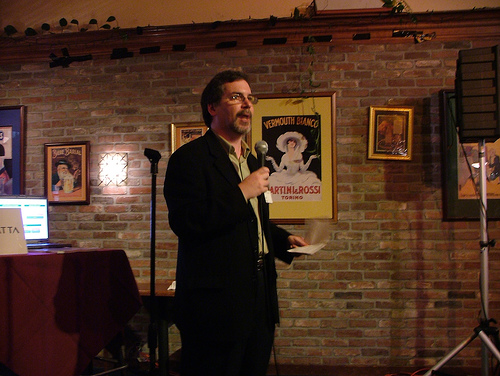 Rafe Needleman gets the crowd ready
Up first…
Licketyship delivers electronics products to your home or office in about 4 hours "as fast as weather and traffic permit."
When you search for a product at LicketyShip, they check the inventories of stores near you in real-time. Their patent-pending software matches the product closest to you with the nearest available courier from their instant-delivery network.
Items are packed on demand, so they're ready to go when their couriers pick them up and then deliver direct from the store closest to you.
Because it's more efficient to deliver products across the city than across the country, they can deliver to you the same day you order for about the same price (and sometimes less) than overnight delivery from FedEx – usually about $19.99 for package up to 150 pounds.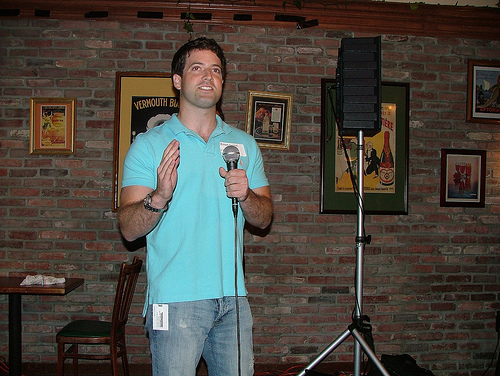 PrefPass, Adam Marsh, CEO
PrefPass is all about one thing: personalizing web sites without having to register.
PrefPass lets you grant any site a Pass to access your anonymous Prefs with one click. So whether the site wants to personalize their content, their recommendations, or their ads, they can ask you and you can say yes or no. Simple, right?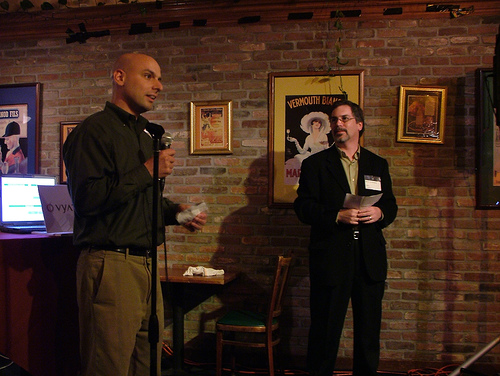 Vyatta, Allan Leinwand, Founder
Vyatta is working to restore the open environment and culture of the Internet's past by developing a line of enterprise-grade, open-source, network infrastructure products, including routers and firewalls. Vyatta was created to bring commercial-quality open-source networking products to market.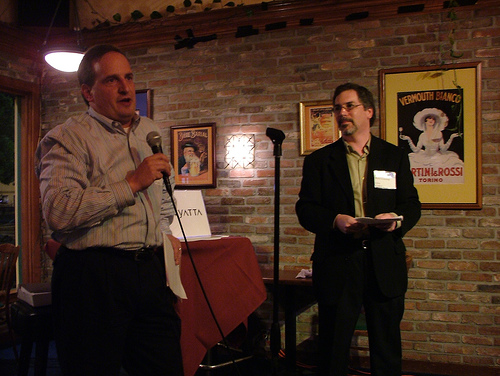 vFlyer, Oliver Muoto, VP of BizDev, Founder
vFlyer is a classified ad creation, management and submission platform that enables online sellers to quickly and easily create attractive classified ads or "virtual flyers" that can be posted on dozens of leading online marketplaces in a few simple clicks. Sellers today are faced with the problem of having to post to multiple marketplaces in order to sell their products and services.
Users can upload high resolution photographs, include maps, and select or create professional themes to publish their "virtual flyers."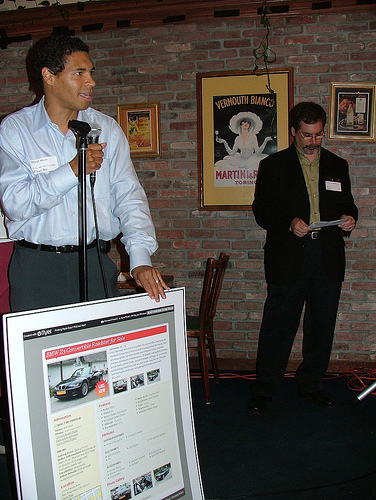 Google Gadgets
We were also treated to a surprise guest speaker. Adam Sah from Google discussed his team's efforts behind Google Gadgets. Google Gadgets are mini-applications that work with the Google homepage, Google Desktop, or any page on the web. They can range from simple HTML to complex applications, and can be a calendar, a weather globe, a media player, or anything else you can dream up. Google's "Universal" gadgets work with the Google homepage, Google Desktop, or your own webpage.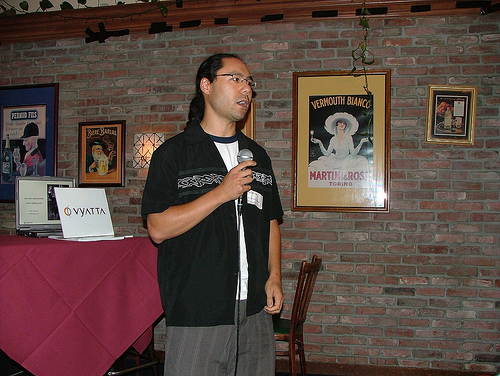 Back to the party…
Of course there are always too many people to try to meet and engage in meaningful conversations, but I did my best. Those I caught up with include:
Tara Anderson, ValleySchwag
Kevin Warnock, gOFFICE
Melanie Sit, Innovation Management Sciences
Michael McDerment, FreshBooks
Christian Perry, Zaptix and SF BETA Meetup
Brian Sullivan, Civic Evolution
Mittal Podder, SwapThing
Rafe Neeldleman, CNET
Baris Karadogan, ComVentures
Greg Narain, Social Roots and Blue Whale Labs
Megan McCarthy, Valleywag
Angie Chang, themintpages
Chris Heuer, Brainjams and SocialMediaClub
Ivaylo Lenkov, SiteKreator
Jason Hoffman, Joyent
Jeremiah Owyang, Web Strategist
Joel Sacks, BuzzShout
James Yu, BuzzShout
Ryan Olson, Red Herring
Ben Wan, Angel Investor
Christopher Peri, Vyew
Vic Podcaster, Hotfromsiliconvalley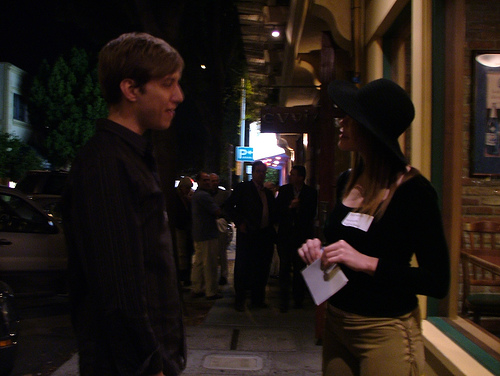 Christian Perry and Tara Anderson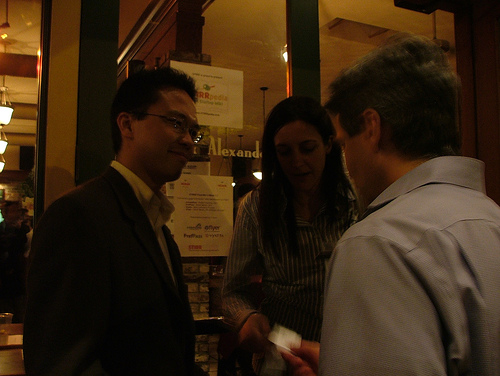 Ben Wan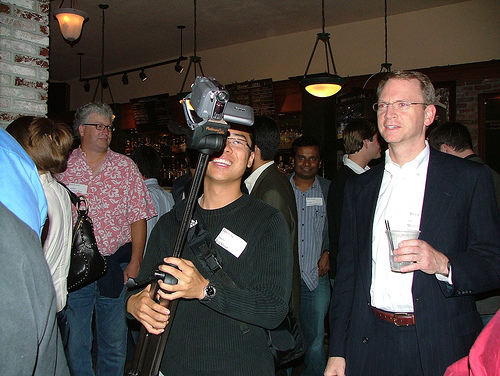 James Yu of BuzzShout capturing footage
Aside from recapping the day's events at Office 2.0, there was interesting business dialog transpiring everywhere.
SwapThing and Lickety Ship discussed a possible alliance for local swaps.
Chris Heuer discussed his upcoming events, "From Social Media to Corporate Media" on 10/23 in Palo Alto and "Web 2.2" on 11/9 in San Francisco.
Joel Sacks and James Yu shot footage for their new videocast over at BuzzShout.
Greg Narain introduced his new venture Blue Whale Labs along with Stowe Boyd and Ranvir Gujral. The Lab's goal is to provide "Strategic consulting, design & development for innovative social applications."
Tara Anderson of ValleySchwag was looking to procure new schwag for future mailing.
Kevin Warnock of gOFFICE recapped his presentation and was looking for potential partners and possible advisors.
Lenkov of SiteKreator highlighted his presentation that he was preparing for the Office 2.0 panel hosted by Michael Arrington of TechCrunch.
Christian Perry promoted Zaptix, but also recruited for the upcoming SF BETA Meetup.
Mike McDerment of FreshBooks discussed the advantages of SaaS and the company's ability to provide stats for service providers and customers, including average billing, payment timelines, etc., by industry.
Melanie Sit unveiled plans for a "Web 2.0" holiday party.
Megan McCarthy introduced herself as the new party correspondent for Valleywag.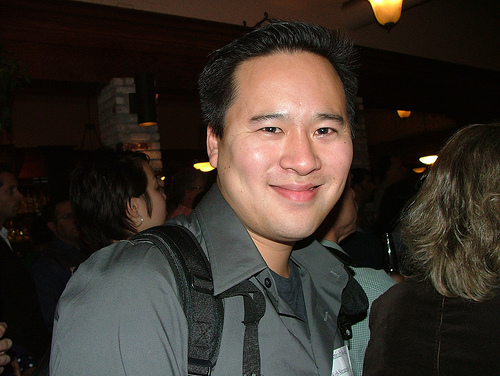 Jeremiah Owyang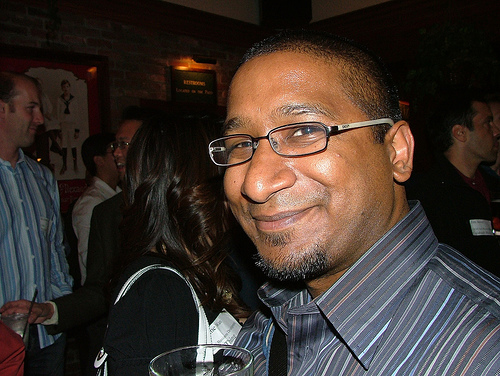 Greg Narain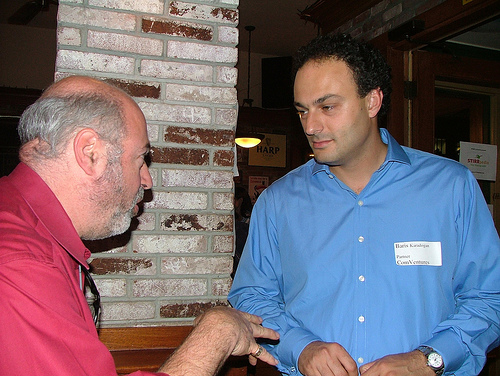 Baris Karadogan COMVentures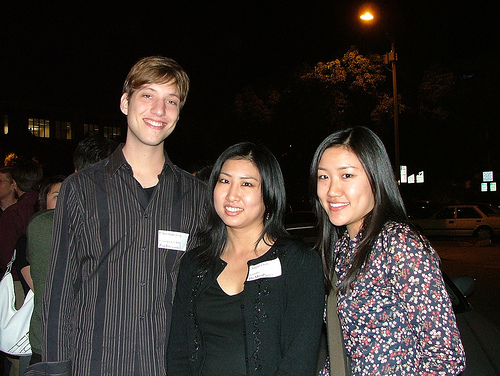 Christian Perry, Angie Chang and Sister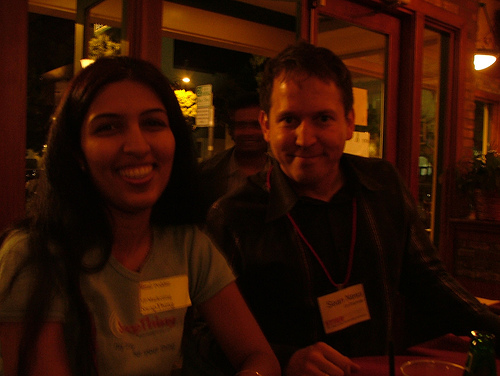 Mittal Podder and Sean Ness (STIRR co-founder)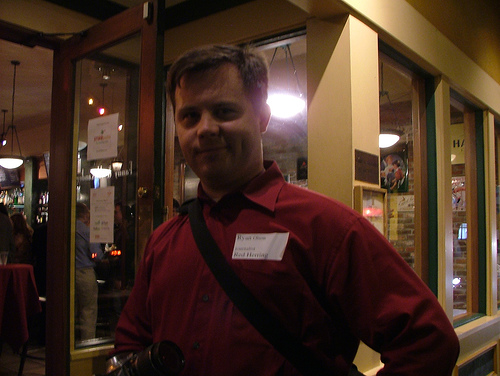 Ryan Olson The Red Herring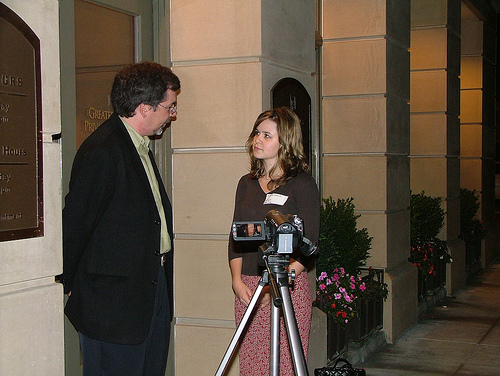 Rafe Needleman was interviewed by our very own Alison McNeill
For more pictures, visit the flickr photo stream.
For more on the story, visit Valleywag
Add to del.icio.us
Tags: stirr, stirrmixer, stirr1.7, web2.0, web+2.0, futureworks, briansolis, socialmediaclub, web2.2, google, goffice, valleyschwag, siliconvalley, valleywag, bluewhalelabs , stoweboyd, freshbooks, chrisheuer, hotfromsiliconvalley, techcrunch, sitekreator, swapthing, licketyship, vyatta, vflyer, prefpass