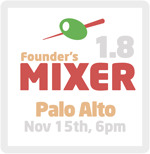 Part I of the STIRR 1.8 series featured the written wrapup report. Part II is our video report, complete with interviews. Alison McNeill was on hand to capture the excitement.
Footage includes:
Mycroft now Inchorus
Techdirt

Video One – Rafe Needleman, Kongregate, Krugle
Video Two – Liftopia, InChorus, Swapthing, TechDirt (note: turn your volume up)
Congrats to Sanford Barr, Sean Ness, and Dan Arkind on the best STIRR yet.
* The video project has been a learning experience to say the least. I'm confident that our next production will have everything ironed out, including lights, sound, etc.
Tags: swapthing stirr brian+solis futureworks futureworkspr frucall kongregate krugle liftopia charles+river crv vc venture+capital bub.blicio.us mycroft inchorus tech dirt mike+masnick