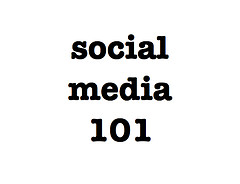 I came across a post that really smacked me in the face with a stinging sense of reality. You can't help everyone grow; only those that realize they can. We just have to do a better job of reaching everyone else to help lay a more informative foundation for people to cause change.
Regarding the Social Media Release, it's not social media. The Social Media Press Release still adheres to the antiquated notion that public relations means appealing to the public via mainstream media or to those in the "short tail". With a Social Press Release, you may be using tools that facilitate social media (video links, podcasts, blog posts), but you're not facilitating social media, you're pitching the press.

The original post also produced a couple of very interesting comments, which only shows that our message is flying over the heads of the mainstream.
First, this has nothing to do with the "Short Tail." It's surprising because in the same article, there's a link to Chris Anderson's take on my posts talking about using social tools to run publicity without press releases. Basically using these ideas to run PR in the long tail. Unfortunatel though, traditional PR's greatest fault is that it has yet to figure out how to do publicity in the long tail without demeaning everyone along the way.
The idea here is to spark conversations in the "Long Tail" and, social tools and a deep understanding of the wants and needs of the people you're trying to reach, allow you to engage transparently. But make no mistake; do not attempt any of this as traditional PR. Otherwise you'll get publicly skewered and rightly so.
The fact is that most PR people aren't ready for social media or the idea of the hrelease, but those who are, will realize that it's more micro than macro. From the post:
"Sending a press release (social or not) to a blogger is a total no-no so, as far as I'm concerned, the conversation is moot and I'm moving on."Sending press releases without thinking about who they're going to and applying that information to groups of people is a no no. The idea here is to create a new distribution format for bloggers or any content producers to place information in the hands of those who can in turn, use the social elements to share information with their peers, readers, etc.
From the comments:"The social media press release is just a p.r. stunt by a p.r. firm, IMHO."Nope, it's a reaction to Tom Foremski, former FT reporter and now blogger at Silicon Valley Watcher, to create a better tool for him to find the information he needs in a "new media" format, since blogs live off of new media content. In fact, his original post was called, "Die Press Release, DIE DIE DIE." Since then, there have been scores of bloggers and reporters who have asked for the overhaul of the release.
From the comments:"If anything, it might be just a way to find something new to monetize or to a way to appear innovative. I'm actually concerned that it's desperation."
There's no joking that press releases have extremely thin credibility with a lot of influential press. There is also no doubt that press releases have also found new life in search engines, reaching consumers directly. 51% of IT professionals report getting their news from releases in Yahoo and Google OVER traditional tech publications.
The idea behind an SMR is that you deconstruct the format, strip away the BS, hyperbole, and fake quotes, and build it back into a structure (hrelease) which can then be broadcast through RSS. This allows traditional reporters, bloggers and even consumers to subscribe and pull only the information they need, the way they want it – without paying $1,000 for a wire service that yields very little, except for SEO – public companies not included.
So, it's more about technology and distribution and new media formats as opposed to trends and stunts.
In general, it's getting tremendous publicity because it also calls for PR to stop acting like PR. You can't be part of the conversation simply by writing releases, blasting them to targets, and placing them on wires. Nor can you say you're part of the social media revolution, simply because you blog or read blogs. It's much deeper than that…and it's there for everyone so that we all learn, practice, and grow together.
I've experimented with several, and so far they've not only been received with accolades, they've sparked trackable threads of conversations (through embedded tags). They do not replace traditional releases however…well written releases will always have a place. Just as long as they inform and not persuade the reader.
Again, it's micro, not macro. This doesn't start with a blast. This starts with conversations.
Tags: socialmedia social+media social media pr pr2.0 public+relations public relations press releases newmedia press+releases pressreleases 101 hrelease
Add to: | Digg | del.icio.us | Yahoo | BlinkList | Spurl | reddit | Furl |