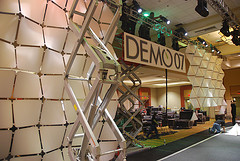 Photo Credit: Rob Lee
Well, I'm getting ready to head on over to Palm Spring to attend the DEMO Conference.
Now in its 17th year, the DEMO conferences are known for launching important new technologies into the national consciousness. DEMO 07, taking place January 30 – February 1 in Palm Desert, CA, will introduce 68 carefully vetted products and
services to an audience of investors, business development executives, media, pundits, and fellow entrepreneurs.
DEMO features a mix of both consumer-oriented and enterprise computing innovations, mirroring industry efforts in the marketplace. Some of the technologies that will be introduced at DEMO 07 are:
— The first video email and messaging service …
— A GPS product that allows users to control their vehicles wirelessly …
— Video ringtones …
— Small business solutions for email, collaboration, shipping & receiving, marketing, and CRM …
— A product that allows you to IM photos directly onto your friends' desktops …
— The ultimate mobile printer …
— A platform to improve developer productivity and product management …
— Software that tracks plagiarized blog content …
— Online identity protection tools …
— A community collaboration site focused on home improvement, remodeling and design projects …
— A service that secures messages within images so that only the intended recipients can view the text …
— A collaboration site for musicians …
— Sophisticated data search technologies for businesses …
— Media publishing services for consumers and corporations …
— Products from Spain, France, Israel, and India …
DEMO 07 Demonstrators
Add to: Digg del.icio.us Yahoo BlinkList Spurl reddit Furl
demo demo07 2007 launch first web2.0 mobile tech my-currency