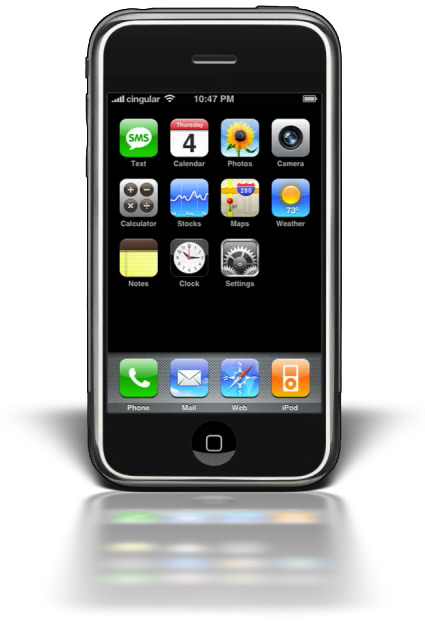 When Steve Jobs introduced the iPhone at Macworld earlier this year he immediately justified its position as a smarter, revolutionary phone for those who wanted the next generation multimedia and communications experience without worry of whether or not it was a legitimate business tool. Indeed it's revolutionary. It will inspire change in not only the mobile industry, but in anything that runs an OS. The iPhone changed the game.
As an iPhone user who was initially disappointed with the lack of certain basic capabilities in addition to the blaring disregard for slaves to the Exchange regime, I am now driven to prove that the iPhone will be the business tool for the discerning professional.
Note, there's a difference between discerning and addicted professionals. Discerning users are more concerned with form, function, and style and also willing to sacrifice certain features for elegance, while the addicted will take whatever they can get, as long as they can do anything and everything, wherever, whenever, with less emphasis on form factor and user interface and greater importance placed on buttons, trackballs, pointers, and keyboards.
Yes, my friends, after my initial reaction, I now believe the iPhone has more than the wherewithal to become the first true mobile Office 2.0 solution for day-to-day workflow. While other phones may have a faster backend, or a more traditional input solution, the iPhone's screen, slickness, and landscape, its vivid display, and its concentration on Web-based applications gives it an "edge" over other smartphones. It is to mobility and productivity in the world of Web apps what the Treo, Blackberry, and Nokia are to software-based apps.
My friend Ismael Ghalimi, the man behind the Office 2.0 renaissance, will set out to set the first true Web-based business and mobile productivity milestone by including complimentary iPhones to paying attendees of the Office 2.0 Conference in September. More importantly however, is what it means to the mobile Office 2.0 revolution. At least 500 iPhones will be in the hands of influencers, visionaries, technologists, entrepreneurs and IT professionals poking away at these beautiful devices – with some more efficiently than others because I'll tell ya, that keyboard takes some getting used to.
Office 2.0 will be the first true business showcase for iPhones and the new applications that will change how people work and communicate.
500 attending iPhone users, combined with the hundreds of thousands of other business users around the world, will watch attentively for new applications, demonstrations, and future developments for Web-based Office 2.0 applications to emerge at the show.
After all, Apple doesn't open up the mobile OS for traditional software development. Instead, the company is pointing people to create apps that run through the Safari browser. At the end of the day, this epitomizes the very essence of Office 2.0 – the ability to work, maintain productivity, start, manage, and complete projects, and collaborate with teams, over the Web. And, once you get used to the virtual keyboard, the iPhone is the SonyPSP of mobility and productivity.
This is a big passion for me. Even if it's a selfish standpoint, I am compelled daily to eliminate my reliance on not one, but multiple evil empires that shackle me to the confines of my desktop and client/server island – not to mention the escalating cost per client on the network. As a business owner, my charter is to find better cost efficient tools that keep my team and I productive in the office and on the road, with or without a PC, and right now, those solutions are flourishing under the Office 2.0 banner. Make no mistake, these applications will also define the future of Enterprise 2.0 as IT professionals take notice to the innovation taking place in the SMB market.
Since I join Marc Orchant and Oliver Starr to define the mobility and productivity track at this year's Office 2.0 Conference, the 500 iPhone experiment is of particular interest as it represents a working paradigm shift in how we define and embrace the new mobile office.
Case in point, Etelos, a Diamond Sponsor of the Office 2.0 Conference, is developing an iPhone-based application for events that enable people to locate other attendees and, instead of handing out a business card, simply click 'Send Contact Information.'
Other tools that I have already experimented with on the iPhone include:
JAJAH brings users VoIP capability at a fraction of the traditional price, enabling consumers to make free and low cost telephone calls, locally or internationally.
Zoho Office, an alternative to Microsoft Office.SoonR Talk, a mobile Skype solution optimized for iPhones.
Meebo, an integrated IM client, centralizes chats with Yahoo, MSN, AIM, and MSN buddies.
Ismael Ghalimi perhaps, captures it best in his post, "This is a collective experiment aimed at discovering the future of mobile productivity & collaboration. In such a context, equipping over 500 people with the exact same mobile device will allow us to learn a lot about user interfaces, workflows, and usage patterns for mobile online applications. In essence, this upcoming edition of the Office 2.0 Conference will quickly turn into one of the largest experiments on mobile productivity & collaboration ever attempted."
Fellow track organizer, Marc Orchant added, "This raises the bar to unprecedented levels and represents a real coup on the part of the conference as it will create the largest concentration of iPhones in a single location ever …Of course simply handing out iPhones isn't particularly innovative…what's really compelling is how the iPhones will be used at the event."
Click here to register for the event. There is a $500 early bird discount if you do so prior to 7/31. Remember, all attendees receive an iPhone.
Add to: | Digg | del.icio.us | Yahoo | BlinkList | Spurl | reddit | Furl |