PRWeek recently interviewed me, along with a few other PR pros including, Gerald Kimber White, John H. Bell, David Almacy, B. Bonin Bough, and David Haase to discuss Facebook's impact on the PR industry. It would have also been interesting to include Facebook's inhouse PR spokesperson, Brandee Barker – I wonder if she's had a chance to read this yet.
PRWeek is the primary (traditional) source for news and information in the PR industry. Author, Alexandra Bruell, explored why PR people think Facebook is an important social network. The answers are revealing, giving us a glimpse of how the PR industry is already experimenting with social networks as a platform to communicate with media and people directly – whether or not they participate transparently is a whole other story however.
I recently wrote a in depth post about Facebook and how it has rapidly evolved into an online hub for connected professionals. If you haven't read it yet, jump in. It may help you make the most out of your Facebook expereience.
Through a broader lens, Facebook at its core, is a profile and presence aggregator, channeling all of my online activity through one main hub, combining almost every online "social" tool that I use currently. And as a communications professional, especially in this social economy, it's our job to monitor online conversations and the networks in which they take place.
Excerpt from PRWeek (Note, this was a phone interview. My answers have been greatly condensed):
Brian Solis Future Works, president; PR2.0, blogger
Facebook should first be viewed as a personal reputation management system. It really is, in its most simplistic sense, an online hub for your personal brand for you as individual or person within a company.
It happens to be the network of the moment that brings the people together in a way that we're used to doing things and wanting to do things. It became that hub, not necessarily by doing groundbreaking or new things, but when it opened its API, people began developing tools within it – it made it stand out.
Everyone jumped into Facebook almost overnight; it's been explosive ever since. If you're in PR, jump in there and be a person, learn the culture of Facebook. Get friends, and widgets, and bring together your reputation where you understand the dynamics of a network. When you have that, you're participating as a person and not a marketer; no one wants to be marketed to.
Many times it's only used for relationship building. For products not publicly released yet, we'll research throughout the community and see who's talking about this. Certain people can be reached differently. I have seen PR people create a group or go to an existing group.

Do research, find the right people, and reach out one by one. If you're part of the social media group and I want to reach you, I can reach everyone – Spam the group, that's one way to do it.

For example, Robert Scoble, tech blogger, said, if you want to reach me, write on my Facebook wall. He's been pretty responsive.
We now have the tactics and tools to reach people directly.
Update: Robert Scoble isn't the only writer/influencer seeking contact from PR via Facebook, NY Times writer, Jason Pontin has also put the call out via his Facebook profile.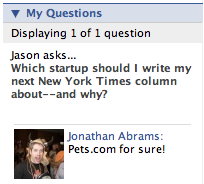 Hat tip to Geoff Livingston for the referral to PRWeek.