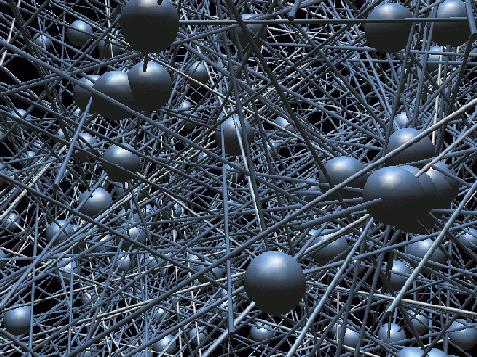 As each day passes, we're presented with new information that documents the decline of traditional media in favor of online counterparts and new media competitors. It seems that newspapers are among the hardest hit with circulation and print advertising down – forcing layoffs across the country.
The Newspaper Association of America (NAA) recently released a study showing newspaper Web sites attracted an average of about 66 million unique visitors in the first quarter, up about 12 percent over the same period a year ago.
The problem for publishers has been turning that online traffic growth into revenues. Online advertising at newspapers grew 18.8 percent last year, according to NAA figures, but that wasn't enough to offset a 9.4 percent decline in print advertising. Total newspaper advertising last year, print and online, declined 7.9 percent.
Is Social Media to blame for the erosion in traditional media consumption and advertising revenues? Is the appeal of participating in news and relevant stories or the prospect of content creation more attractive to the thin attention span of today's Web-savvy consumer?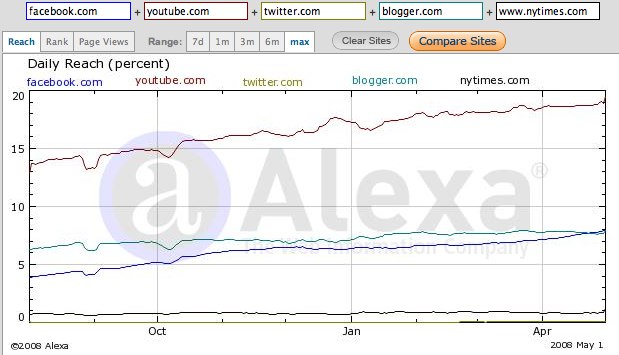 Facebook vs. Youtube vs. Twitter vs. Blogger vs. New York Times
While we hear often about the rise in traffic and revenue at the more popular social networks such as Facebook, Bebo, LinkedIn, and MySpace, we rarely hear about adoption and engagement metrics associated with the evolution of Social Media.
Theresa Houlihan and Tom Smith of Universal McCann, a division of the Interpublic Group, sent over an interesting global study of how Social Media is challenging traditional media supported by numbers.
The survey features the responses from 17,000 people, between the ages of 16 – 54, in 29 countries. The end result, no surprise, is that social media is moving from the edge to the center of global media consumption
In South Korea – the market that's leading the world in digital trends – 77% of internet users read blogs each week compared to just 58% reading the mainstream press.
Globally 73% of internet users are reading blogs with 48% including these consumer-generated content in their weekly media diet.
Some of the adoption rates are simply staggering:
– 83% watch video clips, up from 62% in the last study in June 2007
– 78% read blogs, up from 66%
– 57% of internet users are now members of a social network
– RSS consumption is growing rapidly up from 15% to 39%
– Podcasts are now mainstream digital content, listened to by 48%
Social media is a global phenomenon, and the U.S. is not leading the evolution:
– Top markets for blogs – China 70% of Web users write a blog, Philippines 66%, Mexico 60%
– Top markets for social networking – Philippines 83%, Hungary 76% and Poland 76%
– China is the worlds largest blogging market with 42m bloggers versus 26m in the US
– Social media is connecting the world and globalising media consumption
I asked Tom and Theresa about the numbers in user consumption vs. creation.
In terms of creators vs. consumers, they shared two examples, one for blogging and one for video:
Watch Video Clips: 83%
Share Video Clips: 64%
Upload Video Clips: 38%
Read blogs: 70%
Leave comment on a blog: 55%
Create a blog: 38%
Of course, no survey on Social Media would be complete without a review of Social Network usage. Like blogs, Social Networks have been instrumental in driving the popularity of Social Media and user generated content. Members of social networks such as MySpace and Facebook are using these platforms as the hub of their online experience:
– 22% of social network users have installed a widget or applications
– 55% have shared photos
– 22% have shared their videos
– 31% have started a blog
– MySpace is the world's largest social network with 32% weekly reach, Facebook is second at 23%
The numbers are incredibly revealing and insightful. Social Media will only continue to rise, but traditional media should not be ruled out. There is still a tremendous opportunity to leverage years of resources, expertise, and capabilities when combined with a more socially-aware, and adaptable, business model. With economic boundaries vanishing, business seeking to join conversations must look globally as many of their prospective customers may also be the early adopters that are in and outside of the U.S.
For a copy of WAVE3 Report please visit http://www.universalmccann.com/
Connect with me on Twitter, Jaiku, LinkedIn, Pownce, Plaxo, FriendFeed, or Facebook.