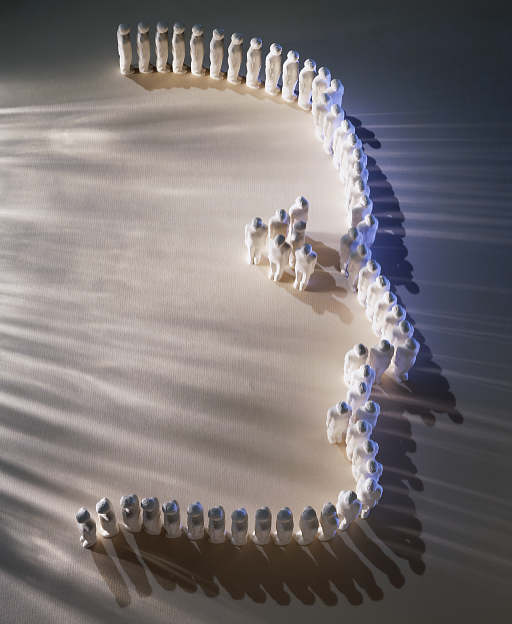 Source
Part two of a three-part series…
Defining Your Online Persona
The Social Economy is defined by the exchange of ideas and information online, and in the real world, and is indexed by the dividends earned through new opportunities and alliances. Relationships are the new currency of the Social Economy as they fuel and extend interaction, insight, and loyalty, and in turn, contribute to the social capital of the individuals who actively invest in their personal branding portfolio.
In the workforce and in our personal lives, the things we share online define who we are – it's a fortunate or unfortunate reality (depending on how you look at it). Social profiles in Facebook and Myspace aren't protected in a secret society that only the cool people can find and share. These profiles are showing up in search engines and what's in them tell us everything about how you view yourself and therefore how you may wish others to view you. It's not just your profiles in the social networks where you participate, it's what you say and share everywhere, from blog posts and comments to wall posts, the music you listen to and the widgets you embed, as well as your status updates and even product or service reviews.
This is your digital identity and your real reputation and it's yours to define and to nurture.
Instead of simply thinking about social networks and social tools as new ways to communicate with friends, family and associates, let's view these communities as dashboards for our online brand and collective expertise.
Answer these questions, what do you stand for and how would you prefer others, not just friends, but also professional associates, view you today and tomorrow?
It's important to proactively weigh, factor, and proactively contribute to the impression you want others to have when they stumble or intentionally find your profile/s. This is the first step in defining and shaping your online brand.
Social Networks
Many of us aren't masters of Web design and therefore, the idea of creating our own entity on the Web is untenable and perhaps, nowadays, even unnecessary. Social Networks provide an easy-to-use, fully-searchable and discoverable platform for us to create, define, and fortify our identity.
The most popular social networks, such as Myspace, Facebook, Hi5, Bebo, LinkedIn, and Friendster, offer users the full ability to customize and personalize their pages and in the process, proactively paint a more accurate self-portrait.
Social networks are indeed a hub for your digital identity and activity, connecting the disparate pieces of your persona from across the distributed Web and portraying a more crafted, organized, and representative digital resume and knowledge portfolio.
Social networks are far more expansive than those dedicated to connecting friends around people and their social graphs. They can focus on exchanging and discovering niche content, video, images, bookmarks, events, news, thought leadership, and the list goes on and on. The point is that there are social networks for almost everything you can and can't imagine. Join those networks that are instrumental in associating your brand with the industry, ideas, content and people that further your brand's reach and resonance. And in each case, craft a consistent profile that conveys what it is you stand for and the value you bring to the table. Yes it's cumbersome and time consuming, but it's the only way to ensure the integrity of the specific and unique attributes that define your brand and reputation.
Oh, a simple, but often-overlooked tip, is to start with professional quality portraits. Feel free to share other personal photos, but present yourself artistically and professionally as well. You never know who might find these profiles.
Newsfeeds and Lifestreams
Obviously you have passions, experience, and aspirations. Share the content that reinforces these strategic attributes through the tools that keep you connected to the communities that are important to you. Social networks feature the ability to showcase your activity in various networks, packaged neatly in the form of embeddable applications. For example, if you're active on Twitter, Flickr, YouTube, upcoming.org, blogs, etc., many of these services offer applications or widgets that can be installed directly onto your profile. They display your latest contributions and events and more importantly, compartmentalize your content into a presentable focal point for the brand "you."
Applications aren't the only way to filter this content into your profile. Practically every social service produces an RSS feed that can be imported into personal newsfeeds. And, in the land of social networks, these feeds are evolving into lifestreams that channel external and in-network proceedings into one, easy to follow flow.
The practice of channeling the most representative and complimentary pieces into one complete puzzle is known as curation. The practice of curation is the most effective policy for presenting and communicating a well-crafted personal brand. It requires the identification, collection, and contributions of meaningful and topical content that when aggregated, creates a more holistic and powerful depiction of any brand or idea.
Social network profiles and associated newsfeeds aren't the only tools available to curate and present strategic content. Tools dedicated to the art of lifestreaming gaining in popularity. Similar to the newsfeeds within social networks, these dedicated communities provide the ability for users to also aggregate their activity into one river of relevance. They collect the feeds and updates from the services you choose to include and merge them into a personal or brand stream. These solutions include LifeStream.fm, SocialThing, Swurl, Ping.fm, among many others. Specialized services, such as FriendFeed and Jaiku, combine streams and conversations and allow others to not only follow the activity, but also comment on and bookmark favorite content as well, thus facilitating hosted conversations surrounding content directly, as it happens.
Text-based lifestream example of John Smith
"Conversations taking place in social networks help to define one's online brand" – via Twitter XX date, XX time (link)
Uploaded a new photo album entitled, "diagram of my social map" – via Flickr XX date, XX time (link)
Wrote on Jane Doe's wall, "Excellent post today on conversations across the distributed Web. I agree. Have you experimented with reputation management tools such as SezWho? – via Facebook XX date, XX time (link)
Published a blog post, "Using social networks and online content to create and reinforce your online brand" – via ACME: The Brand You Blog XX date, XX time (link)
Robert Johnson commented on "Using social networks and online content to create and reinforce your online brand," "John, nice post. I learned a lot, thanks!" – via Friendfeed XX date, XX time (link)
Bookmarked "Online brands and the art of aggregating ideas into a collective and cohesive flow" – via delicious XX date, XX time (link)
Blogs
Lifestreams and Social Networks aren't the only tools to help aggregate and centralize your digital identity or collectively assemble the bits and pieces that, when combined, help to define your identity and reputation. Blogs are perhaps, still the most effective platform for sharing your observations, thoughts, ideas, expertise, and vision on the subjects of which you're most passionate.
Unlike micromedia tools such as Twitter, Plurk, Identi.ca, FriendFeed, as well as social network profile pages where brevity is promoted and rewarded, blog posts inherently boast the ability to share expanded content, text, video, audio, images, tags, links, to more effectively and deeply express, explain, and support the ideas and context related to any given topic.
Blogs with an almost undeviating mission of focusing on key topics, boast an expansive library of keywords that can intentionally or unintentionally contribute to a valuable search engine optimization (SEO) infrastructure that ranks your brand and ideas higher in search results for related topic searches. And, as your content library grows and expands, your blog's page ranking authority escalates along with it. Higher page ranking combined with keyword density (the concentration of keywords related to your expertise) equates to greater authority you're given in search engine ranking pages (SERPs).
Remember, blogs are indexed in traditional and blog search engines, and with a focused emphasis on SEO and page ranking, your blog will almost always rank higher in search results over any other form of social content you contribute or publish.
Reputation and Expertise Aggregation Services
A new and necessary set of online services are permeating the social web to help track and aggregate the activity of individuals, improve the caliber of feedback and comments, and in the process, create a concentrated portfolio of published content and commentary. SezWho, Disqus, Co-comment, and Intense Debate run inside of blog comments sections, forums, and websites and make the process of content creation and the ensuing conversations more interactive, lively, and trackable.
For example, with SezWho, content hosts can add a few bits of code to their site or blog template to instantly offer readers the ability to not only comment on the post, but also rank the quality and insight of other commenters as well as the post in general. When commenting or voting, the service asks for your email address and then tracks your individual comments and your ranking history to provide interested visitors with an amalgamated representation of your views and aptitude.
As in any social network, these tools and services empower and encourage users to provide a more complete and descriptive profile to effectively represent the context along with the associated experience of the content they choose to rank and publish.
These services aggregate the distributed thoughts and dispersed identity beacons of individuals into one representative profile. As active participants in the social Web, we comment on relevant articles in addition to publishing our own thoughts on our blogs. With one click, anyone can see view a history of our posts and comments, in one place, tied to a profile that we define.
Read the Rest of the Series:
The Socialization of Your Personal Brand – Part I
The Socialization of Your Personal Brand – Part III
Connect with me:
Twitter, Jaiku, LinkedIn, Tumblr, Pownce, Plaxo, FriendFeed, Plurk, BackType, or Facebook.