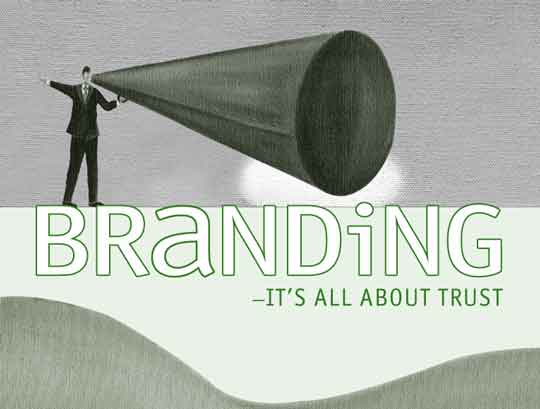 Source
Part three of a three-part series…
Your Brand vs. the Brands You Represent
Whether we believe it or not, everyone within an organization is at some level, responsible for Public Relations. Everything we do, online and offline, builds the public perception of not only our personal brand, but also of the organization we represent.
As an active participant in Social Media and also a professional working in any capacity within a company, eventually an important and cognizant decision will determine your outward presence and whether or not your personal brand and your corporate responsibilities intersect, compete or clash.
When a small bank ran an online search for the results associated with its brand, the first link turned up a profile on Myspace of a young woman with fun, but inappropriate pictures that definitely didn't lend support to the bank's charter of earning and maintaining financial customers.
This particular individual wasn't participating online as a representative of the bank, only using the social network to communicate and share events and updates as Millennials do. She simply listed in her profile that she worked at this particular bank, and that was enough.
However, as many businesses are realizing, not only the opportunity, but in many cases, the requirement to participate and engage with customers, peers, influencers, and prospects in their respective communities, new roles and responsibilities for outbound communications and service emerge.
Since we're focusing on your digital identity and your real reputation, one of the first questions is, when representing a brand other than my own, do I participate as "me" or do I create a new entity in order to participate on behalf of my company?
The answer is, it depends.
Yes, perhaps not the brilliance you were seeking. The truth is, that it really does depend on a series of factors that are to be evaluated on an individual basis.
1. Does your personal reputation lend value to, or subtract from, the brand you're representing and vice versa?
2. Is this a career path and industry you intend to commit to for the long-term?
3. What is the ROI or potential losses associated with not only your participation, but your departure, should you at some point, decide to change jobs?
4. What's most advantageous to you and the company you represent, now and in the future?
Whichever path you take, it's important to realize that there isn't a right answer, at least not yet. It's more important to participate honestly, sincerely, transparently, whether as "you" or as "you, company representative."
Several, very visible, companies dedicated to cultivating personal relationships in social networks, have opted for the creation of a corporate brand for the individuals who participate on their behalf.
Comcast has employed Frank Eliason and team under the @comcastcares moniker. Dell is empowering its social team led by Richard@dell (Richard Binhamer) and Lionel@dell (Lionel Menchaca). In these cases, the companies opted to invest in a unique digital identity that promotes the company and personal brands.
Depending on the company and the state of its social media prowess, policies may or may not exist. Those who are experienced in communicating using social tools can assist marketing and service leaders to establish best practices and policies that govern how, why, when, and where to participate and how to build the persona that elevates the brand for the company and also the person representing it.
Managing Your Online Reputation
Everything starts with listening and observing where, how, and why these conversations are taking place and the tone and nature of the dialog.
As part of the marketing process, companies employ (or should incorporate) an Online Reputation Management (ORM) program. This process serves as a radar for all discussions, blog posts, and search results to identify potentially damaging, less than favorable, as well as neutral content, to fuel participation and communications strategies to steer them in a positive discussion.
There are a series of tools materializing that simplify the process of listening and tracking related conversations. Depending on the size of the organization, they may or may not be affordable, however they're worth looking into. Companies include Radian6, BrandsEye, BuzzLogic, and StartPR. Typically, ORM focuses on company and product name/s, executives, and/or brands, and each of these services automate the process of searching and presents the results in a manageable, easy to navigate dashboard. The differences between each lie under the hood, where the individual algorithms distinguish each service in how they discover, track, and present data. And, none of these services are all inclusive. There is still a manual element involved here, requiring you to search specific communities directly.
ORM isn't only limited to businesses. In the era of digital reputations, individuals can also benefit from the process of monitoring the conversations related to their personal brand.
Google Alerts, which scours News.Google.com, Blogsearch.google.com, and other Google properties, is one of the most effective, free services available for tracking keywords and automatically presenting them to you as they appear online. It gives you, as the primary stakeholder, the opportunity to participate and respond immediately, as you should, in order to protect the integrity of your brands as well as the ability to continually cultivate your community.
Search.Twitter.com (formerly Summize) allows you to search directly in Twitter. You'll be surprised at the frequency and volume of conversations in the Twittersphere. You can search your company, your executives, your competitors and also your personal brand to see what people are sharing at any time, with access to historical content as well.
A new service, which I'll write about shortly, is BackType. It is a new service that allows you to search keywords as they're used in the comments sections of blog posts. BackType is a very promising community that not only allows us to search relevant comments across the blogosphere to uncover important conversations that may require our participation, it also connects us to like-minded thought leaders and the posts that compel them to comment on, in addition to publishing content on their own blogs. Please read Louis Gray's
post for a more detailed summary.
Technorati, BlogPulse, and services such as StartPR also provide the ability to search related keywords in blogs, tags, and online conversations.
Also, don't forget the social networks that are related to your industry or your social graph. For example, in the social media and marketing world, searching Facebook, MarcomProfessional, SocialMediaToday, Gooruze, Yahoo Buzz, among many others, can yield incredible conversations that not only reveal how your identity, brand and reputation are discussed, but also provide the opportunity to participate in ways that increase your community awareness, visibility, and social capital.
There's always something to learn as we're forever students of New Media.
Whether you're investing in your brand, or you're the brand ambassador for a company or organization, active listening and observing is as important as participating and contributing. It's proactive versus reactive and it is always the difference between positive, productive discussions and crises communications or defensive exchanges.
This is your identity, your reputation, your brand, your experience, own it.
Socialized media is extending everyone's proverbial "15 minutes of fame," and providing us with the real opportunity to build and grow our personal brands and establish a position of authority based on our expertise. It only matures and expands the more we devote to listening, participating, and contributing to related conversations over time.
You are your best investment and you'll earn the rewards and relationships you deserve.
The Socialization of Your Personal Brand – Part I
The Socialization of Your Personal Brand – Part II
Additional Resources on Personal Branding and ORM:
Personal Branding Blog
Lee Odden
Reputation Advisor
Andy Beale
Connect with me:
Twitter, Jaiku, LinkedIn, Tumblr, Pownce, Plaxo, FriendFeed, Plurk, BackType, or Facebook.