Conversations continue to splinter throughout every new blog post, micromedia community, network, lifestream and aggregated community across the Social Web. While some services are attempting to aggregate and host these conversations through a personal, customizable dashboard supported by yet another complementary social network, the truth is that they only continue to fragment our attention as well as our ability to consistently participate in every community where our contribution may be beneficial. From here on out, we have to carefully choose where we engage simply because we can't participate in every network, regardless of our noblest of intentions. We need to prioritize our activity.
As we've learned over the last several years, markets are defined by conversations and those discussions reveal everything about perception and awareness. We must, at some level, continually listen to, and identify, and join relevant discussions, even at the risk of creating less original content on our host platforms. Yes, that's right. Participation isn't only defined by producing content. It's also about supporting and responding to the thoughts and work of others.
Through participation, we earn relationships and hopefully build authority by contributing helpful advice, information and insight. We also learn more about the subjects in which we're interested, creating a deeper understanding of the dynamics associated with not only the subject matter, but also the community view and reaction to it. In the process, we establish and cultivate our online brand, reputation, and associated expertise that is only fortified through every new piece of content we publish and every comment we share.
Social platform services such as SezWho (which is running on PR 2.0 and bub.blicio.us) are formally packaging our expertise through the aggregation of our comments and the ratings our insight as defined by other members of each community. Through SezWho, for example, we can build our own online dossier that presents a comprehensive list of our thoughts and ideas as contributed in blog posts, comments, forums, and other related Web sites.
The process of listening isn't only relegated to the research and analysis of individual reputations. Listening is also instrumental in the creation of new communications and service initiatives as well unearthing the specific conversations that matter to your brand – for gathering data and also discovering opportunities to respond.
To date, we used free and maybe paid tools such as Radian6, Neilsen, or BuzzLogic, to help us find keywords in blog posts and distinct dialogue within social and micromedia networks. But, there wasn't anything that was dedicated to help us readily uncover the reactions to that content, specifically related to the comments within the general blogosphere.
Introducing BackType, a service that I believe, is navigating conversations back to the blogosphere.
BackType is a new service that brings blog post comments back into the spotlight. Whether you're managing an online reputation management (ORM) or an online monitoring system (OMS), BackType allows you to search keywords across the blogosphere to uncover important conversations that may require our participation, or at the very least, provide you with insight into critical community perspective. You can also search all comments by a particular person and date range to create a snapshot of someone's area of focus, bias, or expertise.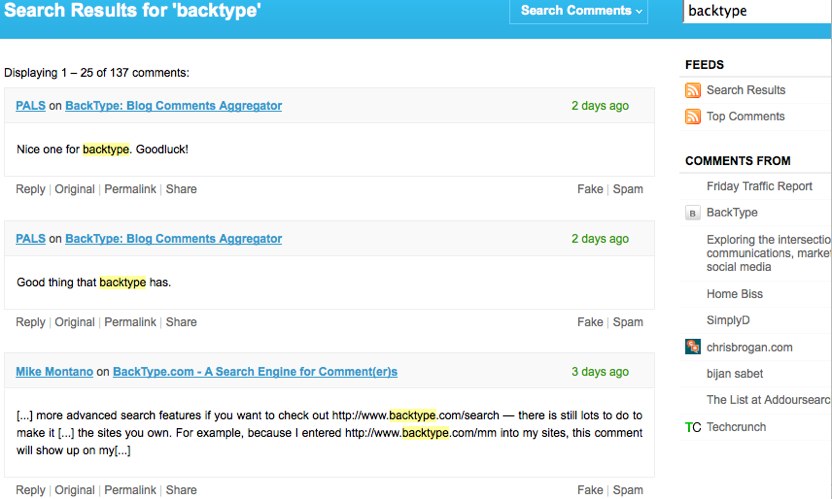 The new service is built upon a social framework that is also, yes, a social network. We can create a profile that, as usual, portrays our persona in a way that hopefully contributes to our strategically crafted online brand.
BackType connects us not only to the comments that are important to us, but also to like-minded thought leaders and the posts that compel them to share their thoughts, in addition to extending the conversation thread by publishing related content on their own blogs.
When you log on to BackType, you can search comments or find and follow people that are worth tracking. Each time you hit your dashboard, BackType provides an aggregated view of the comments made by your peers to stay connected to and learn from their activity.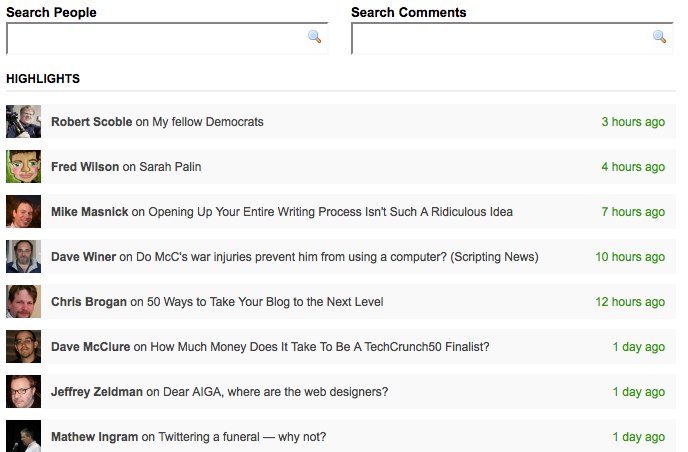 Perhaps most notably, you can bookmark, share, and also reply to comments from the dashboard to immediately add your views to each and every related conversation and also incrementally contribute to your personal and professional credibility.
All of features and capabilities listed above, have earned BackType a notable spot on v 2.0 of The Conversations Prism, which is expected to be released very soon.
Perhaps we can convince FriendFeed, as well as lifestream tools such asSwurl, Strands, Ping.fm, Lifestream.fm, SocialThing, Pheedo, and Life2Front, among others, to add the BackType feed to their streams
Related posts:
– New Communication Theory and the New Roles for the New World of Marketing (PR 2.0)
– Distributed Conversations and Fragmented Attention (PR 2.0)
– Comcast Cares and Why Your Business Should Too – The Socialization of Service (PR 2.0)
– The Value of Online Conversations (PR 2.0)
– The Social Media Manifesto (PR 2.0)
– The Centralization of The Decentralized Me (bub.blicio.us)
– Louis Gray on BackType
– Dave Fleet on Backtype
– The Socialization of Your Personal Brand (PR 2.0)
Connect with me on:
Twitter, Jaiku, LinkedIn, Tumblr, Pownce, Plaxo, FriendFeed, Plurk, Identi.ca, BackType, or Facebook