Over the last several months, I've had the distinct pleasure and honor of working with some of the most visionary people online to develop a solution that WE, as social architects, need to stay connected, and also, centered.
I've invested a significant portion of time and energy into the support, development, and refinement of an ambitious project led by Jodee Rich. I did so, because I believe that it is one of the most compelling and promising services for uniting our distributed social presence and the relationships that make us stronger – personally and professionally.
Introducing PeopleBrowsr, an attention-centered dashboard for managing your online relationships and communication in Twitter and across multiple social networks.
It is making its public debut in Alpha today, which means that it is still in an early, but a highly functional, stage of development. The only way to improve it is to let real people have access to it, without restrictions.
PeopleBrowsr offers a vast breadth of features and functionality. If you're a Social Media power user or a brand manager, this is a wish come true.
At its foundation, PeopleBrowsr is a first of a kind meta-network for social networks that works with Mozilla FireFox 3, Safari 3.1 or Google Chrome – no download or plug-in required. It essentially turns your Web browser into a simple, visual social media dashboard. While there are many third-party tools for Twitter, PeopleBrowsr brings the best features from all of the popular add-on services into one solution – without requiring a download or a browser plug-in.
It combines your profiles and your connections across multiple social networks into one, easy to manage place, including, Twitter, Facebook, FriendFeed, LinkedIn, Flickr, YouTube, Upcoming, among others. You can mix views to include activity from all or selected networks simultaneously, individually, and also communicate with your contacts across networks, from one place.
Mixing your view and interaction.
As an introduction to the service, we'll start with Twitter.
Anyone familiar with TweetDeck will enjoy an instant familiarity with the friendly interface. But that's where the similarity stops and the unique benefits emerge.
PeopleBrowsr supercharges Twitter.
With one simple to use browser-based hub, everyone can view, group, and communicate with friends, and friends of friends, in and across all of the popular networks. You can update status, view posts, connect with contacts, make new friends, and share content within and between networks.
At first sight, PeopleBrowsr provides either a columnar view (The PostStack) or a "people" grid gallery of organizable tweets from "everyone" in the Twitter stream with additional distinct columns for "following" and replies. Additional stream options feature the ability to view direct messages and other standard views into dedicated, scrolling columns. PeopleBrowsr also provides integrated search functionality of Twitter directly within streams, displaying results in new stream columns. And, if you want to focus on key regions, you can also run hyper local searches to see who's tweeting in a certain city. Searches can be additive for further refining of streams.
But wait, there's more…
With PeopleBrowsr, you can monitor brands, engage with communities, and improve communications with friends through a myriad of unique features that include, the ability for power users to easily build and communicate specifically with dedicated tag-formed groups; scheduling tweet posting at a later time; and also network-wide, wiki-style tagging of people for grouping, categorization, and also searching.
Most importantly, PeopleBrowsr introduces the foundation for the very first address book for Twitter.
Take a deep breath, PeopleBrowsr is much more than a dashboard for Twitter, it's a social network for all social networks.
Today, many people participate in multiple online social networks. From Twitter to FriendFeed, LinkedIn to Facebook, and Youtube to Flickr, the attention of today's online enthusiasts is thinning and distributed. While the alpha version of PeopleBrowsr focuses initially on empowering the Twitter community, the service actually unites Social Media and the Social Web.
PeopleBrowsr empowers power users and "the rest of us" alike to concentrate energy in one place instead of wrestling with a distributed presence. You no longer have to open different tools and browser tabs to log in and connect with people through disparate services. As a single social media dashboard, PeopleBrowsr allows anyone to manage all of their personal network profiles. It simplifies communication and relationship building with friends and like-minded individuals – regardless of social media network.
PeopleBrowsr also introduces PeopleBrowsr IDs (PBIDs), a new genre of intelligent social media profiles for those looking to learn more about interesting people. These rich IDs offer an instant and highly detailed overview of an individual's presence across the social Web by automatically aggregating their other network profiles and blogs as a social graph. You can also can share what you know about each individual for others to see using PeopleProfiles.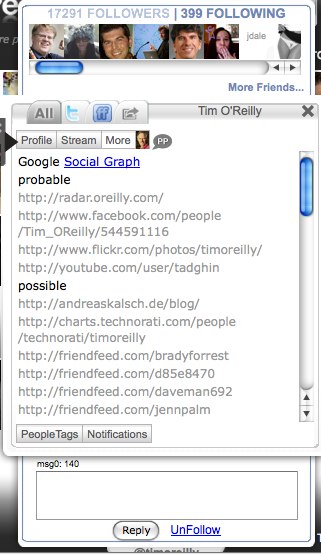 Here's me…
The team is reading Tweets and implementing fixes, fine-tuning the product, and integrating new features ahead of the beta release due out at the beginning of the new year. "Live" Tweets from the community are being used to build a new product in real time. They're listening!
At the very least, I hope PeopleBrowsr offers a refreshing and helpful alternative to centralize your online presence and the relationships that define who you are today and tomorrow.
Please spread the word…
I also wanted to send a special thank you to each and everyone who took the time to meet with Jodee and me to share their initial reaction and feedback to help us get to where we are today.
Thank you.
Ariel Waldman
Cal Hendrickson
Cathy Brooks
Chris Saad
Christopher Golda
Dave Mathews
Frank Gruber
Guy Kawasaki
Jason Kincaid
Jeremiah Owyang
Jodee Rich
Justin Kan
Laura Fitton (Pistachio)
Loic Le Meur
Louis Gray
Mike McGrath
Robert Scoble
Sarah Lacy
Tara Hunt
Tim Ferriss
Tim O'Reilly
For more on PeopleBrowsr, please read:
Louis Gray
Robert Scoble (with video demo)
Read/Write Web – Sarah Perez
Related posts on PR 2.0:
– Introducing @MicroPR, A PR Resource for Journalists, Analysts and Bloggers on Twitter
– Twitter Tools for Community and Communications Professionals
– In the Social Web, We Are All Brand Managers
– The State of Social Media 2008
– The Social Revolution is Our Industrial Revolution
– The Essential Guide to Social Media
– The Social Media Manifesto
– PR 2.0: Putting the Public Back in Public Relations
– Introducing The Conversation Prism
—
Connect with me on:
Twitter, FriendFeed, LinkedIn, Tumblr, Plaxo, Plurk, Identi.ca, BackType, Jaiku, Social Median, or Facebook
—
Subscribe to the PR 2.0 RSS feed.

—
peoplebrowsr twitter facebook flickr social+media socialmedia brian+solis social media pr2.0 pr+2.0 2.0 media+2.0 media2.0 network visionary dashboard linkedin guru marketing communication expert brand manager keyword