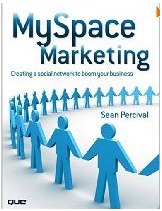 Sean Percival is a published author, developer, blogger, and an overall online marketing and SEO expert. A short while ago, Sean asked if I would write the foreword for his new book, MySpace Marketing.
Que, the book's publisher, has graciously granted me permission to share the foreword with you. While the premise encompasses MySpace, as a social marketer, you could theoretically insert any "social network name" and find that the guiding principles and ideologies are perpetual.
Enjoy…
—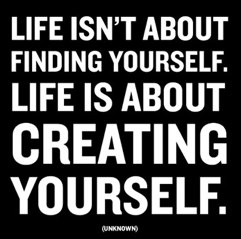 In the era of the Social Web, everything we create and share online is open to public discovery, interpretation, and feedback. It introduces our thoughts, emotions, passions, and insights to new people and erases the geographic borders and boundaries that prevented us from artfully and naturally connecting with like-minded people around the world.
Your digital identity defines who you are. And in this genre of Web-savvy content creators and purveyors, your online reputation does indeed precede you.
Perception is reality.
The Social Web on websites like MySpace has effectively introduced us to a digital land rush that allows us to stake a claim to the markets where we can excel in ways previously impossible.
We're creating and populating online societies and global neighborhoods where we can contribute to, and directly benefit from, the proliferation of innovation, interaction, and subsequent commerce.
It's nothing short of an incredible, life-changing opportunity for you to demonstrate the value, experience, and knowledge you represent to earn and invest in the relationships that propel your business as well as your professional and personal brand.
Maintaining a central presence online, on social networks, in addition to a company website or blog, provides you with an effective dashboard for building strategic relationships with the very people in that network who can help your business grow.
A strategically-developed profile on MySpace, if that's where your customers are active, provides you with a home base for presenting your value proposition, managing relationships, and also proactively engaging with prospects, consumers, and partners.
MySpace has evolved into a powerful, highly integrated platform, showcase, and resumé for your social capital—online and in the real world. A social profile facilitates presence aggregation, channeling all online activity through one main hub. Simply said, it becomes a repository for our ideas, expertise, differentiation, experience, and every social media object we create and share. This ultimately transitions from a static web profile into a dynamic and collaborative destination for the brand you.
In Social Media, your personal brand is defined by the sum of its distributed parts. Whether you realize it or not, your blog posts, comments on other blogs, updates on Twitter, and the pictures you upload, contribute to your online persona.
It's the curation of all our disparate pieces (social objects) online that collectively paint a picture of who we are, what we represent, as well as our strengths and weaknesses. This brand is yours to shape, cultivate, nurture, and craft.
We are living in a Social Economy and it is defined by the exchange of ideas and information both online and in the real world. The value and state of the exchange is indexed by the dividends earned through new opportunities and alliances. Relationships are the new currency of the Social Economy as they fuel and extend interaction, insight, and loyalty, and in turn, contribute to the social capital of the individuals who actively invest in their personal branding portfolio.
It's how we instill and create trust.
It's how we convincingly compel action through the demonstration of true expertise.
It's how we build a bridge between our business and our customers.
Social networks are living and breathing communities that are rich with culture and supported by the ecosystems that people create and depend upon for increased vibrancy, interaction, and value.
These digital cultures are not unlike the societies that define our world today. Technology changes, but people don't.
While social networks exist to connect us to others, just like in the real world, relationships are governed by strategic rules of engagement and natural human etiquette. Relationships are not earned nor will they bear fruit if they're simply relegated as cogs in your viral marketing machine.
Establishing an effective online presence and building rewarding relationships can only be accomplished by unbiased observation and genuine immersion.
The study of social sciences, such as anthropology and sociology, teach us to first observe the behavior, interaction, and culture of a society before we try to become a citizen, let alone market to it.
The profiles in social networks are so much more than avatars—this is something that's easy to forget. They're not target audiences for your messages and sales pitches. They are extensions and representations of real people and they are online to establish relationships that are mutually beneficial—just like you.
Instead of simply thinking about social networks as new ways to communicate with friends, family, and associates or sell captive constituents, let's instead view these communities as the headquarters for our online brand, collective expertise, and also the nerve center for connecting to our stakeholders.
Participation and interaction, outside of a sell cycle is the minimum ante for induction into the ecosystem.
Let's start by first answering these questions to effectively prepare us for a successful immersion into new online communities:
What do you stand for?
What are your intentions?
What value do you offer to the community?
Who are our customers and where do they go for information?
Why are our customers online?
What are the needs and real "pains" of those you're trying to reach?
How can you help, outside of selling something?
What will customers and peers say about their experience with you today and tomorrow?
It's important to weigh, factor, and proactively contribute to the impression you want others to have when they stumble upon or intentionally find your profile or how they perceive, react and respond to your initial and future contact. This is the first step in defining and shaping your online brand as we create a solid foundation for relationship building.
No matter what world you live in, we are all responsible for the public relations of any organization we represent. Everything we do, whether we're in PR or not, reflects on, and contributes to, the brand we represent.
Arming employees and our community with knowledge and expertise and empowering them to participate, creates an efficient, influential, and community-driven organization that stays in sync with stakeholders. It creates an active collective of influential voices who will help shape perception and provide help to those seeking advice. Instead of traditional top-down, us versus them marketing strategies, a relationship-powered approach commission the greater community to become an extension of your outbound activities, beliefs, knowledge, passions, and value propositions.
As marketing, communications, and service professionals with a heightened sense of social awareness and relevance, we earn the right to live and conduct business in the digital societies where we have invested in its maturation, education, and cultivation and the relationships that serve as its foundation and DNA.
We are both architects and builders who are creating the blueprints for and constructing the bridge that connects customers and the people who represent the companies they believe in.
To truly connect however, we must learn through listening to day-to-day online conversations related to our brand. This is the only way to honestly empathize with our customers—otherwise, we revert to common lip service.
We must observe the interaction and culture that connect the very people that contribute to a thriving community. We must become the customers we want to reach to genuinely engage with them. In the process we redefine sales, service, and marketing, by rebuilding our initiatives from a demographics-driven campaign to a more humanized approach—one that only inspires more meaningful activity, engagement, and results.
Building a bridge to our customers requires the humanization of our mission and our story.
It takes so much more than an understanding of the tools and technology that power social networks to inspire change and build long-term, meaningful relationships. It's our job, duty, and responsibility to reach our community, their way, and teach others to do so along with us, whether it's from within or externally.
It's one thing to be genuine, but it's altogether different to translate and effectively communicate what you epitomize to the various markets and what they're seeking.
Being human is far easier than humanizing your story.
Feel it.
Live it.
Breathe it.
Love it.
Embody it.
You are the personality and the soul of the brand you represent.
Actions speak louder than words and everything begins with listening. It is after all, the best listeners who serve as the best conversationalists. Listening reveals everything we need to know to effectively connect what we represent and what we know to the unique needs and questions of community participants. In the process, we become reliable and trusted resources.
Remember, people do business with people they respect and they continue to stay loyal because they trust the relationship with the people that represent the brand, not the brand in of itself.
In social networks and the all-encompassing Social Web, we earn the business and relationships we deserve. This is the poetry of social networking and relationship building.
MySpace is one of many popular social networks in a landscape, which will only continue to evolve with the Web. But unlike other communities, MySpace has its own living and breathing ecosystem and thriving economy that attracts and congregates people and brands to actively engage with each other. It creates a veritable exchange that constructs an online second life that physically transcends into our real life.
MySpace is a thriving opportunity for small businesses, artists, and mainstream brands to connect with the very people who can not only become loyal customers, but those who we also empower and reward for establishing and extending online communities that carry our brands forward.
MySpace is a rich and vibrant culture unto itself and rich with existing and potential brand ambassadors who can tell our story, even when we're not present to do so. All it takes is for us to first observe, identify, and listen to those people that we wish to engage.
We then borrow from the science and lessons of anthropology and sociology to understand the behavior and dynamics that define the subcultures where we wish to participate. With an understanding of these digital societies and relevant psychographics fused with customer empathy and an adeptness for developing interpersonal relationships, we can adapt our value and story to transparently connect with tastemakers through genuine immersion.
Connect with Brian Solis on:

Twitter, FriendFeed, LinkedIn, Tumblr, Plaxo, Posterous, or Facebook
—
Click the image below to buy the book/poster:
pr pr+2.0 pr2.0 public+relations marketing advertising interactive social+media socialmedia brian+solis social media media2.0 media+2.0 2.0 smo social+media+optimization marcom communication publicity advertising expert interactive spin brand branding guru social+architect