(cc) Brian Solis
As Social Media permeates our rhythm and routine for discovering, creating and sharing content and information online, the gap between generations is rapidly diminishing.
PEW Research released a new report that documents the increase in social networking activity among U.S.-based adults for both personal and professional relationships.
Just over one third (35%) of American adult Internet users have created a profile on an online social network, four times as many as three years ago. However, it is still much lower than the 65% of online American teens who use social networks to showcase their personality and also communicate with others.
Prior to reviewing the in-depth findings by PEW, we can assume that:
– LinkedIn caters to an older demographic that is more interested in cultivating professional connections and promoting expertise.
– Facebook, while attracting a broader age group of users, is still highly focused on younger demographics and facilitating personal connections and events.
– MySpace, well, is MySpace, and largely hosts the majority of America's youth for personal interaction and self-expression/promotion.
According to the study, adults make up a larger portion of the US population than teens, which is why the 35% number represents a larger number of users than the 65% of online teens who
also use online social networks. Still, younger online adults are much more likely than their older counterparts to use social networks, with 75% of adults 18-24 using these networks, compared to just 7% of adults 65 and older. At its core, use of online social networks is still a phenomenon of the young.
Among adults, MySpace is the most popular online social network. 50% of adult social network users age 18 and older are on MySpace, while 22% of adult social network users have an account on Facebook. Another 6% have an account on LinkedIn, 2% have an account on Yahoo, and 1% each have accounts on YouTube and Classmates.com.
PEW Research Observes:
– 75% of online adults 18-24 have a profile on a social network site
– 57% of online adults 25-34 have a profile on a social network
– 30% of online adults 35-44 have one
– 19% of online 45 to 54 year olds have a profile
– 10% of online 55 to 64 year olds have a profile
– 7% of online adults 65 and older have a profile
Online social network applications are mainly used for explaining and maintaining personal networks, and most adults, like teens, are using them to connect with people they already know.
– 89% use their online profiles to keep up with friends
– 57% use their profile to make plans with friends
– 49% use them to make new friends
– Other uses: organize with other people for an event, issue or cause; flirt with someone; promote themselves or their work; make new business contacts
Most users maintain multiple profiles, generally on different sites.
– 51% of social network users have two or more online profiles
– 43% have only one online profile
Among social network users with multiple profiles:
– 83% have those profiles on different sites
– 17% have those profiles on one site
– 24% have multiple profiles so they can keep up with friends on different sites
– 19% have multiple profiles to separate the personal and the professional
– 6% just use different sites
– 4% have different profiles for different parts of their personality
– 4% have older profiles on sites they do not use anymore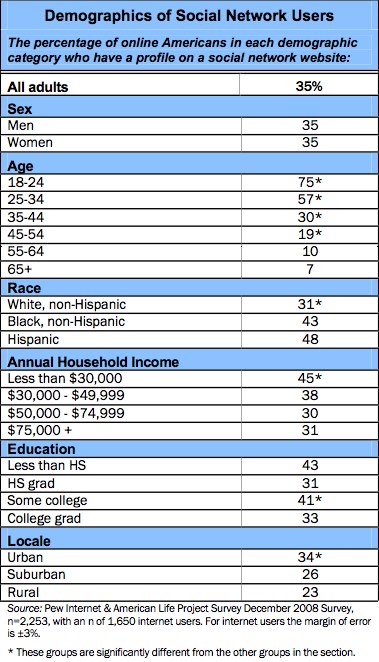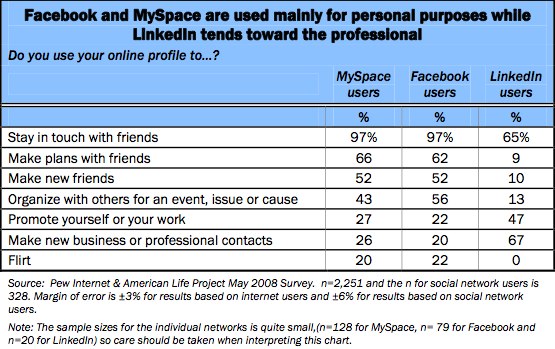 The experimentation with social networking will only continue to pervade our culture, the dynamic for how we foster and cultivate relationships, and continue to enhance foundation for interpersonal communication, both in the real world and online. The ends will meet in the middle – the fuse is already burning.