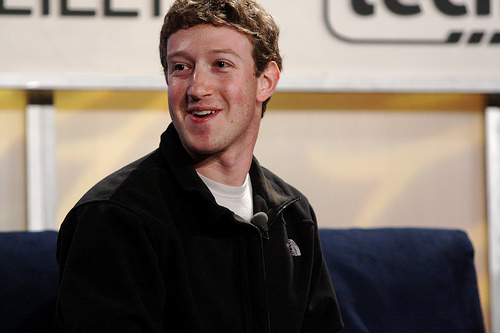 Shot at SXSWi 2008
A few news outlets reached out to me for comment regarding the uproar sparked by the recent change to Facebook's Terms of Service (ToS). It inspired a public response as I am not only someone who spends a significant amount of time in the online social field studying digital anthropology and new marketing, I'm also a willing participant in and contributor to the Facebook economy.
So, why is everyone upset?
When you read the new ToS, it's actually quite alarming…
You hereby grant Facebook an irrevocable, perpetual, non-exclusive, transferable, fully paid, worldwide license (with the right to sublicense) to (a) use, copy, publish, stream, store, retain, publicly perform or display, transmit, scan, reformat, modify, edit, frame, translate, excerpt, adapt, create derivative works and distribute (through multiple tiers), any User Content you (i) Post on or in connection with the Facebook Service or the promotion thereof subject only to your privacy settings or (ii) enable a user to Post, including by offering a Share Link on your website and (b) to use your name, likeness and image for any purpose, including commercial or advertising, each of (a) and (b) on or in connection with the Facebook Service or the promotion thereof.
If you were to summarize this section, it basically screams that your content is theirs to use when and how they want.
Naturally, bloggers, reporters, analysts, and influential Facebook pundits collectively responded in outrage and surprise. The news continues to draw angst, frustration, and also sparking debates as it permeates real world communities outside of Techmeme. Famed celebrity gossip blogger, Perez Hilton recently called for a boycott to the globally dominating social network.
The reaction is reminiscent of the unbridled public objection to the ill-designed and communicated Beacon 1.0 marketing/advertising program. In that case, the public rightfully forced a response from the elusive and somewhat quiet Mark Zuckerberg and ultimately, a change to the Beacon policy.
Now, confused, somewhat hostile, and critical Facebook constituents have solicited a very human response from Zuckerberg. In it, he attempts to provide a deeper explanation and meaningful rationale behind the ToS modification. It is this response that is potentially difficult for everyday people to comprehend and accept as it is a stark reminder that the social web, is well, social.
"People want full ownership and control of their information so they can turn off access to it at any time. At the same time, people also want to be able to bring the information others have shared with them—like email addresses, phone numbers, photos and so on—to other services and grant those services access to those people's information. These two positions are at odds with each other. There is no system today that enables me to share my email address with you and then simultaneously lets me control who you share it with and also lets you control what services you share it with."
Mark Zuckerberg basically attempts to extinguish the flames of his critics by asking us to "trust his team" that our content will not be used in any way that we would disapprove. The ToS language is explicit in its design and ambition that could serve as the flash point for something not yet visible or public. However, their is a potentially disastrous risk involved for any company with a multi-billion dollar valuation and how it uses personal content. For this reason, Facebook's actions are governed by the market and its ability to dictate the future success or failure of the network.
But to be honest, we should be worried less about how Zuckerberg and co. will use our content when compared to the bigger threat and perils associated with publicly sharing content in general.
His explanation essentially serves as a wake up call to users of all social networks and other forms of social media that what we share online is now shared not only with those we know and trust, but those we don't know. And, trust is moot when content can freely traverse network to network and person to person without feedback, knowledge or insight until something or someone potentially forces a new revelation wrapped in unsolicited context. Trust gives way to blind intent.
What you share online, from pictures to updates to virtual gifts to videos, paints a picture of who you are and what you represent, regardless of your intentions. Everything accumulates into one vault that ultimately represents your social capital and Facebook, and any other social network – including Twitter – is merely providing you with the ability to define the impressions you feed, the perception you shape, and the personal brand that results from your online participation and contributions across the entire social web.
Once you share content online, control of its course and interpretation is traded for the hope of a positive public response and the ensuing support it may bring. The reality is that it's an exchange which requires calculation as content can reside on the web for years.
As Kara Swisher so brilliantly educates us, "Here's the key definition of interactive: 'Mutually or reciprocally active. That means once you send something to others, it is out there in cyberspace forever, never ever to return. And that goes double on social networking sites, where–let's be honest–people egregiously overshare and then get all righteous when it is explained to them that sharing means, um, sharing. As in: You cannot take it back, if you have shared with 476 of your closest "friends," your bikini shots from Cabo."
I was specifically asked if this change to the ToS wil affect the traffic and popularity of Facebook and other social networks.
My answer?
I hope so.
I would hope that these networks flourish because of their innovation for facilitating new dynamics for public and personal dialog and their transparency to frequently remind us that what we share online really belongs to the community in which we share it.
Facebook and other social networks directly influence their future as measured by their actions and public reaction, which ultimately engenders the community support they deserve.
In the end, it is our responsibility to protect ourselves and our online persona. We must also realize that in the process of sharing and participating online, our content is shared within our seemingly protected inner circle of friends, but the reality is that it also potentially reaches the extended networks that connect our social graph and the graphs that link our friends of friends, their friends of friends, and so on.
In the Social Web, we are now brand managers.
Related Posts on PR 2.0:
– Ariel Waldman vs. Twitter, When TOS Doesn't Apply to You
– The Battle for Your Social Status
– The Socialization of Your Personal Brand
– In the Social Web, We Are All Brand Managers
– Facebook is the Hub for Your Personal Brand
– Facebook is a Beacon for Bad PR
– Mark Zuckerberg Listens and Responds to Beacon Crisis
– Beware the Things You Share in the World of Social Media