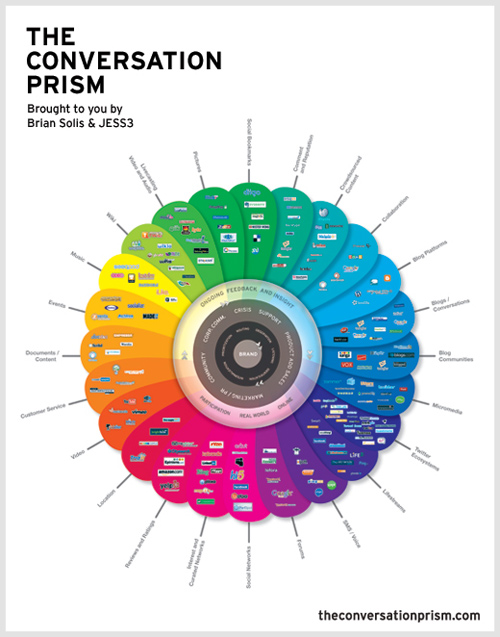 The Conversation Prism by Brian Solis and Jesse Thomas
The Conversation Prism debuted in August 2008 to provide a visual representation of the true expansiveness of the Social Web and the conversations that define it. In this short time span, over one million people have crossed its path.
When Jesse Thomas of JESS3 and I initially mapped "the conversation," we recognized that the act of categorizing social networks within a visually rich graphic would be momentary at best, demanding endless iterations in order to accurately document evolving and shifting online conversations as well as the communities that promote them.
My goal was to observe, analyze, dissect, and present the dynamics of conversations, how and where they transpired.
We're proud to introduce version 2.0 of The Conversation Prism. We're also excited to release a version that traverses the online realm into the real world with the release of a full color 18" x 24" poster to prominently display in the workplace, classroom, home office, or at events. Please visit www.theconversationprism.com for details, embed codes, and additional insights.
What follows is a detailed mission statement and instructional guide to help you successfully endeavor into the social world of online communication and relationships building.
The Eloquence of the Conversation Prism and Social Science
The inspiration for its inception derived from a consistent observation of top-down methodologies and practices of brands, professional and personal, employed to create a presence on the social Web. Simply stated, brands focused on building presences in the most popular communities without regard to how they would attract inhabitants and ultimately interact, let alone whether or not their core ambassadors were present.
The Conversation Prism suggested a reversal in this approach, instead inspiring a bottom-up strategy that promoted social research, mapping, and ethnography. This inceptive sociological fieldwork would change everything and provide the insight necessary to develop an enlightened and cultured Social Media program that could potentially humanize the brand and foster relationships and engender emissaries to carry goodwill across the social web.
You + Me + Mutual Value = <3
People aren't lured into relationships simply because you cast the bait to reel them into a conversation.
Sincerity extends beyond the mere act of creating a profile on Twitter or forming a fan page on Facebook or a group on LinkedIn. The dual definition of transparency serves very different forms of both genuine and hollow separated by intent and impression. Relationships are measured in the value, action, and sentiment that others take away from each conversation. Talking "at" or responding without merit, intelligence, or quality grossly underestimates the people you're hoping to befriend and influence.
If participation were this simple, then perhaps everyone would excel as a Social Media "expert."
It's the difference between community and a halfway house; one will flourish, while the other will shelter transients, never building a thriving citizenry.
Identifying connected communities and observing the themes and culture of each provide entrée into the personification necessary to foster a genuine and equal ecosystem for dialogue.
It's about bringing information and solutions to people where they congregate before attempting to host their attention on our terms.
The art of conversations is mastered through both the practice of hearing AND listening.
I hear you.
I'm listening to you.
I understand.
Drink it in… identify opportunities to engage, but more importantly, experience the nature, dynamic, ambience, and emotion in order to sincerely and intelligently empathize and converse as a peer.
Conversation Workflow
Making connections at the human level with the intent to listen before action is the only true and rewarding source of mutually beneficial engagement.
Socialized media is empowering us to not only consume content, but also create it. This is the era of new influencers and we become media and earn authority based on the content we share and also how and where we participate. In turn, our social graph creates an orbiting realm of social influence that can be useful to brands that align with our values and lifestyle.
This is about humanizing the story in a way that empathizes with those whom you're trying to compel.
Conversations are increasingly distributed. This social distribution fragments our ability to connect with masses, but promotes a 1:1 approach that yields a one-to-many upside through the empowerment of influential social beacons.
The Conversation Prism represents that opportunity to proactively survey the landscape to pinpoint relevant dialogue, prioritize participation strategies, and create an engagement hierarchy and org chart.
V2.0 introduces a workflow rotation of concentric circles that assist in the establishment of value-added engagement cadence.
Level One, The Hub:
As a communications or service professional, you'll find yourself at the center of the prism – whether you're observing, listening or participating.
Halo 1:
The next layer of circles is supported by the activity of learning and organizing engagement strategies…
1. Observation – Discovering the communities that are actively discussing your brand
2. Listening – Hearing the people and the underlying sentiment in order to accurately craft response and participation programs, by community.
3. Identification – Recognizing and acknowledging the beacons to potentially enlist as brand ambassadors as well as the consumer who simply needs your response.
4. Internalization – Not every bit of feedback will be beneficial to your organization, but you will recognize patterns or spots of brilliance that can improve existing products and services over time.
5. Prioritization – Assess and structure where and how your team should focus.
6. Routing – Delegate by topic and expertise.
Halo 2:
Social Media represents the intersection of all public facing departments and requires that each infrastructure employ a socialized series of guidelines and response strategies. Inward focus now must include outward contribution. Ideally, each organization will appoint a community manager to listen and also assign and manage the responses of each department. Over time, this process will seamlessly integrate within the company's CRM infrastructure, creating a new class of Social CRM or sCRM.
Conversations should always map to specific authorities within an organization to provide a competent and helpful response.
1. Customer or Product Support
2. Product and Sales
3. Marketing/PR
4. Community
5. Corporate Communications
6. Crisis
7. Support
Halo 3:
The outer ring completes the image of conversational workflow, but not the cycle. The process is powered by the continual rotation of listening, responding, and learning online and in the real world.
1. Ongoing Feedback and Insight – This is a necessary ingredient in more effectively building a socially aware and trusted brand. We must learn and demonstrate growth based on the feedback we receive. We must also continually share knowledge, provide resources, and communicate vision to earn trust, authority, and respect.
2. Participation – It's been said that participation is the new marketing. Perhaps it's better said that participation is the new focus group and mechanism for embracing humility to genuinely humanize your story. It's how we learn and improve.
3. Online – Effectively building online relationships increase brand visibility and strengthen brand value within respective Social Networks. Embracing and empowering the community carries our brand personality across social graphs.
4. Real World – The true metric for relationships is how well they carry from the Web to the real world. It's not about reaching customers using the latest shiny new object, it's about reaching customers where they go to discover and share information and building relationships that have meaning and worth online and offline.
Creating a Social Map
As conversations are increasingly distributed, everything begins with listening and observing. Doing so will help you identify exactly where relevant discussions are taking place, as well as their scale and frequency. This dialog can be charted into a targeted social map that's unique to your brand. In the example below, I created a Social Map using MindJet to represent the communities where (if I were a brand) either need to or currently contribute based on my initial research.
This map is compelling as it demonstrates the scope of missed opportunities to the team and also decision makers. Consider running an audit and tracking the results in an accompanying document that measures and presents the rate of occurrence, whether each instance required a response, and if so, by whom, and also the potential reach of each dialog by quantifying the network of friends and friends of friends (FoFs) in order to establish priority, authority, response strategies, and urgency.
While we can't control how our messages are internalized, we can surely shape perception at the point of discourse.
Remember, it's what you say about you, what they hear, how they share that story, and how you weave that insight into future conversations.
The Conversation Prism is a living, breathing representation of Social Media and will evolve as services and conversation channels emerge, fuse, and dissipate.
In the social economy, relationships are the new currency and in Socialized Media, you will earn the relationships you deserve, in the individual communities where stakeholders and influencer assemble.
—
UPDATE: AdAge on, "Using Social Media to Listen to Consumers"
The Conversation Prism: The Language of Human Connections is International
—
Connect with me on:
Twitter, FriendFeed, LinkedIn, Tumblr, Plaxo, Plurk, Identi.ca, BackType, Social Median, or Facebook
—
Subscribe to the PR 2.0 RSS feed.


—
pr pr+2.0 pr2.0 public+relations marketing advertising interactive social+media socialmedia brian+solis social media media2.0 media+2.0 2.0 smo social+media+optimization marcom communication publicity conversation prism conversational conversation+prism interactive anthropology sociology enthnography social+science science behavior culture listening listen relationship