In a conversation recently with good friend Jeremiah Owyang, he encouraged and motivated me to finally publish this post…
Over the last decade, Social Media has slowly evolved not only as a new content publishing, sharing, and discovery medium, but more importantly as a peer-to-peer looking glass into the real world conversations that affect the perception, engagement, and overall direction of the brands we represent.
Socialized media didn't invent "conversations," it simply organized and amplified them.
My foray into the social web and D2C (direct to customer) engagement as a complement to traditional media harks back to the early days of bulletin boards, which evolved into communities such as Yahoo Groups as well as the new era of HTML-efficient enthusiasts who created influential websites that shared news, thoughts, rants, and observations related to their passions and interests (the precursor to blogs).
Here were are, over a decade later, and mainstream brands are finally starting to pay attention. We're waking up to a new world of opportunity that no less changes everything about how, what, and to whom we communicate.
Blogs paved the way for individual authority.
MySpace and Facebook carried the baton and created an important paradigm of visible tastemakers and trendsetters.
And now Twitter is forcing the next level of reinvention for how we identify, track and respond to online conversations that are pertinent to brand perception and resonance. Twitter is the catalyst that will spark the change for how brands truly engage across the Conversation Prism a.k.a. The Social Web.
Reviewing Nielsen's analysis, Twitter growth has skyrocketed by almost 1,400% in just one year and projections predict similar jumps ahead.
Perhaps most interestingly, Nielson documented something that I've been observing for quite some time, Twitter's largest adoption is stemming from adults, not primarily via teens or college students as you might expect. In February the largest age group on Twitter was 35-49; with nearly 3 million unique visitors, comprising almost 42 percent of the site's audience.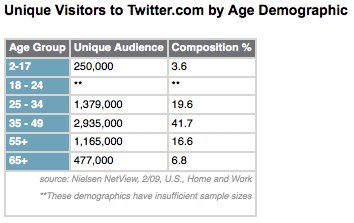 In a recent post regarding Nielsen research, this is similar to the demographic that is driving Facebook's growth as well. While, Facebook started out as a service for university students but now almost one third of its global audience is aged 35-49 years of age and almost one quarter is over 50 years old.
For a detailed view of the demographics defining individual communities, please read, "Humanizing Social Networks."
Recently, I wrote about how to track brands on Twitter and also measure their effectiveness in order to base your listening and response strategies across every affected division from public relations to customer service to product development to HR and finance.
SocialRadar recently released the top Twitter Brands for February 2009 based on overall Tweets measured by day (green) and over the course of the month (blue).
While Twitter is the shiny catalyst for corporate introspection, the social web is one big stream that requires listening, empathy, and also engagement and response.

InsideFacebook recently shared a great story of how brands can cultivate communities on Facebook using Coca-Cola as a leading example. Did you know that the Coca-Cola fan page is the 2nd most popular Page on all of Facebook with over 3.3 million fans, second only to Barack Obama? Did you know that the fan page was actually created by true fans and not the Coca-Cola marketing department?
In a recent AdAge story, the two founders, Dusty Sorg and Michael Jedrzejewski, shared their story of how Coca-Cola asked to partner with them to manage the Page in a move that showed a humble and effective approach to social media.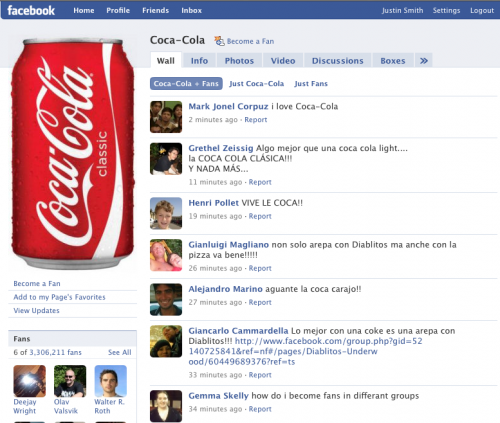 For guidance and ideas for other forms of corporate sCRM, visit Peter Kim's blog.
It's not just about the networks we KNOW, it's also about the communities we don't know – this is the source of inspiration behind the Conversation Prism. Listening to the dialog related to specific keywords within every community, initially, will help us define and chart an accurate social map that pinpoints the exact communities that require our attention, the volume and frequency of relevant conversations, and the tonality and reach of those conversations within their respective networks.
This is what I call establishing the "Conversation Index" so that you have something to benchmark against moving forward.
Tools such as BuzzGain, Radian6, Trackur, PeopleBrowsr, SocialRadar (and many, many others) are helping brands monitor and steer dialog to ensure online reputation management (ORM) in and around Twitter, while also presenting individual, real world opportunities for building relationships with the very people who contribute to your brand essence. Many tools also have integrated call center-like functionality to measure, route and manage conversations to streamline and improve the process of engagement along with influencer satisfaction.
Online discussions, rants, and observations are either alarming brand managers or fooling them into a trap of under estimation. Either way, the statusphere, blogopsphere, communities and networks, and the social web has ushered in a new genre of Social Customer Relationship Management (sCRM) that answers questions, solves problems, establishes authority, and builds relationships and loyalty, one tweet, blog post, update, and "like," at a time.
Conversations are flying in Twitter Time, communities are broade"Ning," friends are feeding, and brands are Facebooking their customers.
While only a glimpse of what will transpire over the next several years, Twitter is humanizing the strategies and the tactics for engagement with every 140 character tweet – or 120 if you want to spark retweets (RTs).
At the very least, simply listening directly in each relevant network is a great way to start:
– Try blogsearch.google.com for relevant blog posts.
– BackType to reveal the conversations that exist about you in the comments section of blog posts.
– Search.Twitter.com for related tweets or Advanced Twitter Search to measure conversations by timeframe, sentiment, location, or individuals.
– FriendFeed.com for comments about your brand from various social networks aggregated in one stream.
– Ning, Google, Yahoo, and Facebook Groups to see what others have built around your company or product.
This isn't something you can jump into without first reading the instructions. Your failure to first listen, empathize, and formulate a genuine strategy that inspires the community to grow the community will unfold publicly and damage the very attributes you wished to promote.
This is about becoming the customer you want to embrace.
Tools aside, it's your role and actions in the engagement equation of Social CRM that serves as the cadence to future dialog and ultimately shapes brand personality and allegiance with every beat of your social rhythm.
Helpful Posts:
– The Human Network = The Social Economy
– In the Statusphere, ADD Creates Opportunities for Collaboration and Education
– Humanizing Social Networks, Revealing the People Powering Social Media
– Tracking Brands on Twitter to Improve How You Listen and Engage
– Make Tweet Love – Top Tips for Building Twitter Relationships
– Twitter Tools for Communication and Community Professionals
– The Social Revolution is Our Industrial Revolution
– The State of Social Media
– Free ebook: The Essential Guide to Social Media
– Free ebook: Customer Service, The Art of Listening and Engagement Through Social Media
Connect with me on:
Twitter, LinkedIn, Tumblr, or Facebook
—
—
Now available: