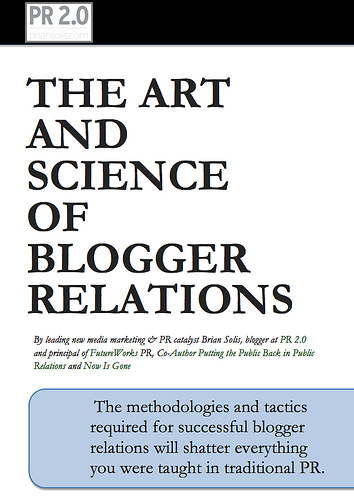 I'm happy to announce an updated version of my ebook, "The Art and Science of Blogger Relations" is now available on Docstoc. For all of you Kindle enthusiasts, it is also available in Amazon's Kindle Store.
The methodologies and tactics required for effective blogger relations will shatter everything you were taught or thought you know about traditional PR. Part "un" common sense, part market expert, part enthusiast, and part customer, together, this guide will help you embody the new techniques and mastery necessary to effectively excel in media, analyst, and blogger relations today and tomorrow – while building long term, meaningful relationships along the way.
Connect with me on:
Twitter, FriendFeed, LinkedIn, Tumblr, Plaxo, Plurk, Identi.ca, BackType, Social Median, or Facebook
—
Subscribe to the PR 2.0 RSS feed.


—
Get The Conversation Prism Poster:

—
pr blogger blog public relations pr2.0 2.0 media communications marketing marcom pitch pitching social media2.0 media+2.0 ebook brian+solis social+media pr+2.0 new art science relationships blogger+relations public+relations new+media outreach