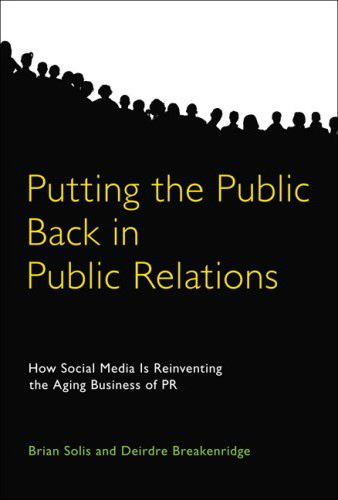 Deirdre Breakenridge and I are both proud and humbled by two recent landmarks for our book, "Putting the Public Back in Public Relations" and we owe the thanks to you.
1. The rights to translate and publish the book in Japan were solidified last week.
2. The book is currently in its second printing.
We're looking forward to the book reaching as many as countries as possible as its message and benefits are indeed global.
Thank you and we hope you continue to support us. This is an important book, and it's truly the first guide that helps you successfully navigate new media marketing, service, and communications from strategic and tactical perspectives.
For more about the book, consider joining The-Public.org or our Facebook Fan Page, two online communities we created to share updates and answer questions.
For reviews of the book, please click here.
We are the social architects and engineers designing and building the bridges between customers and brands and the stories, solutions, and experiences that interconnect us.
Please help spread the word…
Connect with Brian Solis on:
Twitter, FriendFeed, LinkedIn, Tumblr, Plaxo, Plurk, Identi.ca, BackType, Posterous, or Facebook
—
Kindle users, subscribe to PR 2.0 here.
—
New book and Conversation Prism poster now available (click below to purchase):
—
pr pr+2.0 pr2.0 public+relations marketing advertising interactive social+media socialmedia brian+solis social media media2.0 media+2.0 2.0 smo social+media+optimization marcom communication publicity advertising expert interactive spin brand branding guru social+architect