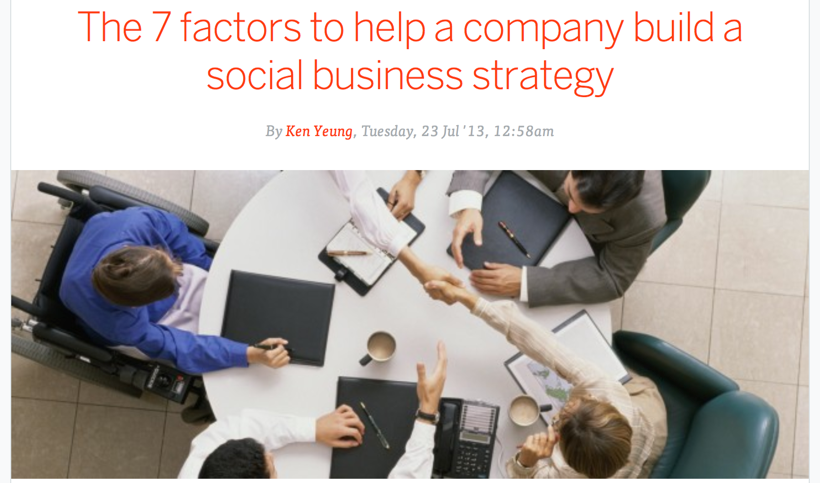 The Next Web's Ken Yeung took a read of the new ebook by Charlene Li and Brian Solis and shared his takeaways here…
In Seven Success Factors, Solis and Li follow up to their research report The Evolution of Social Business, which looked at the six stages a company undergoes to become a social business. Solis tells us they explored what separated one company from another and this is what they found:
1. Define the overall business goals: Companies that successfully transformed into social business entities were able to define what they were trying to accomplish and effectively convey its value to everyone in the company — even those that don't understand social media.
2. Establish the long-term vision: Being a social business is not about the here and now, but rather how the company will be communicating with customers, stakeholders, and the media for the next 20 to 30 years.
3. Ensure executive support: Being a social business doesn't mean responsibility and oversight belong in its own "silo". Rather, in order to empower the entire company to act, the leadership must buy into the business value and prioritize their efforts.
4. Define the strategy roadmap and identify initiatives: Solis and Li say that it's one thing to have a vision that matches the business goals, but another to find ways to executive it. They suggest crafting a roadmap that plans things for the next three years.
5. Establish governance and guidelines: Having a social business isn't like the Wild Wild West. Someone needs to be responsible for the planning, execution, and management.
6. Secure staff, resources, and funding: Using social media may be free, but it still takes resources to craft a social business.
7. Invest in technology platforms that support the greater vision and objectives: Ignore the "shiny objects" and instead focus on the technology that will actually bring you results. If there's a new social network out there, but you're doing well on Twitter, then invest your efforts into that. Evolve your strategy as you go on.