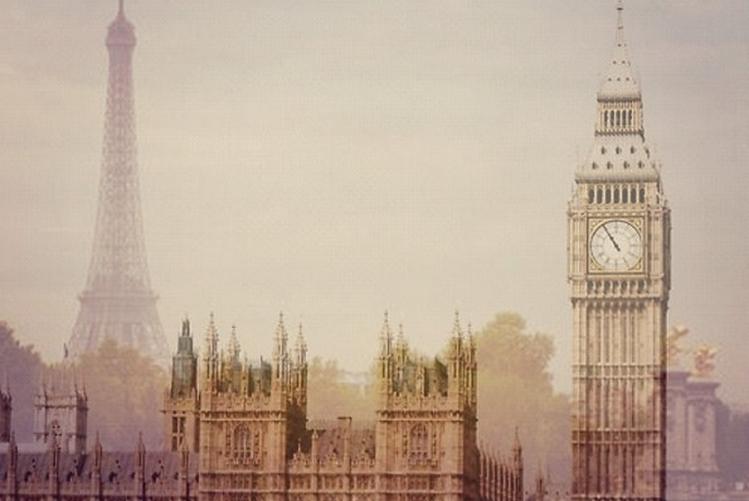 These last few months have certainly been a wonderful whirlwind. With the debut of What's the Future of Business (WTF), a research report co-produced with Altimeter Group colleague Charlene Li (The Evolution of Social Business: Six Stages of Social Media Transformation), and the roll out of the all new Conversation Prism (v 4.0), I've been inspired by all of your support each step of the way. Thank you.
It is with great privilege that I announce a special book tour in Paris and London July 8th to the 15th. To mark the occasion, there are several events that I'd like to share with you. RSVP information below…
PARIS
July 9th – 19h-21h – VIP Paris Yacht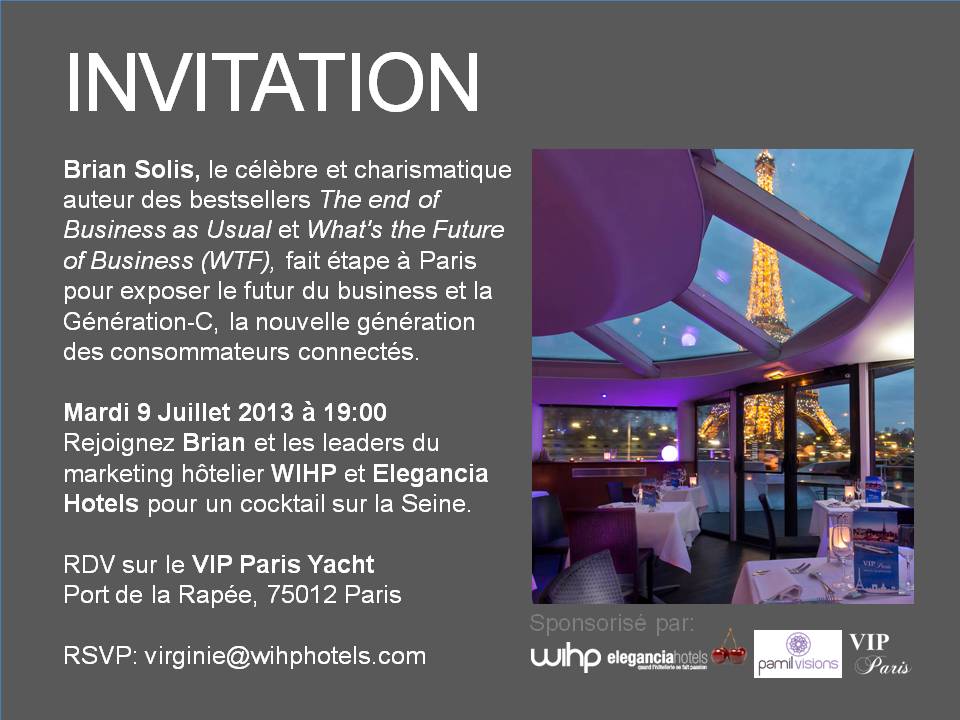 A floating networking + cocktail reception on the Seine.
Hosted in partnership with WIHP (a premier hotel marketing agency), Elegancia Hotels (I'm staying at Hotel Armoni) and VIP Paris, we will toast to you and the future of business!
VIP Paris Yacht: Port de la Rapée, 75012 Paris
Please RSVP: virginie@wihphotels.com
July 10th – 18h30 – 20h – Paris

A private salon where I will present themes and findings from WTF. Attendees will receive a complimentary copy of the book. This exclusive event is sponsored by SFR and hosted by Béatrice Duboisset of TweetBosses and Francois Vogel
Please request an invitation.
LONDON
July 11th – 18h30 – The Clubhouse London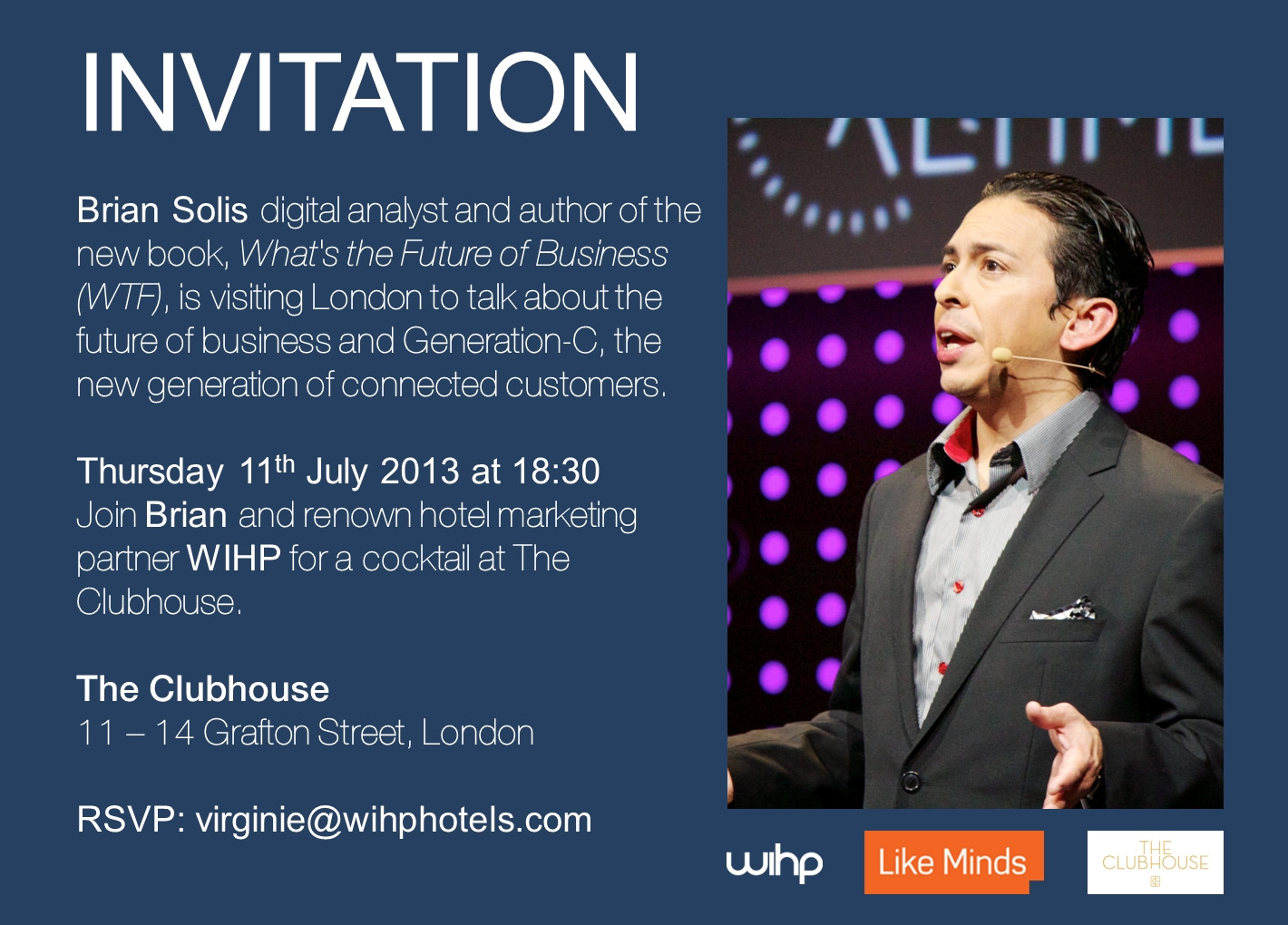 Join us at the style Clubhouse for a cocktail reception at 18h30. Organized by WIHP, LikeMinds, The Clubhouse and hosted by the lovely Gabrielle Laine-Peters, we will celebrate the evolution of new media and business and our role in defining its future!
Please RSVP: virginie@wihphotels.com
July 12th – 9:00 – Adobe, May Fair Hotel, London

Adobe hosts an exclusive event for brands and agencies where I'll speak about What's the Future of Business and the rise of the connected customer. It's also an opportunity to ask any questions you may have.
We'll also discuss…
– How leadership can survive Digital Darwinism
– The Four Moments of Truth
– Navigating the evolving landscape of new consumerism
– How to align user experience with innovation and leadership to improve business performance and engagement
Space is strictly limited to 200 by invitation only. The first 100 to register will also receive a copy of WTF.
Please RSVP.
July 12th – 18h45, B2B Huddle

Sponsored by Dell and hosted by Microsoft, the B2B Huddle will comprise a blend of listening and learning alongside meeting and speaking, plus a strong element of social with a light dinner and drinks. The event is organized by Neville Hobson and Kerry Bridge.
I will share highlights from WTF, explain the evolution of the B2B customer journey and also answer your questions.
Please RSVP here.
Thank you
I do hope to see you at one or more of these events!
None of this would be possible without the help of amazing people of course. I would like to take a moment to send a very special, heartfelt thank you to…
Phil Butler, Pamil Visions
Martin Soler, WIHP Hotels
Francois Vogel, Textuel La Mine
Pascale Azria, Kingcom
Jeremy Waite, Adobe