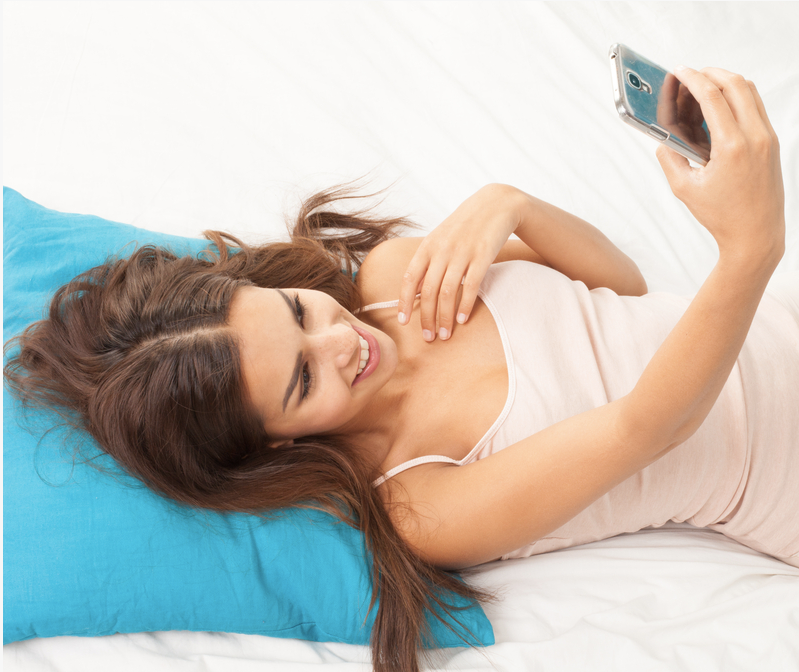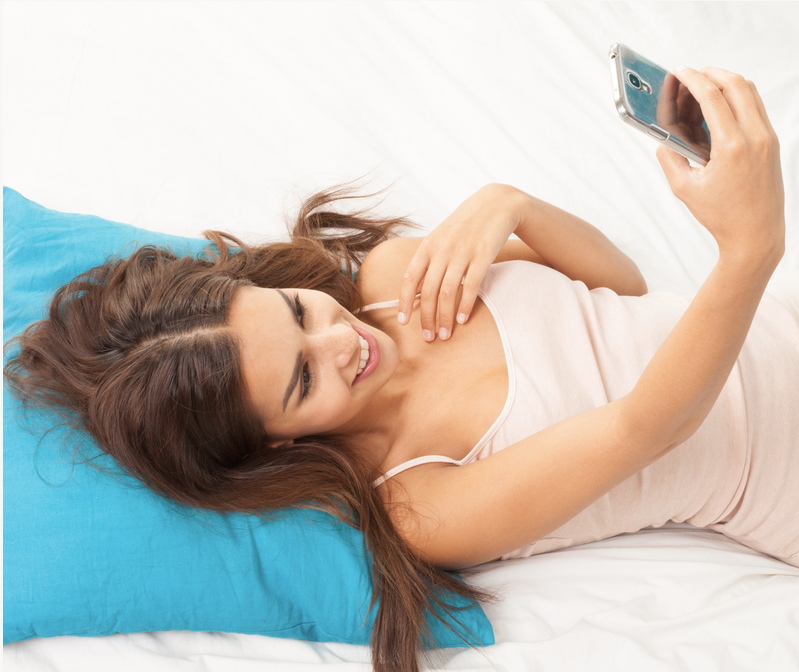 If you want to know the future of technology and its impact on society study how younger generations interact with one another today. With the sting of a face palm, you'll experience a sheer rush of humility as you realize that everything you thought you knew about tech is simply nascent compared to the sophistication of digital natives. No matter how connected you are or how many followers or friends you have online, there's a sense of artistry mashed together with counter intuitive behavior that just works.
My advice to you is to study it.right.now. Don't try to make sense oft it? Don't question it. Don't try to make it fit into your world. Simply try to understand it. Doing so opens the door to meaningful insights. And, this allows you to make decisions about the future without letting your predispositions or assumptions lead you in fallacious directions.
To help Pew Research Center published a new study that examines teens' social media privacy management and overall behavior. Why is it important? Well, for starters, social and mobile for teens (aka digital natives) is simply a way of life.
A Crazy Little Thing Called Privacy
If you think about it, Generation X and to some extent the older side of Generation Y, are the last to know privacy as it was. Privacy for the most part is something that older generations guarded. For most, privacy was and is sacred, worthy of protecting. Publicity on the other hand was almost a luxury. To earn the attention of the masses required investment and strategy. It's almost the opposite is true among digital natives. Privacy now is something that you have to teach or learn the hard way.
According to Pew, teens share more information about themselves on social media than ever before.
91% post a photo of themselves, up from 79% in 2006.
71% post their school name, up from 49%.
71% post the city or town where they live, up from 61%.
53% post their email address, up from 29%.
20% post their cell phone number, up from 2%.
While the top three aren't necessarily jaw dropping, we start to see the erosion of privacy and the rise of publicness with the jump in sharing phone numbers publicly. And this is only the beginning.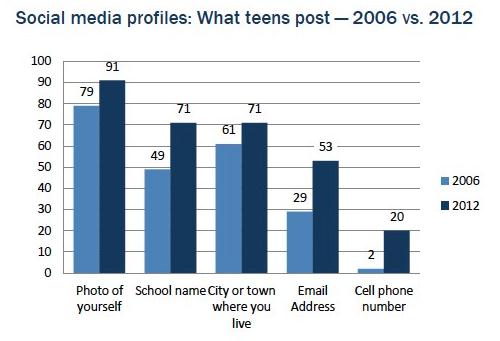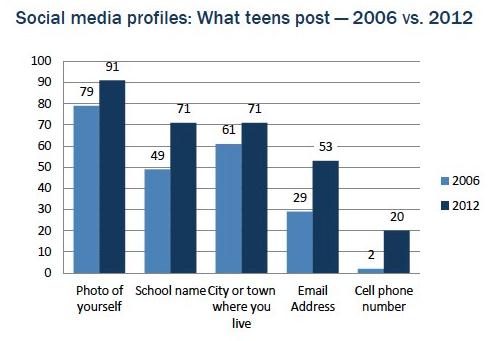 Pew Data Visualized: Source: MarktingLand
Once regulated to closed networks and dedicated communities for school, work, dating, etc. personal information is now finding its way into public spaces such as Facebook, Twitter, et al.
92% of teens post their real name to the profile they use most often.
84% post their interests, such as movies, music, or books they like.
82% post their birth date.
62% post their relationship status.
24% post videos of themselves.
Privacy takes on an entirely new meaning now. While much of social and mobile is often studied through the lens of what people say and share and what they don't, it's also tied to movement (GPS), transactional data, and specific locations. In fact, Pew learned that 16% of teens have set up their social profiles to automatically include their location in posts. Doing so sends a passport-like signal to their friends (and for themselves_ about where they've visited combined with a sense of serendipity to also see (and meet) who's nearby.
A Private Facebook vs. A Public Twitter
94% of all teens who use social media have a profile on Facebook. Twitter's rising fast. 26% of teens manage a profile on Twitter, which is up from 12% just one year earlier.
On Facebook, ironically enough, teens tend to choose a myriad of privacy settings. 60% keep their profiles private and most believe that they are in control of their privacy settings. They also go through hoops to support multiple accounts to engage on respective fronts accordingly. They also go to great lengths to delete older posts to prevent the risk of future drama.
With Twitter on the other hand, 64% of teens choose a public profile and 12%, believe it or not, are not sure whether or not their public tweets are private or public.
The Brand "You"
Teens, in their own way, manage their Facebook presence to portray their desired persona while masking information they don't want others to know or learn.
On Facebook, teens host a network of 300 friends on average. On the more public Twitter front, average teen users have about 79 followers. This comes down to an important distinction about the value and focus of each network. Facebook is designed to help people connect and communicate to their social graph. With Twitter, it's all about the interest graph. People tend to follow others who share interests or channels that are informative and entertaining, not unlike a traditional broadcast network.
What's not included in this study is how teens use Tumblr, Instagram and Snapchat. This is a critical element missing from the study. While an overwhelming majority of teens use or have Facebook accounts, teens, and millennials in general, are spending significant portions of time and attention in other networks such as Tumblr (a social network for micro content), Instagram (a social network for pictures) and Youtube (a social network for video), SnapChat ( a network for self-destructing pictures). See the pattern?
Why?
In an interview with AP, Jaime Esquivel, a 16-year-old junior at C.D. Hylton High School in Woodbridge, Va., shared a truism that I've heard repeatedly among teens over the years, "Facebook just really seems to have more drama."
But it's more than that. Other networks seem to focus on curated content and also self-expression.
Instagram is not just a camera app, although many younger kids fooled their parents by convincing them that it was a camera app. Instead, it's a full blown social network where pictures of the catalysts for conversations and Likes and followers are the currency of shallow capitalism. Instagram is harboring curious behavior where teens strive for numbers, regardless of where and who they come from, as a delusional form of stature and importance.
In a study in Photo District News, author Kathleen Hay shared some sobering stats on the rise selfie-expression.
At 11 p.m. PST on December 28, 2012, the number of selfies numbered at a noteworthy 5.5 million. At the same time, photos tagged 'me' completely eclipsed "selfie" with a staggering 72.6 million self-portraits. Added together, you start to get the picture of just how prominent the egosystem is becoming.
Privacy as we once knew it is dead. It's now a part of real and digital life that necessitates education and ongoing study. Parents, teachers, mentors, role models, take note. Pleading ignorance is not an excuse.
For adults, privacy's meaning is also shifting. To evolve, a new school of philosophy and overall strategy is essential as we use the same apps, networks, and devices that younger generations use to broadcast their social life. The line that divides online and offline character and image is rapidly, and intentionally, eroding. And for some, it's completely vanished.
In many ways, we are all exhibiting behaviors that aren't unlike teens, regardless of age. The truth is that we live in an era of increasing connectedness and we are all becoming part of one larger generation, Generation-C (connected.)
Welcome to the new age.
Connect with me: Twitter | LinkedIn | Facebook | Google+ |Youtube | Instagram
Image Credit: Shutterstock