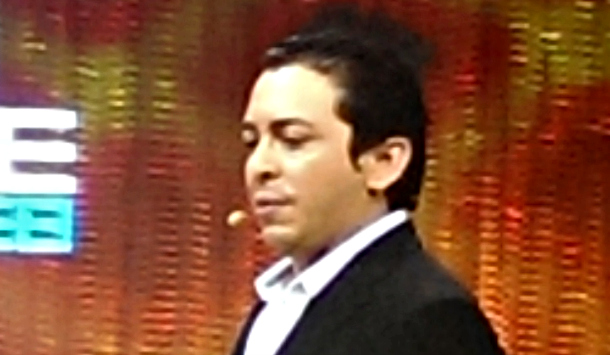 Brian Solis presented his thoughts on the "Next 10 Years" at LeWeb in Paris, one Europe's largest tech conferences. He focused on the importance of innovation that drives toward disruption…looking beyond creativity. Solis shared the characteristics of what he terms, "The Dilemma's Innovator" to solve problems and create opportunities. French media responded well to his message. Following is a roundup of some of the coverage to come out of LeWeb.

Les stars de Le Web 2013 : Brian Solis, l'innovation comme nécessité
Le toujours excellent Brian Solis a délivré ses pensées sur l'innovation lors du salon organisé par Loïc LeMeur, LeWeb 2013. Passionnant.
Ecouter et voir Brian Solis, désormais un habitué de LeWeb, est toujours un plaisir. On a l'impression que tout ce qu'il dit coule de source : l'ensemble fait sens, est parfaitement huilé, c'est une prestation presque trop parfaite. Tellement qu'on a l'impression de déjà savoir ce qu'il expose, alors que cela provient d'un intense travail de préparation.
More here.
Click for English.
The future of innovation is disruption says Brian Solis [#LeWeb]
New apps, technologies and trends — 'ideas' — are a dime a dozen these days, says Brian Solis, Principal, Altimeter Group. What this means, he tells the audience at LeWeb, is that innovation is now a constant, and you need to think differently about technology to create for the next 10 years. You need to disrupt.
Disruption as a concept has been, and will be, interpreted in many ways some more accurate than others. For Solis though, disruption is technology that changes markets. The prime example he gives: sliced bread. Sliced bread created an entire marketplace for spreads, accompaniments etc. Sliced bread was a truly disruptive technology.
More here.

#leweb Brian Solis : le futur c'est les autres
Brian Solis n'est pas n'importe qui. Dans notre monde ultra connecté où il apparaît comme une rock star de la pensée innovante, il commence son intervention par quelque chose de très clair : il faut penser différemment à la technologie.
Il pose la question "est ce que les 10 prochaines années vont nous arriver à nous ou à cause de nous ?"
More here.
Click for English.

İş dünyasını dijital dünyayla tanıştıran isimlerden Brian Solis ile konuştuk [LeWeb'13 Paris]
LeWeb'13 Paris Konferansı'nın çok sayıda ünvana sahip olan konuşmacılarından biri de Altimeter Group'dan Brian Solis oldu desek yanlış olmaz.
Danışman, yazar, futurist ve antropolojist ünvanlarını taşıyan Brian, kendini normal bir insan olarak tanımlamayı tercih ediyor.
More here.
Click for English.

VIDÉOS. LeWeb13 : comment le Web va (encore) changer nos vies
Brian Solis entre en scène. Son sujet, c'est l'innovation. Il a créé Altimer Group, une société qui conseille les entreprises qui veulent bouleverser leur marché, à l'image d'un Steve Jobs créant Apple. Sur les réseaux sociaux, être un trublion est une question de survie. Quand ils font leurs devoirs, explique Solis, les ados ont une capacité d'attention de six minutes avant d'être distraits par leur mobile. Pour les captiver, il faut les surprendre, modifier leurs façons de voir les choses. Bref, bouleverser le marché n'est plus un objectif, c'est la condition sine qua non de la survie pour une entreprise.
Quand on veut changer les choses, rappelle Solis, les gens nous prennent pour des fous. Pire, les idées sont toujours mauvaises quand on en parle. Mais, dit-il, il ne faut pas hésiter à les mettre en oeuvre quand même. Un jeu de quitte ou double, car le grand public ne peut pas deviner ce que sera le monde de demain. Et de rappeler qu'Instagram a changé notre façon de prendre des photos, Twitter notre façon de nous informer, AirBnB notre façon de partir en vacances.
Read more.
Click for English.

La conférence de Brian Solis à #LeWeb13 Paris
Aujourd'hui, Brian Solis, directeur de l'Altimeter group, était présent à la conférence pour la deuxième année consécutive pour parler d'innovation et des éléments pouvant aller à l'encontre de celle-ci.
Read more.
Click for English.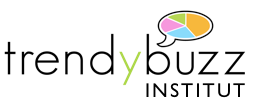 [TBI awards] Qui a contribué au succès de #LeWeb
LeWeb Paris 2013 a confirmé sa stature d'événement international incontournable du Web encore une fois cette année. La qualité des interventions relayées par une activité constante sur les Réseaux Sociaux, les Communautés et les Blogs a permis à LeWeb de générer près de 70 000 messages du 10 au 12 décembre. Les internautes ont su faire échos au contenu proposé par les conférenciers principalement sur Twitter. Nous avons voulu rendre hommage à tous ces acteurs en attribuant les premiers TBI awards de LeWeb.
Read more.
Click for English.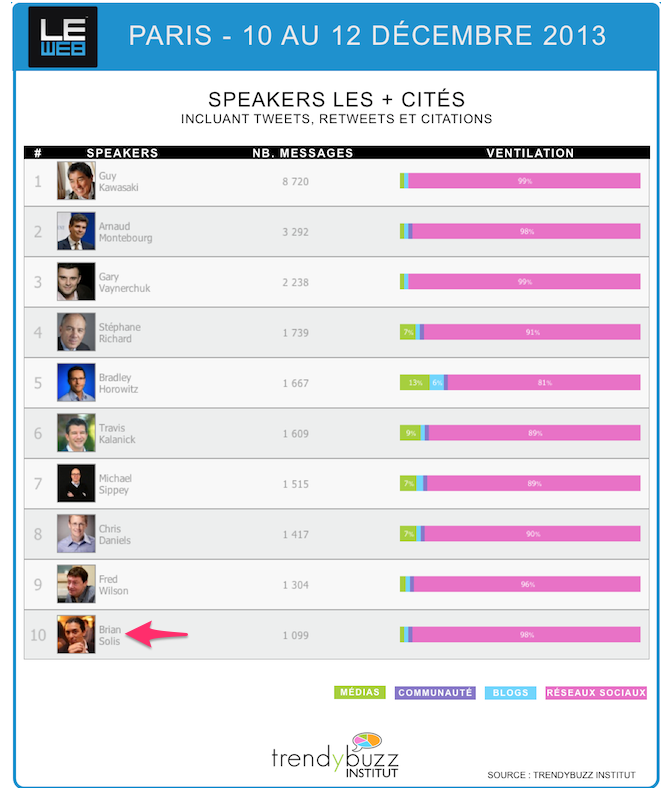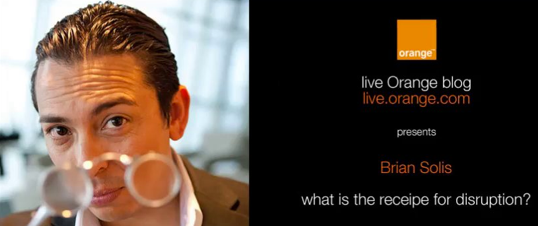 INTERVIEW: #leweb13 Brian Solis, what is the receipe of disruption?
Son intervention traitait d'innovation et d'un terme nouveau appelé « disruption ». Vous avez raté sa conférence ? Vous n'avez pas encore eu le temps de lire notre compte-rendu ? Vous voulez savoir ce qu'est ce concept et n'avez que 5 minutes ? Damien Douani a rencontré le business analyst d'Altimeter, Brian Solis himself, pour une interview (en anglais) en toute simplicité. Il y explique la recette de la disruption et donne sa vision de ce qu'est l'innovation…Interview !
Read more.

Interview Brian Solis and the concept of… by orangecorporate