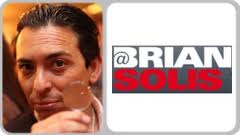 Radius assembled a list of its favorite marketing blogs to help marketers find the resources they need to build savvy marketing strategies. The blogs they picked cover everything from website optimization and lead generation to video marketing and analytics. BrianSolis.com was among the standout blogroll.
Briansolis.com
Who owns it? Brian Solis
What do they talk about? Solis studies and writes about the effects of emerging technology on business, marketing and culture.
Where can I find it? http://www.briansolis.com/
Why should I read it? Solis asks deep questions about the directions towards which technology pulls the forces that command our lives, and he answers them with thoughtful and informed blog articles. His blog offers a place to contemplate the future and think critically about how modern events impact societal shifts. He references leading marketing and cultural moments, such as Redbull's content domination and the rise of the selfie, reviews books, conducts interviews, and encourages all marketers to think critically about the impacts of their campaigns.
See the entire list here.