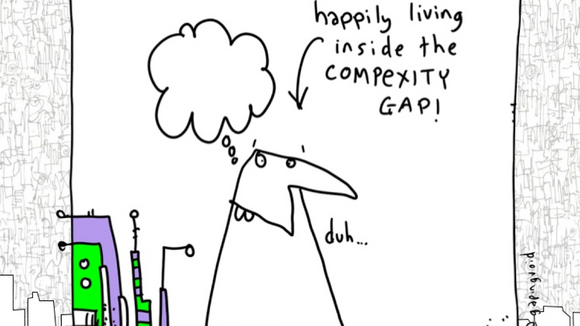 Brian Solis and Hugh MacLeod are long time friends. When Brian was writing What's the Future of Business? Changing the way businesses create experiences, he set out to design the book as an experience unto itself. Part of that work was shape, design, layout and a whole slew of other UX strategies to make a print book matter in a digital world.
Brian said that in the end, he successfully created an "analog app" by rethinking the navigation of a book after learning how consumers bring digital behaviors to legacy media. Eventually, Brian plans to share what he learned to help schools rethink approaches to textbook and workbook design.
Brian went on to try something else in the process. He asked his friend Hugh MacLeod to create an original cartoon for each chapter that summarized the story or lesson in each. The collaboration not only worked, it was magical. After the release of the book, the duo released a special edition ebook that featured each cartoon and the stories behind them as told by MacLeod and Solis. Business Journals took notice…"Can cartoons teach you about business? These just might."
The Business Journal J Jennings Moss writes…
We've been turning to the comic pages for a long time for business advice, whether intentional or purely by luck.

There's the obvious examples of Dilbert being the office drone or Cathy navigating the interpersonal minefield of work. And there are the not-so-clear ones, like the lesson of perseverance any entrepreneur can take from Charlie Brown when Lucy yanks the football away as he's running to kick it.

Thanks to the duo of Hugh MacLeod(illustrations) and Brian Solis(words), we've now got a series of cartoons that elevate the approach and offer lessons worthy of being in a MBA lecture.

Who says you can't have a chuckle while also getting some advice about running your business?
Read the full article here.