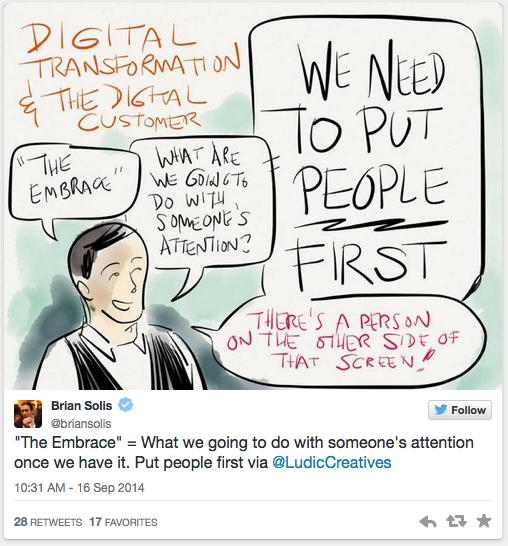 Formerly part of the 3M's digital team, Greg Gerik recently joined the team at Shoutlet as VP of Product Marketing. Gerik attended the annual Social Shakeup in Atlanta where Brian Solis opened the event with a thought-provoking conversation with Robin Fray Carey.
Gerik summarized the entire conversation in a thorough article. Following is an excerpt…
Another great point during the exchange a discussion on the opportunity for brands to use "the embrace." The embrace is the moment in time when two people have the attention of each other. Brian asked the audience, "So what happens next? What are you going to do with it?"
While at first one may think, "wow, that's so simple." The reality of our industry is that it is not. It's difficult to get many people to think about their strategy, let alone the second, third or fourth step that may happen in the experience. Another way to think about this in social is that once you have someone's attention, it's yours to lose. If you are directing them to a contest, a website, or a landing page, will it live up to the promise? Is it click bait? How will it change their perception of your brand?

The best quote from Brian Solis during the event was: "Asking why leads to what if, and what If leads to what's next." This summed up the keynote exchange perfectly and generated optimism that businesses are starting to ask why. And asking why will eventually lead us to what's next.