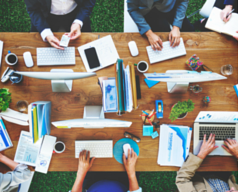 Posted by Matan Magril, LivePerson
Today we're all about the customer experience — aka, CX. We want to buy from brands we believe in. Whether it's online or in person, we want a meaningful brand promise and connection. We want the experience to match our ideal perception of the brand to vindicate a purchase and extend brand loyalty.
As professionals charged with delivering on brand promise and experience, we feel more pressure than ever to meet and exceed consumer expectations.
In our dynamic industry — one that's constantly evolved by technologies and processes — you've got to stay informed and motivated. So, we asked our team which bloggers keep them inspired and in the know on all things CX. Below, I've listed our team's top 10 favorite resources ranked by number of followers.
Who to follow for advanced CX wisdom.
It was extremely hard to narrow down the list, but below are our team's favorite industry analysts and writers on CX and digital know-how ranked in order of most to least followers.
1. Brian Solis (@briansolis) is a principal analyst at Altimeter Group, author of a few best-sellers, and a leading resource for technology's impact on business and society. As a thought leader on digital transformation and innovation, Solis humanizes the effects of technology and discusses the future of CX.