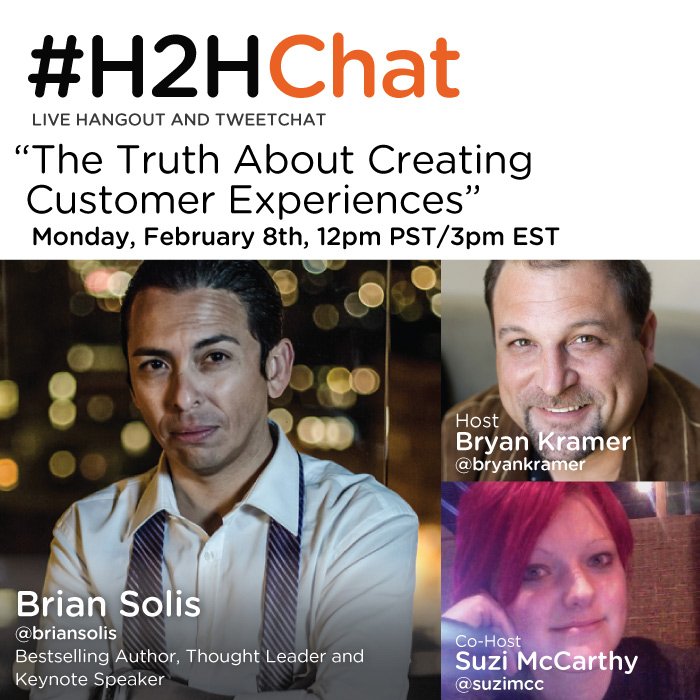 Bryan Kramer is just one of those people with whom you instantly bond. For those who don't know him, he shot onto the social, digital, content marketing scene with fun and fervor. He's highly regarded as a strategist, speaker and author. He's also someone I think of as a good friend. Recently, I had the honor, and enjoyment, of shooting an episode of H2HChat (Human to Human) with Bryan and his super smart co-host Suzi McCarthy. The conversation was both educational and also incredibly entertaining. I laughed to the point where I feel like I did crunches in the gym.
Please take a moment to watch, share and comment!
Show Description:
As humans we are constantly defining and redefining our world in accordance with a myriad number of experiential criteria ranging from the physical to the psychological. Marketing strategists have long since recognized the potential should they be able to harness this power. Considerable resources are allocated each year by brands to experiential components from the physical layout of a brick and mortar store to the nuance of a logo color palette.
In his latest book, "X:The Experience When Business Meets Design", bestselling author Brian Solis argues that the advent of the "always on" world means that customer experience is now 100% of your brand. Brands that want to survive in the future of business must place the creation and cultivation of meaningful experiences at the forefront of their strategy.
Twitter: @briansolis
Facebook: TheBrianSolis
LinkedIn: BrianSolis
Youtube: BrianSolisTV
Experience is everything…read my new book, X!