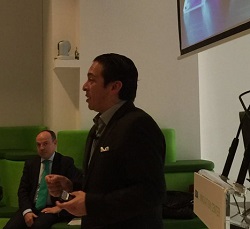 Brian Solis en el evento. Fuente: Agencia Evoca
by: Ignacio G.R. Gavilán, Blue Chip
El pasado Viernes 27 tuve la oportunidad de asistir en el
Centro de Innovación del BBVA
a una jornada organizada por la unidad de Digital Business de Oracle donde se presentó el concepto de
Enterprise as a Service (EaaS)
del que hablaremos en un próximo post.
Uno de los ponentes, probablemente el de más renombre internacional, fue
Brian Solis
, quien llevó a cabo una ponencia titulada '
Innovations vs. Iteration
'.
No pretendo hacer un resumen de la misma pero sí que me apunté algunas frases, algunas ideas concretas, que quisiera compartir.
1.- Empezar por uno mismo
La primera idea, la primera cita, realmente no es de Brian Solis sino, nada más y nada menos, que de
Lev Tolstoi
el escritor ruso quien, hace ya más de un siglo, decía:
Everyone thinks of changing the world, but no one thinks how to change himself
Con toda su sabiduría, ya Tolstoi percibía la necesidad de iniciar la transformación, el cambio, por uno mismo. Poner el foco en el exterior conduce a las excusas y la procastrinación. Para innovar, para cambiar, debemos empezar por nosotros mismos.
2.- Un difícil equilibro
La búsqueda de un gran objetivo, y la innovación y la transformación lo son, resultan de una dialéctica que así nos explica Brian Solis:
Who we are is a balance of what we want to be and who we need to be right now
En efecto, por un lado tenemos aquello que queremos alcanzar y, por otro, las necesidades de corto, las sujeciones. Es importante su interpretación en el entorno corporativo donde esta dialéctica se traduce en la tensión entre la estrategia y la innovación por un lado, y la presión por los resultados a corto, por otro. Sin queremos innovar, es preciso encontrar la receta, el equilibrio, entre estos dos polos.
3.- Significado
La motivación es esencial y esa motivación nace de la resonancia entre los objetivos corporativos o profesionales y las aspiraciones personales. De esta formas tan bella lo expresa Brian Solis:
Change, innovation […] are only possible when we listen to our soul
Es más fácil esa resonancia, ese significado, en pequeñas startups o aventuras personales pero aa el caso de entornos corporativos más establecidos, es labor de cada uno de nosotros ilusionarse con las propuestas de su compañía y de los líderes el inspirar esa armonía de significados y objetivos.
4.- El hambre
Quizá como consecuencia de esa resonancia del objetivo con el significado y aspiraciones personales nacen las ganas, el ansia, el hambre. Y el modelo es la cultura de las startups:
The whole culture of a startup is made to come and dominate.
¿Es capaz una gran corporación de tener ese hambre, esas ganas de triunfo y de comerse el mundo?
5.- Interacción y serendipia
Son importantes nuestros objetivos, nuestras ideas y nuestro esfuerzo…pero hay otra beta… los demás:
Collaboration leads to unplanned innovation.
De la interacción y la colaboración surgen nuevas perspectivas, nuevos enfoques, ideas inesperadas… y esa riqueza de opciones y perspectivas originales son alimento imprescindible de la innovación.
6.- Iniciativa
En línea con varias anteriores es importante tener claro quién es el motor de la innovación:
If you are waiting for someone to tell you what to do, you are in the wrong side of innovation.
El cambio, la transformación y la innovación no dependen de otros: dependen de nosotros mismos, como individuos o como empresa.
7.- Un consejo para grandes empresas
Pero ¿Cómo conseguir poner el foco en lo que de verdad importa y alcanzar la agilidad y la pasión necesarias? ¿Cómo actuar sobre todo en el caso de las grandes empresas? He aquí una simple receta:
Think like the customer, act like a startup
Aúna este consejo dos elementos: por un lado el foco en el cliente, el ponerse 'en sus zapatos' para entender lo que quiere y necesita o aquello por lo que está dispuesto a pagar. Por otro, el foco y la pasión de una startup.
8.- En tu mano
Y terminamos casi donde empezamos: dónde buscar las ideas, dónde las fuerzas, dónde la pasión… Lo tenemos cerca…
Innovation begins with us
Manos a la obra, pues…
Imagen utilizada por Brian Solis en su presentación. Fuente: @gapingvoid