Brian Solis es a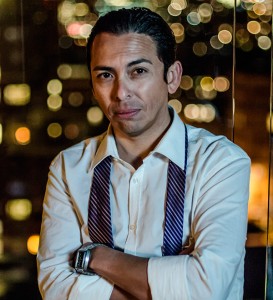 nalista americano, creador del concepto "Darwinismo digital" y autor de The End of Business as Usual y de What's the Future of Business?. Centra sus estudios en los efectos de la tecnología disruptiva tanto en los negocios como en la sociedad. Además es autor y conferenciante, galardonado con diversos premios y reconocido mundialmente como uno de los principales líderes de opinión en temas de transformación digital, innovación y experiencia de cliente. En su último libro, X: The Experience When Business Meets Design,  Solis hace un recorrido por el lugar donde el negocio se cruza con el diseño para crear interesantes y significativas experiencias.
Conversamos con Brian sobre el concepto  "Darwinismo Digital", una realidad que todavía no está aceptada por muchas empresas; la "Generación C", la generación de los clientes conectados, y sobre el potencial del CRM como "una inversión en la experiencia del cliente para producir relaciones y valor a largo plazo".
El fracaso empresarial es todavía un estigma para la sociedad española, mientras que en Estados Unidos está totalmente aceptado. ¿A qué cree que se debe?
La palabra "fracaso" se considera en gran medida una deshonra en los Estados Unidos y en todo el mundo. Dentro de ciertos sectores, la palabra puede tener diferentes connotacionEles. Por ejemplo, en la comunidad startup, en todo el mundo, hay una filosofía predominante de que promueve la experimentación y el aprendizaje "Fail Fast. Fail Forward".
El punto es que la intención no es fracasar, pero el objetivo sí que es probar cosas nuevas para abrir nuevos caminos. Si cometes errores, aprende de ellos e insiste en el intento rápidamente.
Las organizaciones más grandes, sin embargo se rigen por una cultura conservadora que tiene aversión al riesgo. La idea de fracaso socava los paradigmas de la infraestructura de gestión tradicional. La gestión tiene como objetivo poner en práctica procesos probados y escalarlos. Esto pone la innovación empresarial en desacuerdo con el paradigma de las operaciones diarias. Si fallas, estás yendo contra las normas que no permiten o no toleran fácilmente cualquier desviación.
¿Qué caracteriza a la empresa que sobrevive al "Darwinismo Digital" del resto? ¿Cualquier empresa puede ser "darwinista digital"?
El Darwinismo Digital es la evolución de la tecnología y su efecto en la sociedad. Las empresas tienen una opción, adaptarse o morir. Todavía son demasiados los ejecutivos que no aceptan esta realidad, ya que están agotados por la exigencia de cumplir con los accionistas y/o con el valor de las acciones.

Para competir eficazmente en una era de Darwinismo digital, el espíritu de "fracaso", que se refiere a la experimentación y evolución, debe ser adoptado para impulsar la evolución y la revolución. Esto requiere de liderazgo, que es difícil, ya que muchas empresas dependen de la cultura de gestión tradicional centrada en asegurar los beneficios y aumentar la cuota de mercado de forma continua. Pero la verdad es que ningún empresario exitoso ha dicho nunca: "Pero, esta es la forma en que siempre se ha hecho."
Tal vez, sobrevivir y prosperar en el futuro lleva un mantra de innovar o morir.
En The End of Bussiness examina el surgimiento de la Generación C y la evolución en la relación entre las empresas y los clientes. ¿Cómo será la futura relación empresa-cliente?
En el futuro, esta relación estará orientada al cliente, lo que significa que las empresas se convertirán en estructuras centradas en las necesidades del cliente.
La Generación C, tal como la he definido en el libro, no es una generación definida por la edad o fecha de nacimiento. La "C" significa "Conectado" y se define por aquellos que viven un estilo de vida digital y el común de los comportamientos, aspiraciones, normas, valores, expectativas, y otros aspectos que comparten. Esto supuso descubrir un cambio en las reglas de juego. Esto significa que todos los días, el mercado para los clientes tradicionales, también conocido comoBusiness As Usual (que significa negocios como siempre), está menguando; mientras que el mercado para clientes conectados, y todos sus matices únicos, se está expandiendo. Todo está cambiando a medida que los clientes obtienen un mayor poder. Al mismo tiempo, las empresas aún intentan forzarlos a que respeten las viejas formas de relación. Los clientes tienen una opción y la están aprovechando. Las Startups y las empresas más avanzadas son conscientes de esto y están innovando en consecuencia.
Actualmente, el CRM es una herramienta muy potente para los departamentos de marketing pero, ¿cree que olvidamos el potencial que tiene para el comercial de ventas?

Las ventas son sólo una parte de la relación con el cliente. Todos los aspectos deben ser considerados y conectados. El CRM es una de esas cosas que no están a la altura de su nombre. Hay muy poca relación con los clientes que se gestionan en toda la empresa, simplemente por una cuestión de diseño. Y este reto con el CRM es sólo uno de los muchos síntomas de un problema más grande que tiene que ver con la falta de un enfoque centrado en el cliente y que pretenda crear una experiencia de cliente holística.
La promesa del CRM es que se supone que gestiona la intención de los clientes, sus expectativas y los resultados, de forma profunda y conectada a lo largo del customer journey.  El hecho de que vivimos en una era de innovación increíble y que no podemos obtener datos de clientes a lo largo de todo el customer journey es absurdo, miope e indicativo del valor de los clientes en un estado posterior a la compra. Los clientes no ven áreas de negocio sino marcas. El CRM no es un centro de costes, sino una inversión en la experiencia del cliente para producir relaciones y valor a largo plazo.
¿Qué objetivos debe fijar una empresa antes de implantar su CRM digital? ¿Es el primer paso concienciar a la red comercial de la cultura CRM?
Las empresas necesitan una cultura centrada en el cliente. El CRM digital es sólo tan eficaz como la experiencia que tienen y comparten los clientes. Esto significa que alguien debe supervisar la experiencia de cliente dentro de la organización. El objetivo debe ser construir una experiencia de cliente integrada, que sorprenda y deleite. Otras aplicaciones y servicios están estableciendo el estándar de lo que deberían ser los Cx y por lo tanto se espera que todas las empresas estén a la altura de las circunstancias. Eso significa que en primer lugar hay que entender las expectativas del cliente, su comportamiento, preferencias y valores. Los objetivos deben estar vinculados a las experiencias y los resultados de los clientes deseados y medidos como tal. Todo lo demás es lo de siempre. Es por esto que escribí mi nuevo libro X: The Experience When Business Meets Design. La tecnología debe ser un facilitador para construir la experiencia para las próximas generaciones.
Brian Solis is Principal Analyst at Altimeter Group, a Prophet company. Solis studies the effects of disruptive technology on business and society.
He is an award-winning author and avid keynote speaker who is globally recognized as one of the most prominent thought leaders in digital transformation, innovation and experience. Brian's latest book "X," explores the intersection of where business meets design to create engaging and meaningful experiences.
Why do you think business fail is fully accepted in United States while in Spain it is still perceived as a dishonor?
The word "fail" is largely perceived as a dishonor in the United States and globally. Within certain sectors, the word carries a different can carry different connotations. For example, in the startup community, all around the world, there is a prevailing philosophy that promotes experimentation and learning, "Fail fast. Fail forward."
The point is that you don't intend to fail but you do aim to try new things to break new ground. If you do make mistakes, learn from them and iterate quickly.
Larger organizations however are governed by a culture that's inherently risk-averse. The idea of failure undermines the paradigms of traditional management infrastructure. Management is meant to operationalize proven processes and scale them. This puts the opportunity for business innovation at odds with the paradigm of everyday operations. If you fail, you are held against standards that do not allow for or do not readily condone any deviations.
What are the main characteristics of a company that survives other companies' Digital Darwinism? Is any business prepared to be 'digital Darwinist'?
Digital Darwinism is the evolution of technology and its affect on society.
Businesses have a choice, adapt or die! Too many executives don't get this yet as they're too consumed with delivering against shareholder and/or stakeholder value.

To effectively compete in an era of digital Darwinism, the spirit of "failure," as it relates to experimentation and evolution, must be adopted to drive evolution and revolution. This takes leadership, which is difficult as many businesses rely on cultures of traditional management to continue profits, earn outs, and incremental market growth. But the truth is, no successful entrepreneur has ever said, "But, this is the way it's always been done."
Perhaps, surviving and thriving in the future takes a mantra of innovate or die!
In your book The End of Business you talk about the Generation C's born and the relationship between companies and customers. What will be the future relationship company-customer?
The future of the relationship is going to be customer-driven, which means that businesses will become customer-centric out of necessity.
Generation C as I defined it in the book, is not a generation defined by age or birthdates. The "C" represented "Connected" and is defined by those who live a digital lifestyle and the common behaviors, aspirations, norms, values, expectations, et al, they share. This was a game changing discovery. This means that every day, the market for traditional customers, aka business as usual, is shrinking while the market for connected customers, and all their unique nuances, is expanding. Everything is changing as customers gain greater power. At the same time, businesses still attempt to force them to conform to aging standards of engagement. Customers have a choice and they're wielding it. Startups and progressive businesses are also recognizing this and innovating accordingly.
Currently, CRM is a powerful tool for marketing departments, but do you think that we forget the potential for sales?

Sales is just one part of the customer relationship. All aspects should be considered and connected. CRM is one of those things that doesn't live up to its name. There's very little customer relationships being managed across the enterprise simply by a matter of design. And, it's the challenge with CRM is just one of the many symptoms of a bigger problem regarding the lack of customer-centricity and a holistic customer experience.
The promise of CRM is one that's supposed to manage customer intent, expectations and outcomes in a sweeping and connected fashion throughout the customer journey. Depending where CRM sits in the organization, the functionality and data remains siloed. The fact that we live in an age of incredible innovation and the customer data cannot follow them throughout the journey is absurd, short-sighted and indicative of the value of customers in a post-purchase state. Customers don't see departments however, they see one brand. CRM isn't a cost-center, it's in an investment in customer experiences that yield longer-term relationships and value.
What are the goals that a company should set up before implanting a digital CRM? Do you think that firstly they should transfer the culture of CRM to their sales staff?
Businesses need a culture of customer-centricity period. Digital CRM is only as effective as the experience customers have and share. This means that someone must lead customer experience in the organization. The goal should be no less than to deliver an integrated customer experience that surprises and delights people. Other apps and services are setting the standard for what CX should be and thus every company is expected to rise to the occasion. That means we first need to understand customer expectations, behaviors, preferences and values. Goals should be tied to desired customer experiences and outcomes and measured as such. Anything else is business as usual. This is why I wrote my new book X: The Experience When Business Meets Design. Technology should be an enabler for delivering against a next generation experience architecture.