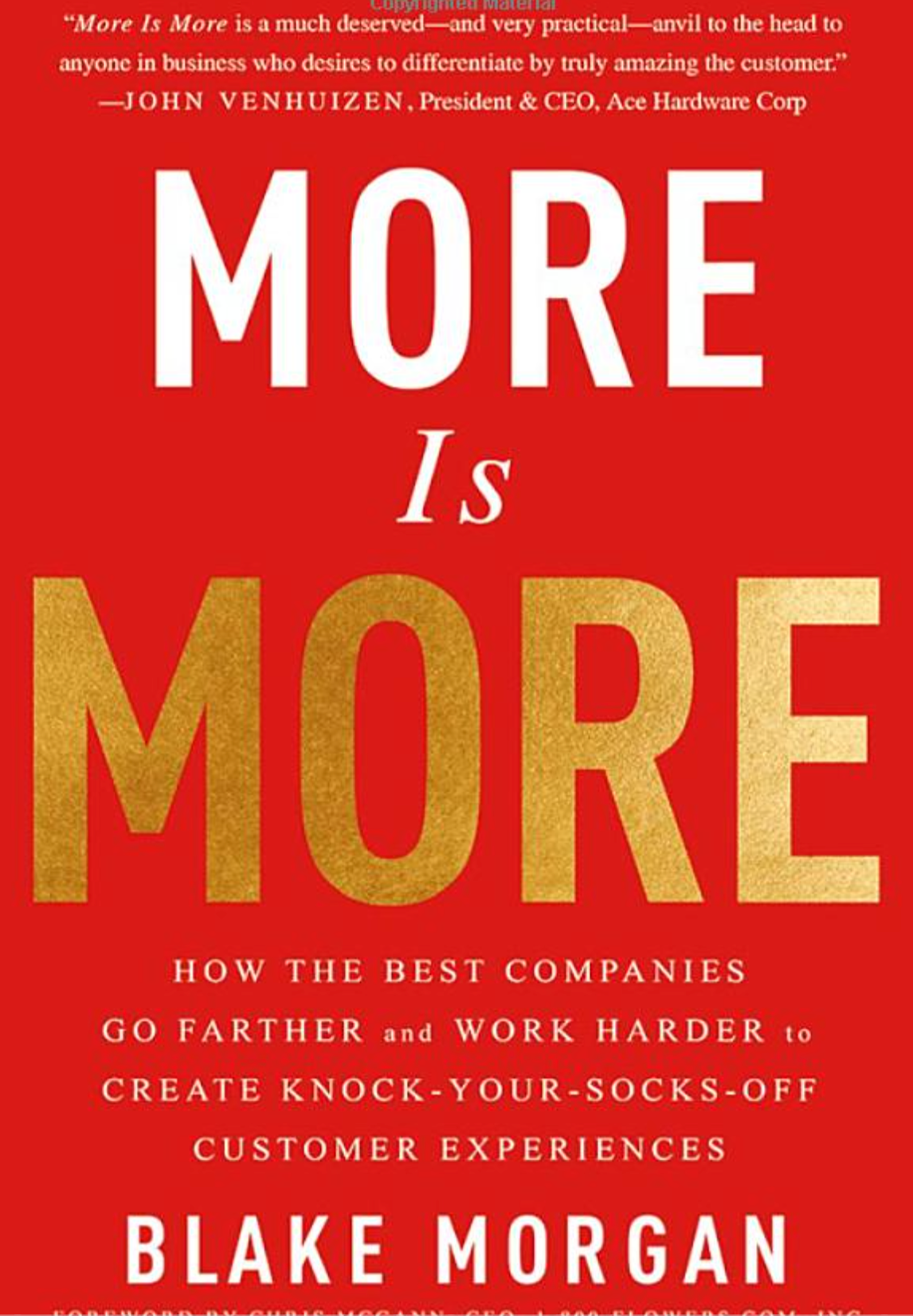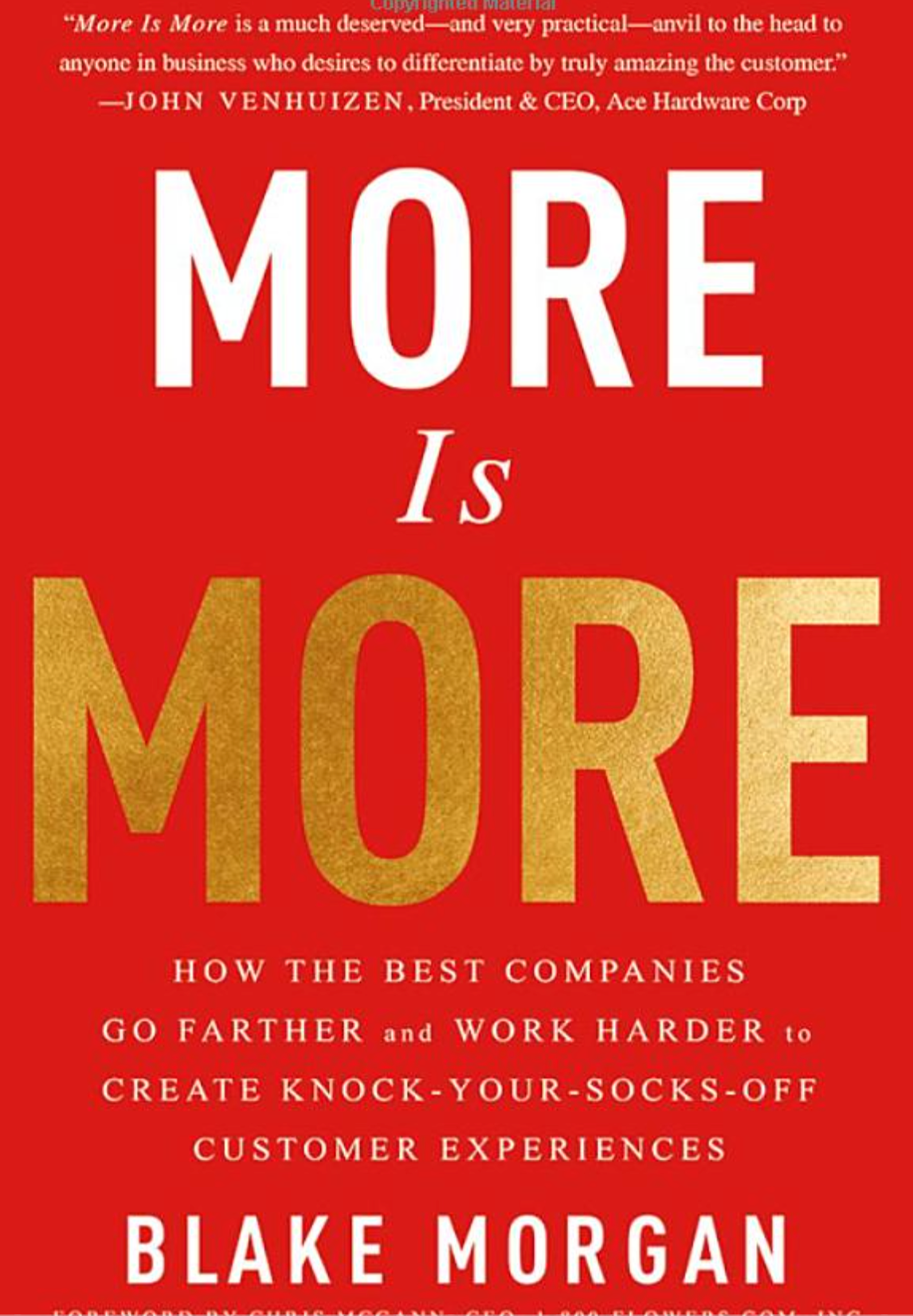 Guest post by Blake Morgan (@blakemichellem), Customer Experience Futurist, Keynote Speaker, Author of the new book, More Is More
In X: The Experience When Business Meets Design, author Brian Solis talks about how Disney created its MagicBand—an all-in-one device that connects users with their vacation options—embedded with technology that allows customers to make purchases without a credit card or cash, get in and out of the park, review and optimize wait times, book FastPass, open their hotel room door, make dinner reservations, and receive personalized offers. Solis says, "Disney's MagicBand is a brilliant representative of experience architecture." He imagines how useful this technology would be in environments such as hospitals. "Right now," Solis says,
the number of staff used to move people around is high. As we move into the future, trying to reduce costs, you might imagine a hospital being much more like a mall, with a greater deal of self-service. . . . Someone heads down to radiology, gets scanned, and they don't have to check back in.
Disney's MagicBand is offered precisely in the spirit of "doing more," with an eye on experience architecture.
To take that experience further: I have a Fitbit Blaze watch on my arm, and with this IoT (Internet of Things) product, I have tailored information sent to me. I can access my text messages and my workouts, and can I see that eventually I may have little need for any other device. Why wouldn't I want my wallet, my music, my phone, my watch, and my workouts all on one device?
Here's another way to think about it. One challenge for companies like Disney is that not all consumers want another gadget. The point of Disney's MagicBand is to deliver content, offers, and other forms of engagement, and the company doesn't need to be the producer of the gadget, but it can instead partner with a company like Fitbit or Apple. The amazing thing about an IoT device like a watch is that if a person is awake, it's likely on that consumer's arm. If the consumer chooses, and the company's offers are compelling enough, that company can connect with that consumer anytime. That's an unprecedented opportunity for a brand, but companies need to be careful with the way they use that ability; they don't want to turn consumers off by overdoing it. If the marketing is done well, the brand can send offers, invitations to loyalty programs, and other customer service–related content when necessary. You can imagine how helpful this would be for a grocer, a retailer, or any type of business—especially one that gets actual customers to a real location.
Robots in Our Lives
While economists and futurists speculate that technology will take jobs away from people, many customers welcome easier and more convenient ways to do business with companies. Meet the robot called Pepper, a machine being used in Pizza Huts all over Asia. Pepper provides personalized order recommendations and calorie information to customers, and allows them to pay for their order using a MasterPass wallet app or by scanning a QR code on the robot's chest.
But it doesn't stop there. You may have heard of IBM's Watson, one of the more exciting innovations in the area of artificial intelligence. Artificial intelligence is the intelligence exhibited by machines or software, as well as the name of the academic field that studies how to create computer hardware and software capable of intelligent behavior.
In IBM's New York City headquarters, I watched a demo in the Watson "room," where the IBM employee compared the way we search for research, information, and treatments for rare health ailments today (via research on paper) with the way it would be done using artificial intelligence. Today, when a sick person walks into the hospital, that patient is limited by the knowledge of the doctor treating him. But imagine every doctor having the ability to input the patient's various symptoms and cross-reference them with millions of pieces of information, data, and research from all over the world. You can imagine how helpful this would be to doctors practicing in remote parts of the world. The ability to tap into cumulative and organized knowledge could save many lives.
Artificial intelligence can also be used in a customer service capacity, where a system can solve a customer problem by cross referencing hundreds of thousands of other pieces of information. For example, Watson has pioneered innovation in fashion, medicine, and sports, and now has entered the terrain of music. The computer system evaluated five years of cultural data, taking the "emotional temperature" of each year. Additionally, Watson looked at the lyrics of the one hundred most popular songs from each week of the same five-year period to learn the emotions behind each song.1 Then Alex Da Kid, a composer who has written for Rihanna, Eminem, and Nicki Minaj, used the data to help create a "cognitive song" called "Not Easy." It debuted at number six in the fall of 2016 on Billboard's Rock Digital Song Sales chart, which tracks the week's top-downloaded rock songs.
Pepper and Watson are teaming up to explore a range of use cases, serving in roles that run the gamut from in-class teaching assistants to nursing aids. Mike Rhodin, senior vice president of IBM Watson said in a statement, "We believe when cognitive capabilities are embedded in robotics people can engage and benefit from the technology in unprecedented ways."
The Internet of Things
Sister to artificial intelligence is the Internet of Things (IoT), an exciting realm of connectivity predicated on sensors embedded in appliances, vehicles, buildings, and other everyday items, allowing them to interact and exchange data. In fact, many of you reading this may look down at your wrist and see some type of wearable product. I mentioned earlier that I'm wearing my Fitbit, which tells me how many steps I've walked as well as my heart rate. It sends these data back to my computer, and I can track my progress week over week. This fitness tracker is but one example of the connectivity that awaits us as the IoT ramps up, and at a not-too-distant point in the future, anything with an on or off switch will be part of the IoT family. Information from our products will be sent to our phone and to our computer, and vice versa. Data about our behavior will be sent directly from the products we use to the companies we purchase from, and the companies we purchase from will send us content directly through the products we buy.
IoT will completely change the way consumers interact with their products. According to a study released by Cisco, the number of connected devices
is projected to top 75 billion by 2020, and a recent McKinsey report pegs the economic impact of IoT applications at $11.1 trillion annually by 2025.4 Companies are sprinting to get a piece of the space, as it's an industry on a huge growth trajectory. In 2015, Salesforce released an IoT Cloud that aims to process huge amounts of device data and help businesses build customer profiles, take actions, and respond directly to customers based on IoT events.5
An article on TechTarget summed up the power of IoT when it comes to customer experience: while brands currently have the opportunity to connect with consumers via methods other than a warranty card, IoT provides an even greater opportunity to immediately connect to the user via an IoT product that's always on. When I wear my Fitbit watch, for example, Fitbit can send me a message anytime via the display. If I am awake, I am wearing it. Not only will IoT provide easier and better ways for companies to interact with customers, but the company can leverage IoT to capture data and help companies better understand the behavior of their customers. Think about the many ways that companies can create unlimited personalized interactions with customers via IoT products, and about how they can leverage analytics in smarter ways and change the way they engage with customers overall. IoT will allow companies to know their customers better so they can tailor content and preferences in real time.