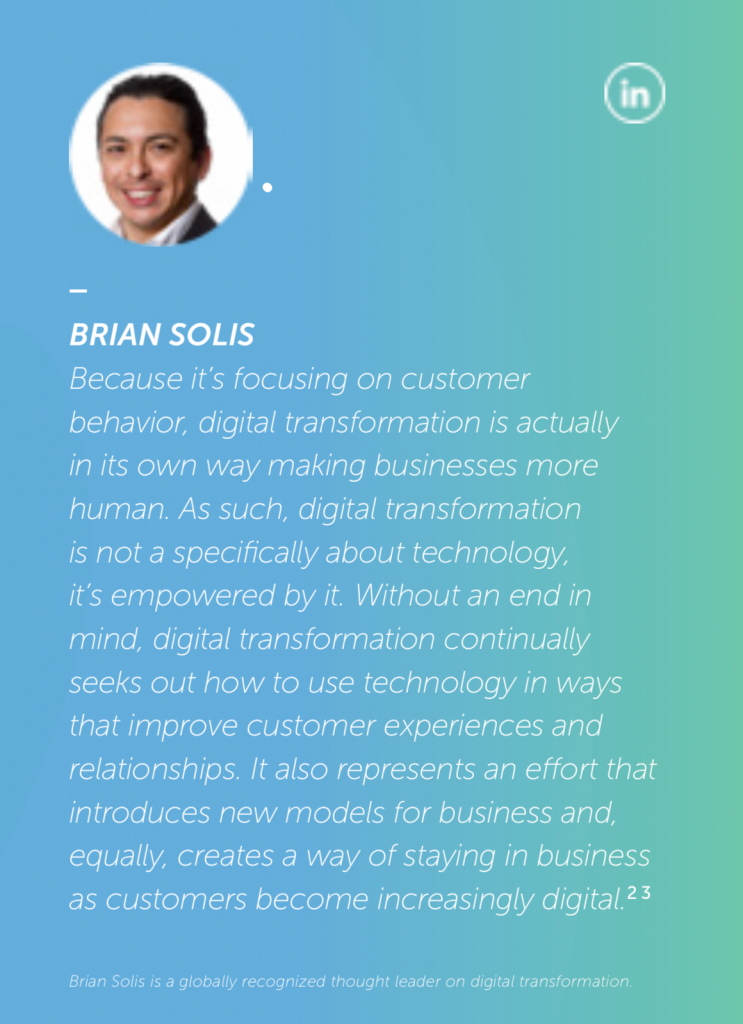 In many progressive cases, digital transformation prioritizes customer experience initiatives. Because it focuses (or should) on customer behavior, preferences and outcomes, digital transformation can, in its own way, making businesses more human.
As such, digital transformation is not or should not be about digital. It's greatest potential is achieved when technology enables human-centered experiences and the change that comes about inside and outside the organization as a result.
Successful digital transformation is ongoing and continually seeks out how to use technology in ways that improve customer experiences and relationships. It also represents an effort that introduces new models for business and, equally, creates a way of staying in business as customers (and employees) continue to evolve.
Created by Whisbi
Brian Solis
Brian Solis is principal analyst and futurist at Altimeter, the digital analyst group at Prophet, Brian is world renowned keynote speaker and 7x best-selling author. His latest book, X: Where Business Meets Design, explores the future of brand and customer engagement through experience design. Invite him to speak at your event or bring him in to inspire and change executive mindsets.
Connect with Brian!
Twitter: @briansolis
Facebook: TheBrianSolis
LinkedIn: BrianSolis
Instagram: BrianSolis
Youtube: BrianSolisTV
Snapchat: BrianSolis