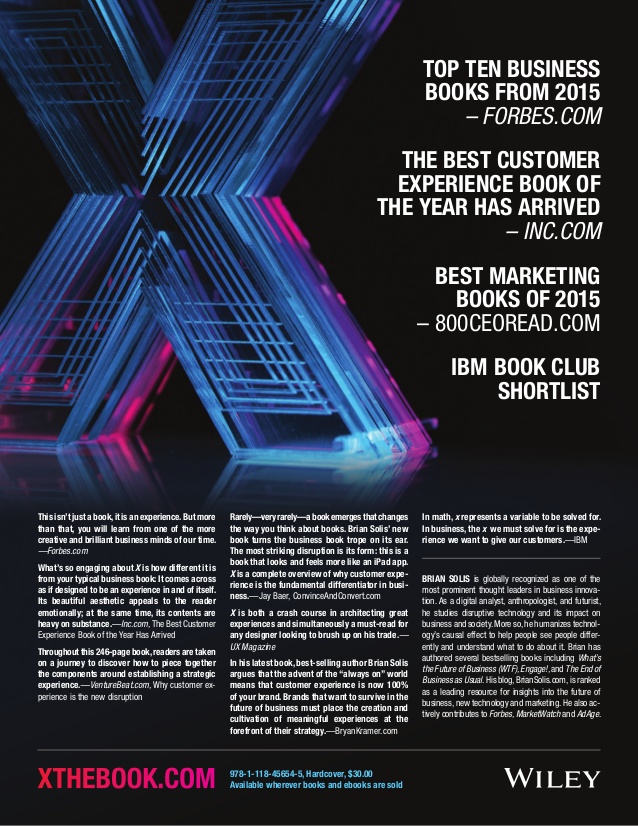 Solis' highly influential book "X: The Experience When Business Meets Design" met with great critical acclaim from top organizations upon its release.
:This isn't just a book, it is an experience. But more than that, you will learn from one of the more creative and brilliant business minds of our time." – Forbes.com
"The best customer experience book of the Year Has arrived" – Inc.
"In math, x represents a variable to be solved for. in business, the x we must solve for is the experience we want to give our customers." —IBM
"Rarely—very rarely—a book emerges that changes the way you think about books. Brian Solis' new book turns the business book trope on its ear. the most striking disruption is its form: this is a book that looks and feels more like an app." – Jay Baer, convinceandconvert.com
Throughout this 246-page book, readers are taken on a journey to discover how to piece together the components around establishing a strategic experience.—VentureBeat.com
"X is both a crash course in architecting great experiences and simultaneously a must-read for any designer looking to brush up on his trade." – UX Magazine
"Brian Solis is one of the more creative and brilliant business minds of our time." —Forbes.com
Read the entire article here: https://www.slideshare.net/briansolis/x-by-brian-solis-is-a-crash-course-in-architecting-great-experiences-and-a-mustread-for-any-executive-or-designer