EA CMO Chris Bruzzo sees the direct relationships between customer experience, data, user experience and marketing as a new operational mode. That's what I call X.
Marketers who prioritize customer data in their work will find new opportunities to deeply engage their customers on a personalized level. And that's what customers are now expecting from their favorite brands. But, marketers who simply use new technology to be on trend will find themselves limited to the same old thinking and results.
That's the message I heard loud and clear from EA CMO Chris Bruzzo.
I had the chance to spend time with Chris at Google Marketing Live in Silicon Valley. There, we talked about the importance of data and insights in delivering innovative player experiences, new organizational models for marketing, and the need for CMOs to prioritize business strategy.
EA CEO Andrew Wilson recently made some bold moves toward growth with one of those moves placing marketing, publishing and analytics under Chris in the revised CMO role.
I asked him about the story behind this new focus and I learned it was about three things: future-proofing the brand, business growth, and delivering incredible customer- or in EA's case-player, experiences throughout their entire lifecycle. The bridge connecting these focus areas is data.
When Chris talks about data, he talks about it in a unique way….data-fueled creativity. This is where, as Chris notes, data and insights serve as an informed foundation to foster innovation.
EA's goal is to form a deep emotional connection with consumers. You can't do that by following yesterday's methodologies and standards. He believes that marketers need to be bold and "go after the unknown — because unproven tactics of today become defining moments of the future." And, in his presentation on stage earlier at Google Marketing Live, he emphasized that point, "Data allows us to make bold decisions."
This is the foundation to innovate against the coming industry disruption he sees on the horizon. "We believe the next five years will be more disruptive, more dynamic, we'll see more players come into gaming than in the last 45 years combined," he shared.
The player, the customer, is central to everything at EA. To be customer-centric though, requires an organizational model that literally puts the customer at the center of all aspects of the business. Early on, Chris made a bold move to bring teams together to center on players and player data.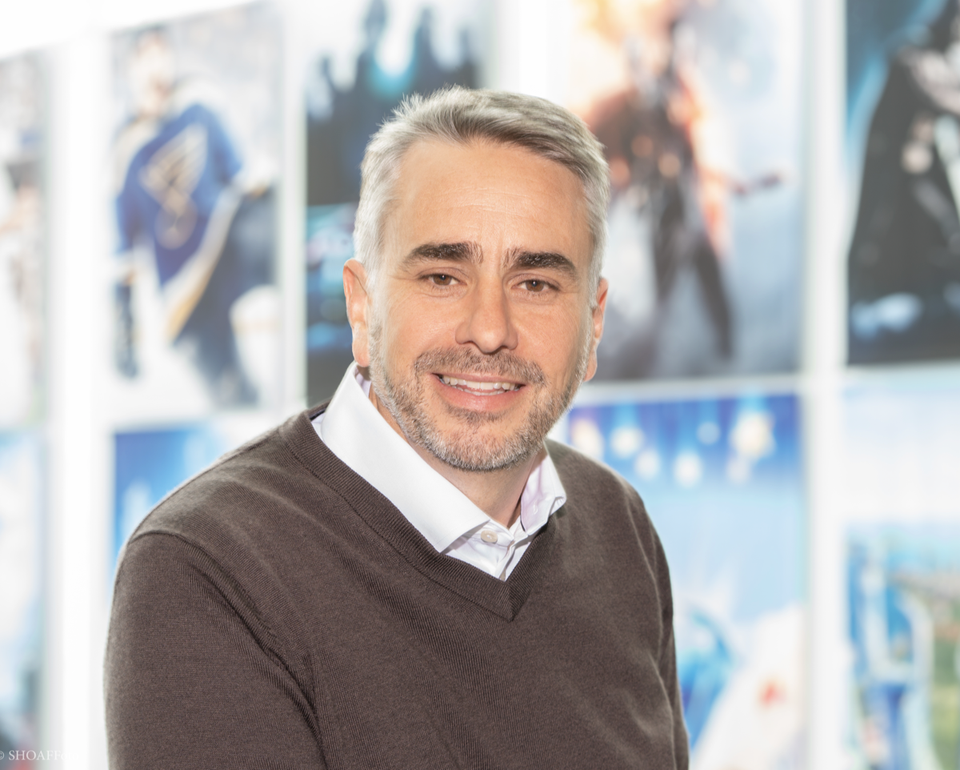 "We've worked very hard to embed our teams closely with our studios, our product teams," Chris shared. "Our game analysts are sitting shoulder to shoulder with the game developers. It's a central function, so they get the expertise of data science, and analytics, and research. They get the benefit of proximity to the men and women who are making the games. That has proved to allow us to move much faster, collect insights, turn them back over to the product teams, and take action," he explained.
Proximity and cross-functional collaboration was just the beginning. With the ability to shape customer experiences throughout their entire gameplay journey, Chris then set his sights on growth by aligning marketing with business strategy and impact.
As he told me, "I've said now for a few years that marketing is coming apart. But, that's not a bad thing, because we get to put it back together in a different way." At EA, how to put marketing back together can be solved by asking questions that link marketing and growth, "How do we get closer to the business, closer to setting business strategy?" The answer was to focus on integrating business-centric functions into marketing, "so that we can constantly close the gap between what we make, and the messages we create, and the players, and their experience," he explained.
That meant moving sales revenue and analytics and insights under marketing. "Putting them together in that way, really makes us dangerous when it comes to business strategy," Chris revealed.
By transforming the foundation of marketing built upon data and insights, EA is driving innovation and growth through more meaningful and rewarding player experiences. And the lesson for all brands and marketers is that you have to be willing to be open minded, to let consumer behaviors and insights lead you to the right market strategy. Otherwise as Chris reminds us, you're "letting history or tradition" constrain you.