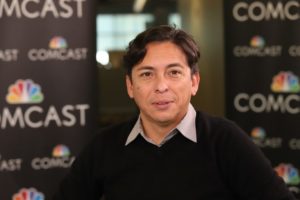 Solis is featured in a SiliconANGLE article by Betsy Amy-Vogt titled "Designing for the accidental narcissist: Focus on experience is driver for Gen C innovation." The article is based on a podcast interview of Solis by Jeff Frick, host of theCUB, SiliconANGLE Media's mobile livestreaming studio, during the Comcast CX Innovation Day event in Sunnyvale, CA.
She begins her article by writing: "Experience is what counts. An incoming wave of connected consumers — known as Generation C — are not bound by traditional demographics. Instead they share behaviors, interests and expectations driven by the digital era. Accustomed to instant gratification, they expect everything to be tailored to their needs and delivered now. Delay them or displease them, and they move on without a backwards glance."
This is followed by a Solis quote: "What companies need to get is that the customers change. Once you get something your way fast … you take that mindset subconsciously to everything you do."
Fifty years ago, a TV remote was simple to understand and use. Today's remotes have an average of 70 buttons, making them a user interface fail, according to Solis. "It has gotten progressively worse over time," he said. "I don't know that anybody has mastered their relationship with the remote control."
Describing Comcast as "pioneers in what customer experience needs to be," Solis emphasized that companies need to realize the importance of "innovation for the sake of pushing the customer experience forward; changing customer behaviors in a way that's going to create a new standard for experiences. That way you become the leader in engagement," he said.
Return on investment is the traditional benchmark for business success. But "what happens in the ROI equation if 'I' equals ignorance?" Solis asked. The answer is unhappy customers. In place of ROI he advocates executives calculate based on a broader set of parameters that he calls return on experience, or ROE.
"If you can design for emotional outcomes, where people are going to feel great in the moment and feel great afterwards, that is a metric that you can have a before and after state," Solis says. "Attaching that emotion to things like loyalty, customer lifetime value, growth, then you can get to your ROI in a different way. But you have to first do it with intention."
Read the entire article here: https://siliconangle.com/2019/11/05/designing-for-the-accidental-narcissist-focus-on-experience-is-driver-for-gen-c-innovation-comcastinnovation/
See the entire interview and read the transcript here: https://video.cube365.net/v/13632