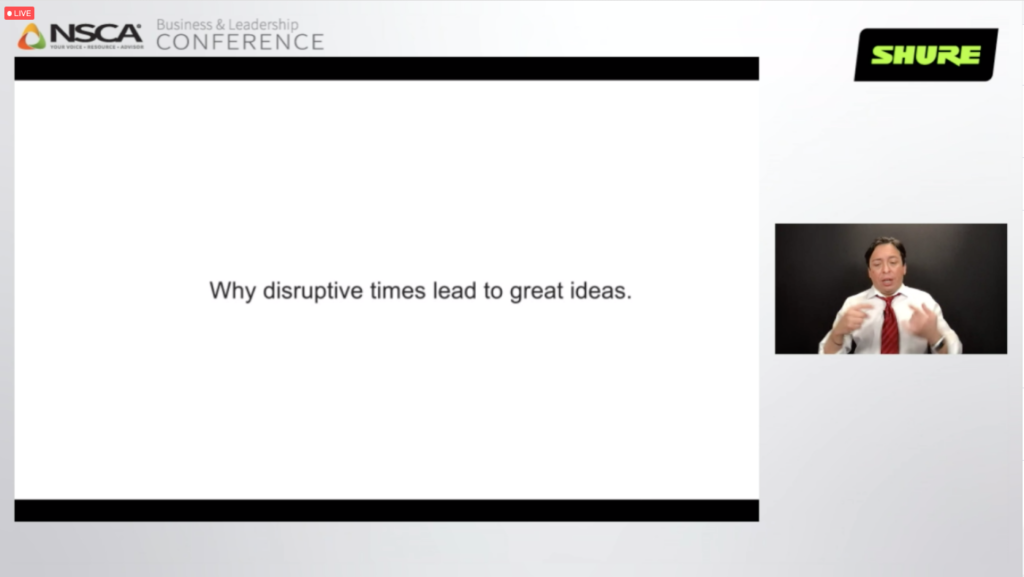 by Leah McCann
"Stepping up when it counts."
That was the tagline for NSCA's 2021 Business & Leadership Conference (BLC or, this year, BLCv: the "v" for "virtual").
The event host, the National Systems Contractors Association, is an important nonprofit association representing the commercial integration industry. NSCA is an advocate for people who work in AV, IT and more — that includes systems contractors/integrators, product manufacturers, consultants, sales representatives, architects, specifying engineers and other allied professionals.
Designing for Digital-First Customers: Focus on Experience as a Driver for Breakthrough Innovation
The closing session of the 2021 BLC, an Executive Power Hour, taught us that experience design and innovation — sort of like how Dr. Meyer talked earlier about agility — are beacons for the way forward. Present to explain these concepts Wednesday were Brian Solis, global innovation evangelist at Salesforce, and Tim Hennen, CTO of collaboration solutions provider IVCi.
"What are we going to look at to keep up, and or to get ahead?" Solis asked.
Now, digital is everything; it's how we work, shop and learn. From this point on, digital is the standard, not the exception, and the decisions we make now will completely impact our future state and future selves, Solis said.
Therefore, this is exactly the time to break new ground, Solis explained, even if it seems counterintuitive to think about investments when everyone else is cost-cutting. The question is, How much do we innovate? Do we jump on every new innovation possible? "Sort of," Solid said. It's a balance, and a matter of perspective, he added. Is it iterative, or is it innovative?
To get the full view of this session and the full day, register to view the event archives — you'll find the 2021 BLC on-demand content here.